News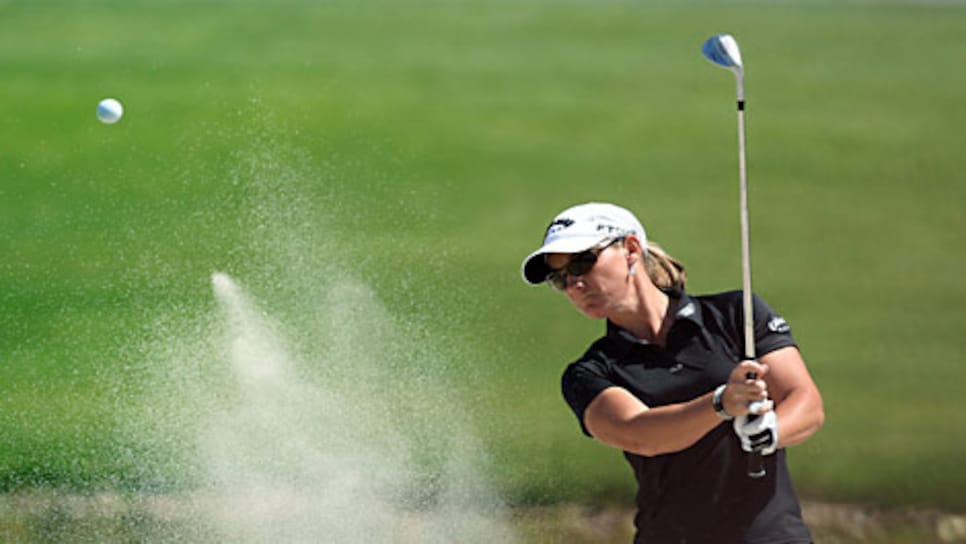 Kristy McPherson was led to golf when a childhood disease forced her to give up other sports. "The best thing that ever happened to me," McPherson said.
RANCHO MIRAGE, Calif. -- Kristy McPherson is en route from obscurity and she isn't traveling light. She brings with her a weighty biography that has begged to be exposed, but has remained veiled for lack of a proper forum.
Now that McPherson has been formally introduced to the golf world by virtue of her third-round lead in the Kraft Nabisco Championship, her story comes to light, and we learn that it includes a childhood disease that restricted her ability to walk and left her bedridden for the better part of a year.
At 11, she was diagnosed with Still's Disease, a form of juvenile rheumatoid arthritis. For an active girl for whom softball and basketball were passions, it was as devastating as it was debilitating. Doctors informed her that she would no longer be able to play softball or basketball, nor would she be able to participate in any activity that involved running or jumping.
It was, she said, akin to the end of the world for a sixth-grader, who was unable to walk. The upside to this otherwise grim tale is that her disease and the limitations it imposed on her enabled her to latch onto golf, albeit reluctantly, despite growing up in Myrtle Beach, S.C.
"I didn't really like golf," she said late Saturday afternoon, after a round of two-under par 70 gave her a one-stroke lead over Cristie Kerr heading into the final round on the Dinah Shore Tournament Course at Mission Hills. "But it was the only thing I could do at the time, because I didn't have to run or jump."
She was 14 when she finally embraced the game for which she originally had an aversion. She took to it quickly, climbing from local junior ranks to the American Junior Golf Association and demonstrating enough potential to earn a scholarship to South Carolina.
"Like I always say, getting sick when I was young was the best thing that every happened to me," she said, noting the career it allowed her to find as well as the perspective it has provided her.
"It allows me to appreciate every day. It allows me not to put so much pressure on my golf game, to take everything as a blessing."
She still takes medications daily to control the arthritis that affects her knees and joints. The pain occasionally resurfaces, she said, though not here in the dry, warm Southern California desert. "If it's cold and rainy it bothers me more," she said.
McPherson, 27, is a Futures Tour graduate who is in her third year on the LPGA. Last year, she earned $407,237, though she has never finished higher than a tie for fourth at the P&G Beauty NW Arkansas Championship.
This is new to McPherson, not only leading heading into the final round, but leading a major championship. This is only the fifth major she's played in and she has never finished better than a tie for 21st.
She was tied with Christina Kim heading into third-round play and gave no indication of stage fright. "Today was fun," she said. "I actually had no nerves at all, which was pretty surprising to me. You can't get me or Christina (Kim, her playing partner) to shut up most of the time."
She has a favorable pairing on Sunday, too, in a threesome that includes her close friend Brittany Lincicome, whom she calls "Bam Bam," for her ability to launch the ball from the tee. "That's great," she said. "I would love it. I'm going to be out-driven all day, but that's all right."
A friendly face might help her to cope with the mounting pressure, but she'll require more of the precision shots she has delivered through the first three days. "I know I've got to play a lot of real solid golf. I just want to go out and try to play golf tomorrow and try to keep it simple."
Who knows whether she'll rise to the occasion on Sunday, but it seems unlikely that she'll shrink from it. Playing with the lead of a major championship is not the most difficult thing she has faced in her life.
Then there's this, her favorite quote: "Shoot for the moon. Even if you miss you will land among the stars."