News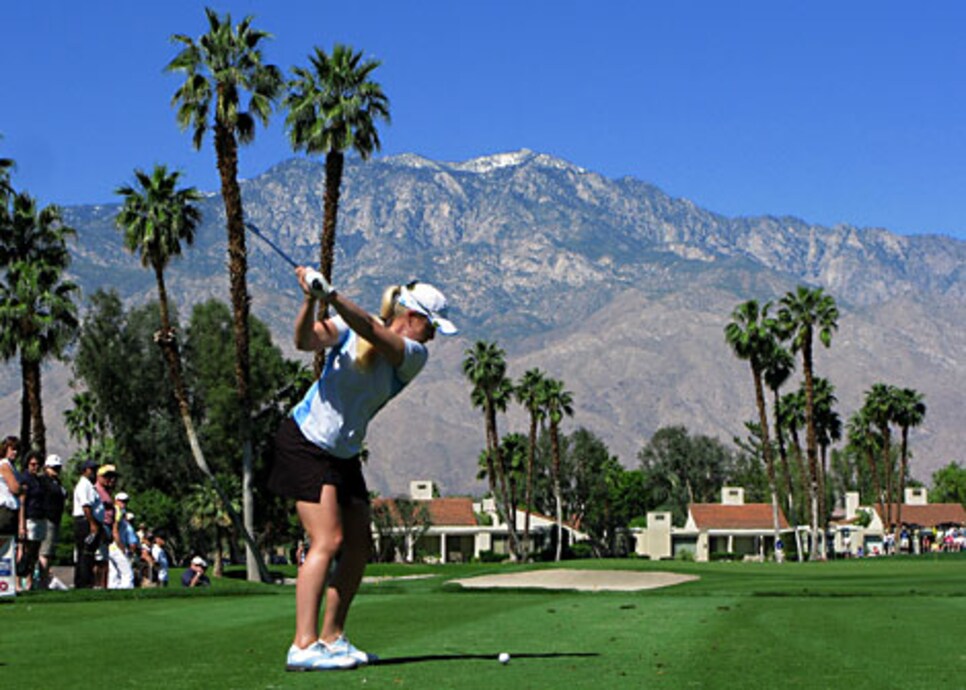 Brittany Lincicome became just the second American since 1999 to win the Kraft Nabisco Championship.
RANCHO MIRAGE, Calif. -- The Kraft Nabisco Championship on Sunday was an entertaining show of such variety that Dinah Shore would have honored it with her imprimatur, set to music of her own making, "See the USA," in response to the series of dramatic events that played out in living colors: red, white and blue.
This one was made in America, won, even, with an American eagle. Brittany Lincicome of Seminole, Fla., overpowered the par-5 18th hole on the Dinah Shore Tournament Course at Mission Hills, made three there and turned a one-shot deficit into a one-shot victory over Kristy McPherson and Cristie Kerr.
The power base of the women's game has shifted dramatically east in recent years, to the Far East, leaving American golfers seeking an answer that ultimately is no more complicated than the one McPherson put forth on Sunday: "Americans have to step up and play better golf," she said.
The final round was either the first step or an aberration, but suffice it to say, it was an unexpected turn that the trio of players who were in contention were all Americans and fortuitously, for the entertainment value, were all in the final pairing.
McPherson, a Myrtle Beach, S.C., native, took a one-stroke lead into the final round, with Kerr, a native Floridian, in second and Lincicome two shots back in third. Each of them held the lead at some point of the proceedings, Lincicome only once, at the end.
"It was exciting, to say the least," said Kerr, who nearly holed her third shot at 18 for eagle. "It's great for American golf. It's hugely important for us. We play most of our tournaments on American soil, and most of our fan base, a lot of it is in Korea and Japan now, but most of it is in the United States. This was a very big day for the LPGA and for American golf."
Six Americans finished tied for eighth or better, another upset in this era of Koreans, Japanese, Chinese, Swedes and one very imposing Mexican, Lorena Ochoa, the defending champion, who tied for 12th.
"I think it's important," McPherson said. "We have a fairly large international tour and so many people do so many great things for our tour. But if I'm watching the Olympics, I'm pulling for the USA, and I think a lot of the people who are tuning in to us are doing the same. I think we need to step it up and play better golf for our viewers."
For instance, she might have said, alluding to 17 and 18 on Sunday. On the par-3 17th, with McPherson leading Kerr and Lincicome by one, each player hit their tee shots within eight feet of the hole. Each missed her birdie putt, however, shifting the drama to the par-5 18th hole, played at 485 yards on Sunday, a length that brought eagle into play, heightening the potential for a dramatic close.
Lincicome, the longest hitter of the three, was the only player with a chance to reach the green in two, and did so with a near perfect hybrid second shot from 210 yards that caught a slope in the center of the green that sent the ball curling toward the hole, eventually stopping four feet away.
McPherson hit an indifferent third shot to the green. Kerr followed by nearly holing her lob wedge third, the ball skirting the hole, before trickling downhill and stopping 18-feet away. McPherson missed her putt and Kerr made hers to tie for the lead, setting the stage for Lincicome.
"My hands were shaking so bad," Lincicome said. "I'm surprised I didn't have a heart attack. "That was a huge shot on 18 I'm standing over, the hybrid in my hands, and my heart is racing. I'm trying to calm myself down by breathing or singing or whatever I can possibly do, and right when I hit it, it came off the clubface exactly where we wanted to hit it and it came really close, thank God. If I had to make anything further than that, well, my hands were shaking so bad, I was almost crying."
When she holed it, all that was left was a celebratory soda shower courtesy of her friend Angela Stanford and the traditional leap into the pond, only the second American, incidentally, to take this plunge since 1999.