News
Still Grounded, Still Grinding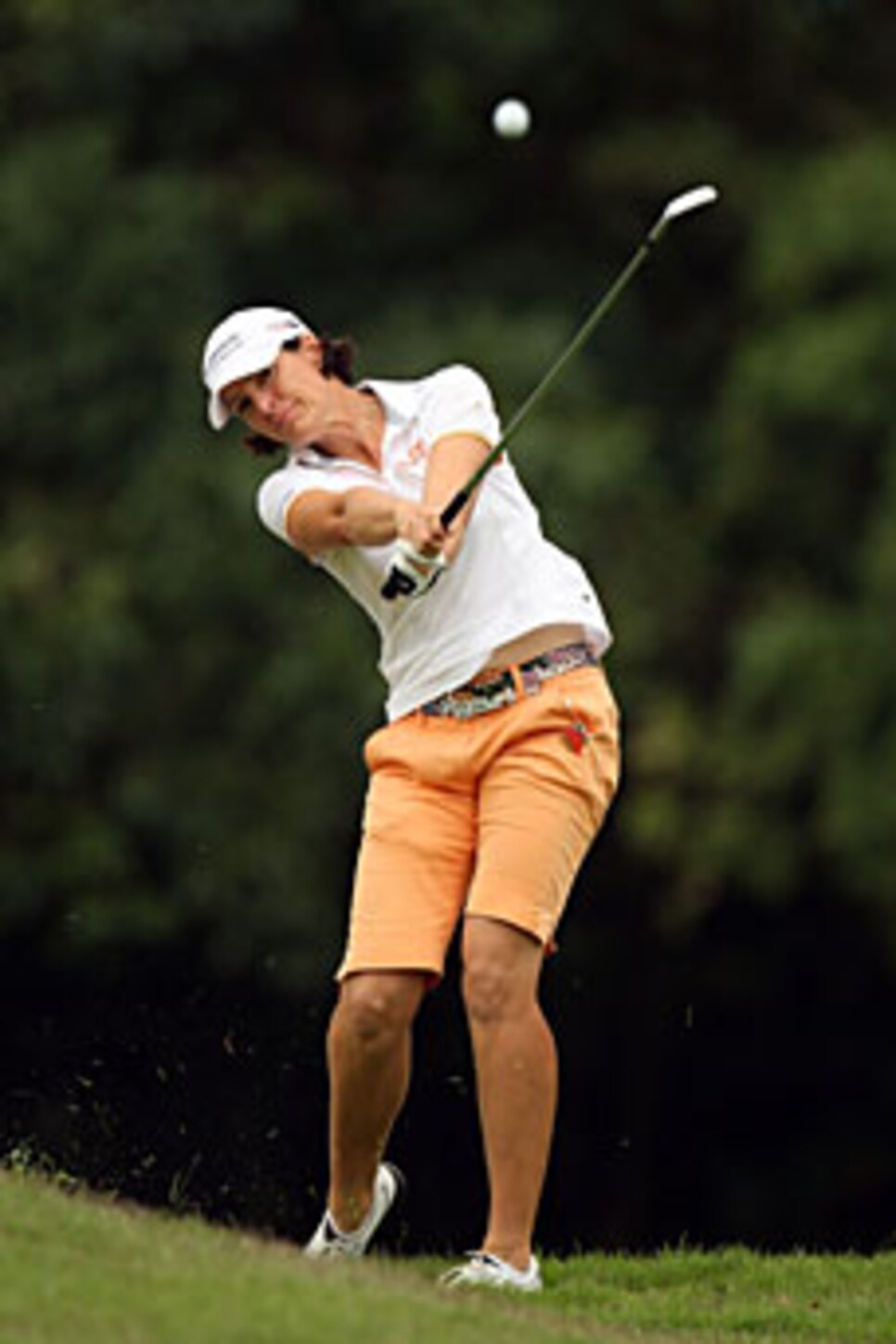 At the Nabisco, Juli Inkster looks to claim a tournament she first one a quarter century ago.
RANCHO MIRAGE, Calif. -- Quick, who among active professional golfers is second to Tiger Woods in major championship victories? Well, if the number you give Woods is 17 -- including his three U.S. amateur titles in the total -- then second is Juli Inkster, who has 10 including her three U.S. Women's Amateur crowns. And even at the age of 48, don't count out her adding to that total.
Inkster, whose rookie year was 1983, not only turned pro six years before Michelle Wie was born but had won three majors by then. Perhaps most remarkably, Inkster won 13 LPGA events before her own oldest daughter, Hayley, was born in 1990 and 15 more tournaments after her youngest daughter, Corey, was born in 1994. That's one of the most remarkable jobs of juggling parenthood and professional performance this side of Jack Nicklaus.
It all started for Inkster as a pro when she won the SAFECO Classic in 1983, but her first major was right here at Mission Hills when she captured the 1984 Nabisco Dinah Shore, now known as the Kraft Nabisco Championship. She missed all of 1990 to give birth and in the seven seasons from 1990 through '96 captured only two LPGA titles. Then the second half of her career kicked in.
After picking up lone wins in each of 1997 and '98, Inkster won five times in 1999, including the McDonalds LPGA Championship and the U.S. Women's Open. The McDonald's victory completed the career Grand Slam. She won the McDonald's again in 2000 and another U.S. Open in 2002.
If Inkster can pick up a British Open title, she would join Karrie Webb as the only players with victories in five different LPGA majors, both having won the du Maurier Classic when it was a major. Through it all, Inkster has remained a remarkably grounded woman.
She skipped last year's McDonald's LPGA Championship to attend Corey's junior high school graduation. That snapped a streak of 56 consecutive majors in which she played. The last time Inkster missed a major was in 1994 -- to give birth to Corey.
"I'm very lucky, I have great husband," Inkster said about Brian, a club pro in Los Altos, Calif. "He's amazing with how much support he gives." Frequently, all four Inksters make an LPGA event a family affair, but when the girls were younger, Inkster tried to never be away more than 10 consecutive days.
There are times when it seems as if the entire world exists to serve as a straight man for Inkster. Her wit is sharp and her sense of humor knows no bounds. When told she had won an award for being cooperative with the press in a vote by writers she replied: "Where did Steve Williams finish?" a reference to Woods' caddie who has been known to kick a camera or two. When a tournament she had won marked the occasion by handing out a bobblehead doll of her the next year, Inkster looked at it and said, "Hey, they gave me a chest."
Her sharp sense of humor turns into competitive fire on the golf course. She has one of the best short games in the history of women's golf and a running joke among other players it that you never want to play a practice round behind Inkster. On every hole she will practice chips from just about every angle before moving on.
That tenaciousness won her one of her U.S. Open titles. At Prairie Dunes in Hutchinson, Kan., in 2002, Inkster struck the ball erratically for three days but kept herself in the tournament with a relentless short game. But she found something on the range Sunday morning.
Starting the final round two strokes behind Annika Sorenstam, Inkster unleashed a 66 that resulted in a two-stroke victory. The day turned on a remarkable up-and-down Inkster made on No. 15 to save par followed by a Sorenstam bogey when she missed a four-footer on the par-3 hole. A 12-foot birdie putt on No. 16 pretty much salted things away for Inkster.
Inkster is being coy about her plans for the future. She turns 49 in June. For the short term, she very much wants to be part of the U.S. Solheim Cup team this August at Rich Harvest Farms. And even if she does not qualify, captain Beth Daniel would have to think long and hard about passing over one of the great match-play competitors in the women's game. Inkster also would like to break the record set by Daniel when, at the age of 46, she became the oldest winner of an LPGA event.
When the U.S. team defeated Europe at Halmstad, Sweden at the 2007 Solheim Cup, Inkster celebrated by turning a perfect cartwheel, much to the amusement of players less than half her age like Morgan Pressel and Paula Creamer. "Pretty good form, wasn't it?" Inkster said when reminded of the feat.
There probably is another Solheim Cup in Inkster's future and perhaps another cartwheel. And there just might be another leap into Poppy's Pond next to the 18th green at Mission Hills this Sunday. At the Kraft Nabisco Championship. And you can just imagine what kind of one-liner she would have about that.