The Loop
Mystery Masters TV caller in Tiger Woods rules fiasco revealed
The saga of Tiger Woods' infamous drop at the Masters, an incident that wound up stealing the spotlight from 14-year-old Tianlang Guan making the cut and even Adam Scott's thrilling win for Australia, has a new twist. We now know the identity of the man who got the ball, um, rolling in the whole situation.
Sports Illustrated's Michael Bamberger reported Wednesday that Champions Tour player David Eger (below) was the person who first contacted tournament officials to inform them of Woods' illegal drop. Bamberger notes that, "Before joining the senior circuit, Eger had a long career as a tournament director with both the PGA Tour and the USGA. Along with Mark Russell of the PGA Tour and Kerry Haigh of the PGA of America, Eger is one of the most experienced tournament officials in U.S. golf and an expert on the rules."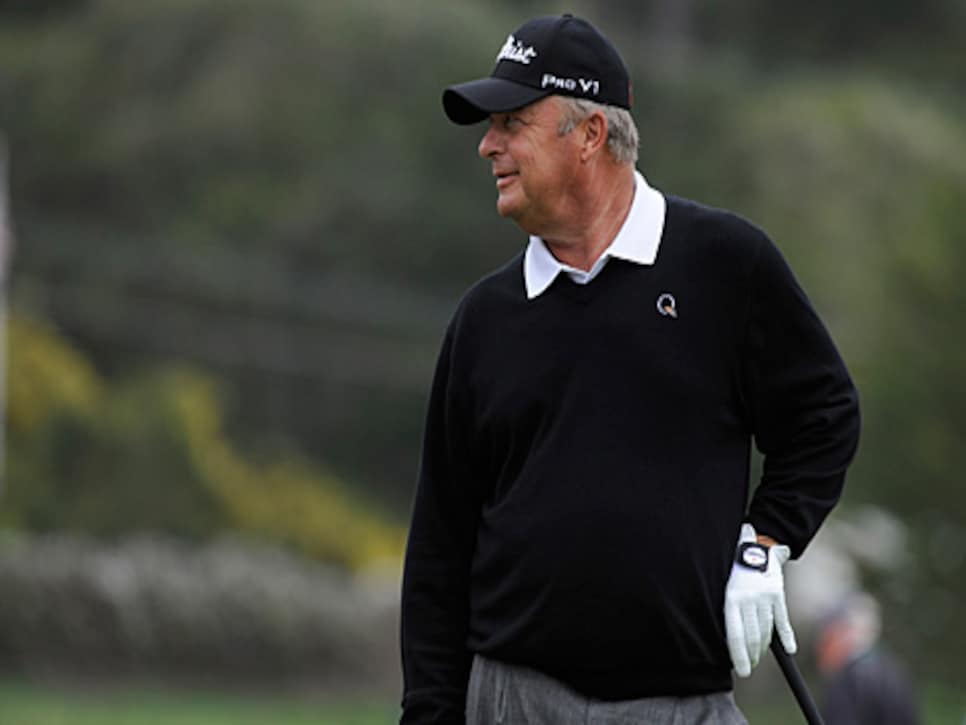 In other words, this isn't your average guy who cut out of work early that day to watch a little golf.
The 61-year-old Eger was at home, but his trained eye caught the infraction right away. Convinced Woods had violated rule 26-1a, Eger, a four-time winner on the Champions Tour, watched and re-watched Woods take a drop and hit his fifth shot on the par-5 15th hole during the second round after his third shot had caromed off the flagstick and into the water. Without a direct line to Fred Ridley, the tournament's competition committee chairman, Eger frantically reached out to Mickey Bradley, "a veteran PGA Tour official who he knew was working the Masters."
That started a chain of events, which Bamberger describes further: "Bradley immediately called Ridley and Russell, the veteran PGA Tour administrator who is on the three-man Masters competition committee that is chaired by Ridley, a former U.S. Amateur champion and USGA president. Bradley also forwarded Eger's text to Russell and Ridley. In his text, Eger wrote that Woods 'didn't appear to play by Rule 26-1-a.' He wrote that he 'appeared to be 3-4 feet back' from his divot mark."
According to the story, Bradley forwarded Eger's text message at 6:59 p.m, when Tiger was still on the course.
Of course, we know what happened from there. Ridley looked into the matter and decided Woods hadn't broken a rule. He then decided not to discuss the matter with Woods before he signed his scorecard and left the course, thinking the matter was over. It wasn't.
In a post-round TV interview with ESPN's Tom Rinaldi, Woods informed viewers he had dropped "two yards" farther back for a better yardage. Eventually, that led to CBS' Jim Nantz calling Ridley later that night to ask about the situation. Woods was brought in to discuss the matter the next day, but Ridley and the tournament committee decided to assess him a two-shot penalty after the fact instead of disqualifying him since no one had notified Woods of a possible violation before he left the course on Friday.
It seems everyone, including Jack Nicklaus, who thought Augusta National acted appropriately, has weighed in on the situation since. But with new information coming to light, "Dropgate" remains an issue that still hasn't been dropped from golf's conversation.
Bamberger summed up Eger's role in the fiasco:
"It should be noted that Eger's call saved Woods from disqualification, because it spurred Ridley's incorrect interpretation, which was challenged by Woods's own comments to ESPN, which enabled Ridley to invoke rule 33-7, the one that allows wrongs to be righted."