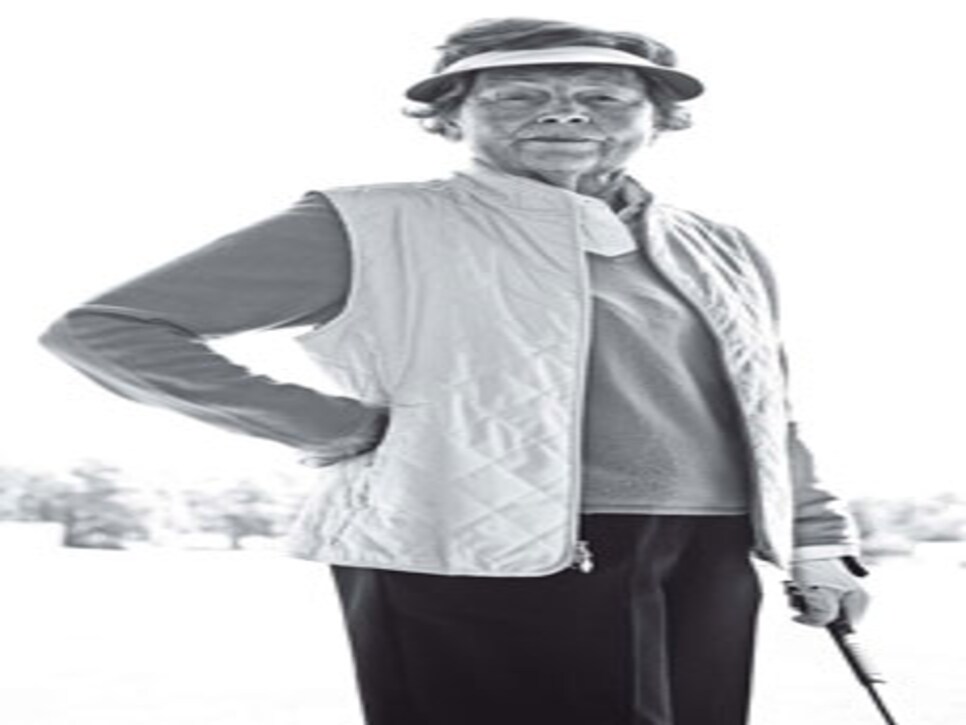 The U.S. Women's Open comes to Peggy Kirk Bell's Pine Needles Lodge Golf Club June 28-July 1 in Southern Pines, N.C.
The U.S. Women's Open coming up at Pine Needles will be our third in just over a decade. When we had our first, in 1996, one thing I heard from the male fans was, "I can't really relate to how the men pros hit the ball, but I can with the women. They hit it about as far as I do." You don't hear too many men say that anymore. The women are so strong and athletic, and the equipment has come so far, that today there's no such thing as a professional golfer average fans can compare themselves to.
Ben Hogan discovered his "secret" well before his car accident in 1949. In 1947, I visited Colonial Country Club in Fort Worth and watched him practice. He hit from the right side of the practice range, along a tree line. Every shot he hit faded, and by fade, I mean about six feet. If he faded it too much, it would hit those trees, so it was clear what he was up to. I talked to him briefly during a break—he was out there all day—and he told me, "I'm changing my swing. I've been losing too many tournaments on the last couple of holes because I hook." He obviously had figured out how to stop hooking sometime in the late 1940s.
Too many new players hold the club too far into the palm of the left hand, which costs them a lot of control, hand speed and feel. Here's a tip for the correct left-hand grip: Place the club at your side and grasp the handle as though you were lifting a suitcase. When you grip a suitcase handle, you instinctively place it along the base of your fingers, no matter how heavy it is. Now just meld your right hand onto the left, the handle also running along the fingers of the right hand. Simple.
We've run Pine Needles for 55 years now. The resort has been very successful, and having the U.S. Women's Open here has helped. But the key to running a good resort is the same as for any other business: You've got to be there. You've got to come to work every day. Keep everything right in front of you. If you're running a company from another city or coming in to check up once every other week, your list of potential problems is a lot bigger.
My dad lived to be 93 and made a lot of money in the wholesale grocery business in Findlay, Ohio. Financially, we were comfortable, but he made us work. He paid me 10 cents an hour, but the other two women got 20 cents an hour. When I asked him why, he said, "Because you're the boss' daughter." I grew up believing it's important to teach kids to work early on. If you start them young, they'll learn to enjoy work. They'll like the satisfaction they get, and of course, all kids like money.
I'm pretty tight with a dollar. My kids say, "Mother, come on, spend some money on yourself." But shopping to me is very boring, and it pains me to spend for anything other than the things I really need. All I've ever wanted is a better golf swing. Even when I go out to eat, I'm mindful of a bargain. My meal of choice: the Double Decker at Taco Bell. It's soft on the outside, crispy on the inside and costs $1.19. If you want to hit the drive-up window at Taco Bell, I'm buying.
I traveled a great deal with Babe Didrikson Zaharias. For a long time we played golf practically every day together, and the last time we played, in 1956, was the last round of her life. Her cancer was back, and she was weak. For the first time I was hitting my drives up with hers. When the round was over she said, "Peg, I have to say, you're a great player." I said, "Why, thank you, Babe. Why are you telling me that only now?" And she said, "Because if I hit the ball that short, I couldn't break 90."
Near the end of Babe's life, I visited her in the hospital. She finished a cigarette, and as she stubbed it out she motioned toward an empty Coke bottle sitting on a dresser across from the foot of her bed. "Bet I can toss this cigarette into the Coke bottle," she said, and flipped the cigarette butt toward the bottle. The butt bounced off a mirror and fell into the bottle. It was amazing, but Babe was always doing stuff like that. She loved to try little stunts, things that were almost impossible. She didn't always pull them off, of course, but when she did, people were just amazed, and of course it delighted her.
I turned pro late in 1950. Prize money was so tight in the early years of the LPGA Tour. I remember a total purse would typically be $3,000. We earned money however we could, through endorsements, exhibitions, whatever. I'll always remember the World Championship played at Tam O'Shanter. The founder and sponsor, George S. May, had sympathy for players who could use some extra cash. One day I came to the first tee and Mr. May said, "Well, Peggy, what do you think you'll shoot today?" I said, "I feel I have a 78 in me today." He said, "If you can beat that, I'll give you $100." I beat the score, went to his office and he peeled off a $100 bill. He did that sort of thing for many players, many times. He was a very good man.
Driving all around the country playing the tour wore me down. You could put 40,000 miles a year on your car, easy. So I learned to fly and bought my own plane for $8,000. This was the way to go, but I had some close calls. In 1959, I was flying from Ohio back to Southern Pines and flew into a snowstorm. I couldn't see anywhere but straight down and was relying on railroad tracks for navigation. We had two little girls at home, and I was terrified I'd never see them, or my husband, Bullet, again. I prayed, "God, if you get me down safely, I promise I'll sell this plane." Finally I saw an open field below my left wing and did a fast U-turn and got the plane down. I sold the plane—we built the swimming pool at Pine Needles with the proceeds—and I never was a pilot again. Every time I walk by the pool, I think of that plane.
Annika Sorenstam won the first U.S. Women's Open at Pine Needles, in 1996. Whether she can reach Kathy Whitworth's record of 88 tour wins [Sorenstam has 69] is less dependent on her bad back than whether she'll decide to have children. It's one thing to be a good pro golfer when you have children—I had three, and I can tell you that women have it much harder than men—but being a dominant player is something else entirely. No woman has ever done it. Annika likes challenges, and I'm not saying breaking that record while having kids is impossible. But it will stretch the odds considerably.
When Michelle Wie comes back from that wrist injury, I hope she doesn't hit as many punch shots. Even Tiger Woods says Michelle isn't strong enough yet to be hitting so many of them. She even hits punches with her driver and long irons. She misses a lot of shots to the left, as tends to happen when you abbreviate your swing. A full swing is more in character for her. And she'll be less likely to re-injure that wrist.
I was at the Memorial Tournament when Barbara Nicklaus was inducted into the Captains Club. It's a big honor, and when I looked over at Jack, tears were streaming down his face. When Jack was winning all those majors, he didn't try to come off as being overly proud. But on this day, he pulled out the stops. It was like seeing a different person. It was one of the most touching things I've ever seen.
__Babe hit the ball a ton.__I asked her how she got such amazing distance for being only 5-feet-7. Using her right hand, she reached over her left shoulder and patted herself just above her shoulder blade. "I take it away with this muscle on the backswing, then hit it," she said. That muscle in the upper left side of your back is a key one. If you can stretch it out like a spring going back, you'll get incredible speed coming down, and a lot more distance.
At Pine Needles we play the "root rule." When your ball is near a tree root, you get relief sufficiently to get clear of the tree root. Why? Because a $5 nassau isn't worth tearing up your wrist and ruining your career in golf. Now, when you're playing in a tournament and you've got a root to contend with, the key is to grip the club very lightly and keep it very loose through impact. You almost throw the clubhead at the ball. With tight muscles, the tendons and ligaments tear. Loose ones give a little.
Two parts of teaching I don't hear enough about these days are the waggle and forward press. Tommy Armour taught me to make my waggle as if it were a miniature swing, the clubhead moving away from the ball and back to it on a slight inside path. The waggle relaxes your muscles and sets the stage for a good swing. As for the forward press, a little move of the hands or the knee signals you to start the swing and establishes rhythm. Both the waggle and forward press can be a little individualistic. But you've got to have both of them.
Jack Nicklaus has such nice penmanship. So does Arnold Palmer. Younger players, you can hardly read their names. Penmanship disappeared when companies stopped putting players' names on clubs.
I took a lesson recently from Mike Hebron, a PGA Master Professional. I told him I needed more distance. "Peggy, how old are you?" he asked. "I'm 85," I answered. Next he asked, "When did you start playing?" I told him, "When I was 17." Mike paused a long time and said, "After 68 years in this game, you still care. I think that's just remarkable." I've always thought of the word "caring" in other contexts and never thought of it as the greatest quality a person can have. But I've changed my mind. If you simply care, all kinds of good things run off from that.