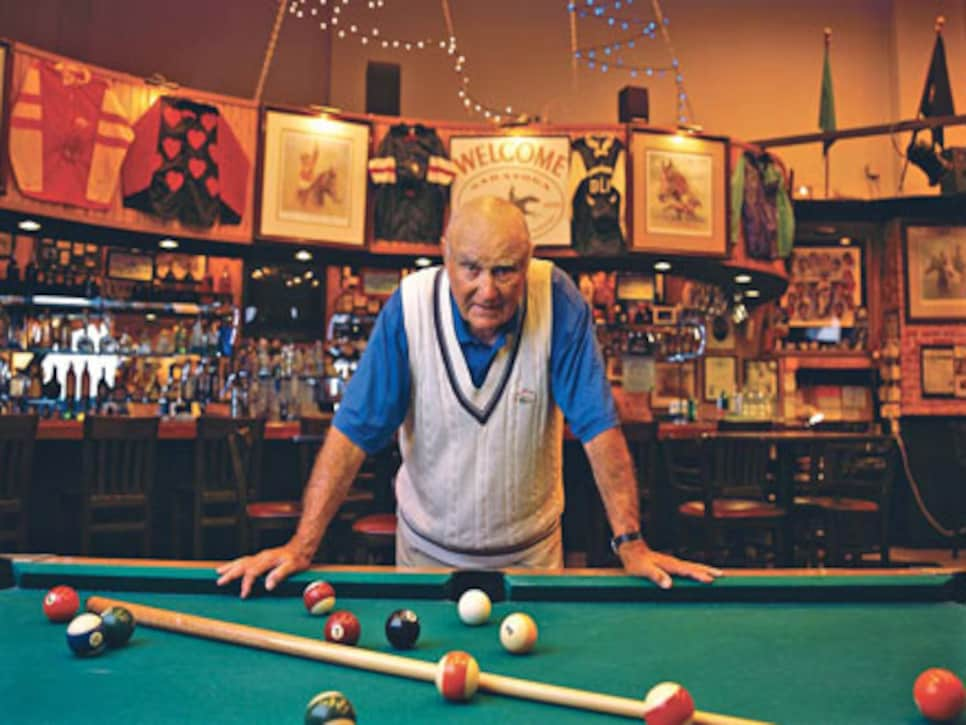 "I came to realize that pool is a great game for a young golfer. It really is."
I came to the last hole of the 1957 Masters with a two-stroke lead. My approach shot to the last green was close to being real good, but it just catches the bunker and plugs. I couldn't go at the pin, and Lord knows anything can happen from a lie like that. I played out at an angle, into the tier. The ball broke beautifully and fell into the hole. End of story: I shot 66 and beat Sam Snead by three. I'm not a sentimental guy. I've never cried in my adult life, and don't remember crying as a boy, either. But I remember feeling real bad for Sam. I'd started the day three shots behind him, and I thought it was kind of sad that he shot 72 and got beat.
What helped me on that shot was my background playing pool. Growing up on Manhattan island, I spent a lot of time in pool rooms. My uncle was a New York state billiard champion, and I spent the winters cleaning tables for a little money and free pool. I came to realize that pool is a great game for a young golfer. It really is. It gives you such a natural feel for angles. You tend to aim the putter very squarely, and of course you have nice touch. It's funny, you hear players talk all the time about how good greens are "just like a pool table." But none of them play pool.
__I grew up in sort of a rough neighborhood.__I ran with a gang of about 10 other guys, and it was funny how we all turned out. Of the 10, six became FBI agents, and the other four went with the mob. I was the only one who didn't end up carrying a gun as an adult. In that neighborhood, to survive you had to have guts. You had to be street smart; you really had to learn how to read people and size up situations. Now the bright guys, the ones who came from pretty good homes and did well in school, the FBI found them and recruited them right away. The troubled guys, they simply put their street smarts to work in the way they could make the most money. I got along with all of them, and in a way we weren't much different from each other. It's just funny how life works out for people.
I was an amateur until 1949, though I had the game to turn pro. But in the years right after the war I saw no need to turn pro whatsoever, because I made as much money in gambling matches as a lot of the guys made on tour. That's the truth. I was stationed in Florida during the war, and when it was over all the hustlers were around Miami Springs. One time, Al Besselink, who was in college at the time, told me there were a couple of rich kids from New Jersey who were looking for some action. They were pretty good players, but everyone knew I was better, so they wanted me to play their best ball. "I need some odds on that," I said, and after a little negotiating we settled on 4-1. I had $800 to my name, but the kids wanted to play for more than that, so Al found a way to put up $3,200 more. We played the match, and I birdied the last hole to win. I now had $3,200 as my share, and the kids wanted to play again the next day. I laid off some of the bet just to stay safe but beat the kids real badly. So I got $1,600 more, bringing my total to $4,800. It was honest golf. Nobody gave me strokes; it was always a matter of how many I had to give.
You're going to see some outrageous things in a gambling environment. After I turned pro, I was in a pro-am at Miami Beach, and there was a big calcutta. There was $10,000 in the pot, but I wasn't entitled to any because the pros were playing for a small purse. You don't know who you're going to be given, but when we went to tee off, I noticed one of my amateur partners looked awfully familiar. Turned out I'd won a pro-am in Detroit with him as a partner, with him playing at scratch. His handicap in Florida: 8. It turned out the other two guys were every bit as bad—or good, as the case might be. They both were excellent players but were getting a bunch of strokes. I holed my second shot on a short par 4 for an eagle, and it was the only time I helped them all day. My father, who was following me, was horrified. "These guys are cheaters, Doug," he said. Was he ever right, but it's the job of whatever committee they had to enforce handicaps, not the players in the field. Still, the looks I was giving the guy must have made him nervous, because he sidled up to me and said, "Don't worry, we'll take care of you." Well, when it was over and they'd won the 10 grand without breaking a sweat, I'm standing in the clubhouse when the amateur walks by me, accompanied by a cop, and leaves the building. When the cop came back in alone, I asked him, "Did he just leave?" The cop said, "Yeah, and I should have let him get hit over the head in the parking lot. He didn't even tip me." I'll tell you, Florida was a wild place.
If you want to be a good tournament player, you've got to learn to handle the heat. The only way to prepare for that is to play for your own dough. You play for an amount you can barely afford to lose. When Jerry Barber came out on tour, he habitually lost money to Sam Snead and a few others. After watching him pay off Sam yet again one day, I said, "Jerry, what the hell are you doing? There's no way you can beat Sam Snead. He's the best player in the world. What are you thinking?" Jerry said in a matter-of-fact way, "If you're going to attend the university, you've got to pay tuition." Jerry became a very successful tour player, and for whatever weaknesses he had, he sure as heck knew how to handle pressure.
To win the 1955 PGA Championship, I had to beat Doc Middlecoff in the 36-hole final, and the secret to my winning was a chair. Doc was as slow a player as ever walked this Earth, and I had my son carry a chair for me to sit in when it was Doc's turn to play. That chair saved my legs. Playing the 14th hole, I was 2 up with five to play and was closer in two than Doc was in three. When we got to the green Doc lit a cigarette, and he didn't putt until the whole cigarette was gone. The gallery really got on him, but you couldn't rush Doc. I didn't care. I just sat in that chair. I won the hole and eventually closed him out, 4 and 3.
At the 1959 Ryder Cup I missed my plane to Palm Springs from Los Angeles. So I bummed a ride with the British team, which had a charter plane. It's a 45-minute flight, and somewhere we ran into the Santa Ana winds, which were a lot more severe than the pilot had been told. The plane dropped 700 feet in just a few seconds and 4,000 feet overall before the pilots regained control. Books and magazines were glued to the ceiling of that plane. It was terrifying, and when the plane somehow got on the ground—we were back in Los Angeles, not in Palm Springs—every person on that plane was soaked in sweat. My gray suit was black. For several Ryder Cups after that, there was a reunion dinner. I was the only American member of the "Long Drop Club."
One day I was sitting in the clubhouse at Augusta National with Jackie Burke, Jay Hebert, Ben Hogan and Jimmy Demaret. Tom Weiskopf approached and said, "Mr. Hogan, I wrote you a letter asking if you'd play a practice round with me here." Hogan glared and said, "I never got the letter." End of conversation, Weiskopf just walked away. After he left, Hogan said, "I choose who I play with." Tough guy, Hogan.
I've been asked a lot about the letter the club wrote to a bunch of us old winners back in 2001. In that letter, the club asked me, Gay Brewer and Billy Casper [and later, other former champions beyond age 65] not to play in the Masters anymore. It wasn't a big deal to me; I was finished anyway. Hell, that course was a tough walk even in my prime. But the letter wasn't very diplomatic, and it hurt some feelings. There's a lesson in that: Think twice before you put the words "lifetime exemption" next to something, because at some point an old guy is going to take you up on it.
One year at Flint, Michigan, I was on the 13th hole when lightning started popping everywhere. I dove into a car that was parked on the course, and looking out, I see a guy following Mason Rudolph. Lightning hit, and they both went down. I jumped out of the car and ran over, and Mason said he was fine. The spectator said, "I'm OK, I'm fine, just a little shaken." Guys decided to drive the guy to the hospital, just to check him out. And in the ambulance, the guy died. It was weird. He seemed completely normal just a few minutes earlier. I don't fool with lightning.
For having such a big population, New York doesn't produce many great golfers. The weather, you know. I'd tough it out and play until it snowed, but there always seemed to be five or six weeks where I couldn't play. When I got to Los Angeles to start the year, the guys who liked to gamble were just waiting for me, because it would take me a good two weeks to play myself into shape. Well, one year, we had a freakishly warm winter. I played every day in December. And when I showed up, I cleaned up. They're pouring money into my hands every day, and one of the guys wanted to know why I was playing so well. "You need to start reading the weather reports," I said.