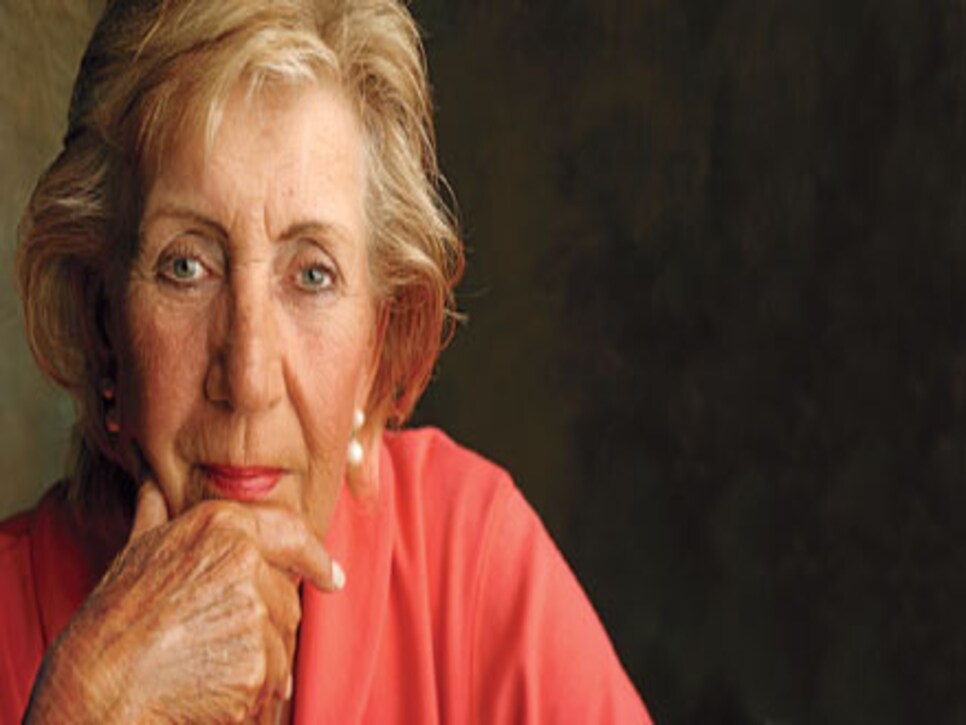 Carol Mann, photographed July 22, 2006,
Age 65 The Woodlands, Texas
You say I'm 6-foot-3. I say I'm 5-foot-15. Either way, until Long Jim Barnes was inducted into the World Golf Hall of Fame, I was the tallest person, man or woman, in the hall.
One thing about being tall and a woman: I get a lot of stares from little kids in the supermarket. Johnny Kerr, the old NBA great, told me his approach was to tell kids he was a jockey for a dinosaur. I figured out my own answer. You know how most houses have a growth chart in the form of a giant ruler that measures in inches? Well, I like to ask children how tall they are, and when they answer something like, "34 inches," I tell them, "Well, I'm 75 inches tall." That just blows their little minds.
Early in my career, the agate results of the tournaments I played were posted on the bulletin board in the locker room at the Baltimore Country Club, where my dad was a member. The results were posted under a headline that read, "Rip Mann's Daughter." After I won the U.S. Women's Open, my dad walked into the locker room one day to see his buddies had posted the results of his performance in the B flight of a club tournament under the grand heading, "Carol Mann's Father."
The greatest shot of my life? That's easy. At the 1965 U.S. Women's Open in Atlantic City, I came to the 16th hole with a one-stroke lead. The 16th is a shortish par 4 with trouble everywhere—a marshy area on the right with a water-filled ditch running through it, with out-of-bounds a bit farther to the right. The ditch then ran across the fairway in front of the green. Now, I had a bad cold that week, and a doctor had given me cold medicine laced with codeine. I don't know if it was the codeine or what, but on Saturday night I had the worst nightmare of my life: I was on that 16th hole with the lead and pumped ball after ball out-of-bounds. Just awful. Later that day, there I was on that 16th hole with a one-stroke lead, woozy from antihistamines, adrenaline pouring through me, my heart pounding something terrible. I felt exactly like I was in that dream. I was almost paralyzed, I was so scared. I chose a 3-wood, and sure enough, I hit a big push-slice toward that ditch. My ball stopped on the slope on the opposite side of the ditch, directly in front of a big pitch mark and three feet from the O.B. stakes. After that, I laid up, made a 20-footer for par, parred the 17th, then birdied the 18th and ended up winning the Open by two. That tee shot—a big push-slice that just missed going out-of-bounds and left me with no shot to the green—was the best of my career.
I was sitting with Bob Murphy in an airport one day, and mention of somebody's divorce came up. He said a little sadly, "Carol, I graduated from tour school with 29 other guys, and all of us wound up getting married. Of the 30, only two of us are married to the same woman." The divorce rate on the PGA Tour is very high, and I bring it up only to throw in that marriages on the LPGA Tour are maybe even more complicated. The fellow has to be subservient to his wife's career but strong at the same time. It's a tough combination for both parties.
We were in a foreign country playing in a tournament once, and it was an important event for the LPGA. A lot rode on it for us in terms of future events because the sponsor wanted to do business in that country. As part of the event, we got to meet the leader of the country. The players spent a lot of time with him. One night, a young player phoned me, very upset. Somebody had knocked on her door and handed her a gift, a very expensive ring, from this guy. She wanted nothing to do with him, but she was terrified that if she sent it back, it could jeopardize the LPGA. "What should I do?" she asked. My reply was simple: "What do you want to do?" She replied, "I want nothing to do with this guy." I said, "There's your answer. You have to act on it." And she did: She sent the ring back. Things turned out fine, but that's a hell of a place to be in, isn't it? Imagine any men's event where a huge deal hinged on whether a player took a romantic offer from a person of importance. That's the sort of problem only the LPGA had to deal with.
In 1973, a few months before I became LPGA president, I spoke with the USGA's executive director, P.J. Boatwright, about increasing prize money for the 1974 Women's Open. In trying to explain the difficulty of raising the purse, P.J. told me some things he probably shouldn't have. Among them was the fact that ABC, the network covering the men's U.S. Open, offered the USGA additional money if it didn't have to televise the Women's Open and the men's U.S. Amateur. The network told the USGA those two championships were money-losers. When I passed that information along to the other players, a group of dissidents formed, and they became very vocal. Several threatened to boycott the '74 Women's Open, and I believed there was a strong possibility that if a dissident decided to play and won, she would use the championship as a platform to embarrass the USGA. At that point we just couldn't afford any bad publicity.
With all sorts of trouble looming, Sandra Haynie and I made a pact: We decided one of us had to win the Open that year. Trying as hard as I ever had in my life, I had a five-shot lead after 27 holes. But a double bogey on the 70th hole cost me the tournament—I finished tied for second, one shot behind the winner. And the winner was Sandra Haynie. She holed a 70-foot putt on the 71st hole, and then a 15-footer on the last hole to win.
Like many older professionals, when I play these days I rarely turn in a scorecard. Been there, done that. What stimulates me now is turning myself into a lab rat, experimenting much more freely with different things in the golf swing, different ways to hit shots. Playing for score is a different mind-set entirely, one that could get pretty discouraging because my best days are 40 years behind me. You have to go where the fun is in this game. Otherwise, what's the point?
There were male groupies who followed the tour around. They were unusual guys, a bit odd but usually courtly and gentlemanly. They all had their favorite players, of course. My guy was a beauty. He followed the tour from Cincinnati all across the eastern and southeastern U.S., on his bicycle. Can you imagine? I'd drive hundreds of miles, and there the guy would be. There was one tournament in Atlanta where I double-bogeyed the eighth hole and walked off the green steaming. He was standing there with a large prism draped around his neck. "Oh, Carol, the light from my prism must have gotten you in the eye," he said. "Zoraster will help you on the next hole." This guy followed me for years. He was weird, but harmless.
In the prime of my career, I got an awful lot of fan mail from guys in prison. Don't ask me why. I thought it was so strange that there was something about me, or women's golf in general, that appealed to convicted felons and inspired letters from them. Now, virtually all of these letters contained a drawing of the same object, which I'm not going to describe other than to say it was highly personalized. I still don't know what to make of it. But there you have it.
If you're tall, get down to the ball by bending at your hips, not your waist. Never get down by flexing at your knees; it instills poor swing mechanics and undermines the advantages of being tall.
Golf consists of five key areas: putting, chipping, pitching, greenside bunker play and the full swing. But more vital for the beginner is to learn the first four first. Only when you develop some degree of competency should you go forward. Harvey Penick taught that way, and so do I. It's the only way to go.
The players who used Wilson equipment sort of banded together years ago, and that meant I traveled a lot with Mickey Wright. There were a lot of extraordinarily long car rides, and one in particular, we had stopped in Fort Worth on our way east. It was early evening when we checked into the hotel. Mickey asked, "So, what would you like to do?" Being too tired to really give a darn, I said, "Oh, I don't care." Wrong answer! Mickey picked up a deck of cards and threw them across the room. "You have to care!" she yelled. It startled me. She really meant it. Her whole thing was caring about whatever she did, giving things her full attention. A while ago I was browsing through a self-help book, and one of the keys was, "You have to care." Exactly as Mickey had stated it 40 years ago.
When a prominent member [Jane Blalock] was accused of cheating in 1972, the LPGA placed her on probation, then later suspended her. She countered by filing an antitrust lawsuit against the LPGA, and in 1973 a district judge ruled we had violated the Sherman Antitrust Act and ordered the association to award her the first-prize monies, trebled, for an event in which her entry was rejected under her imposed suspension. The LPGA lawyers appealed that ruling and ultimately lost. The lawyers had wanted to persist and drag the case out, and even suggested we let ourselves go bankrupt to show what had been done to the LPGA. The publicity the case received—and would receive should bankruptcy occur—had the potential to be devastating. In 1974 I asked Deane Beman, who had just begun his tenure as PGA Tour commissioner, for advice. Deane referred me to top lawyers, and shortly after they stepped in the case was settled. I've always felt grateful to Deane for that. Why should he care what happened to the LPGA? In his wisdom, Deane realized that a scandal of this sort wasn't just bad for women's golf, it was bad for all of golf. The sooner it ended, the better. Deane got the big picture.
Versatility can enrich your life. It also can hurt you. I quit playing the LPGA Tour at age 40 even though I still had some game. I had gotten married, was conducting golf schools, doing commentary and reporting for NBC's coverage of the men's and women's tours, playing the tour and also serving as a member of the LPGA Board of Directors. I was fragmented to the point I did none of these things as well as I could have, and it resulted in me becoming stressed out, burned out, angry, rude and unhappy. It was a combination of these things being thrust at me and my wanting too much. The lesson: Dabble in other things, but stay committed to the thing you're best at.
Golfers leaving the game is a problem. We have lots of people coming into the game, and almost as many going out. Now, I've seen many surveys asking people why they leave, and I'm just stunned that the No. 1 reason is never on the questionnaire. Yes, people leave because it's time-consuming. Yes, it's expensive. But the main reason is, it's too difficult. People do not like to do things they're not competent at, period! If we could just own up to that, maybe we could start to address ways to make the game a little easier, a little more fun, a little easier to excel at, at least at the grass-roots level.
Short people get most of the sympathy, but tall people have plenty of challenges. Cocktail parties are horrible for me. Tall people unconsciously stoop so they can hear, and to get nearer eye level so the shorter people don't feel they're being dominated. I never catch pieces of conversations that make it easy to join in. When I walk into a social gathering, I pray there'll be chairs.