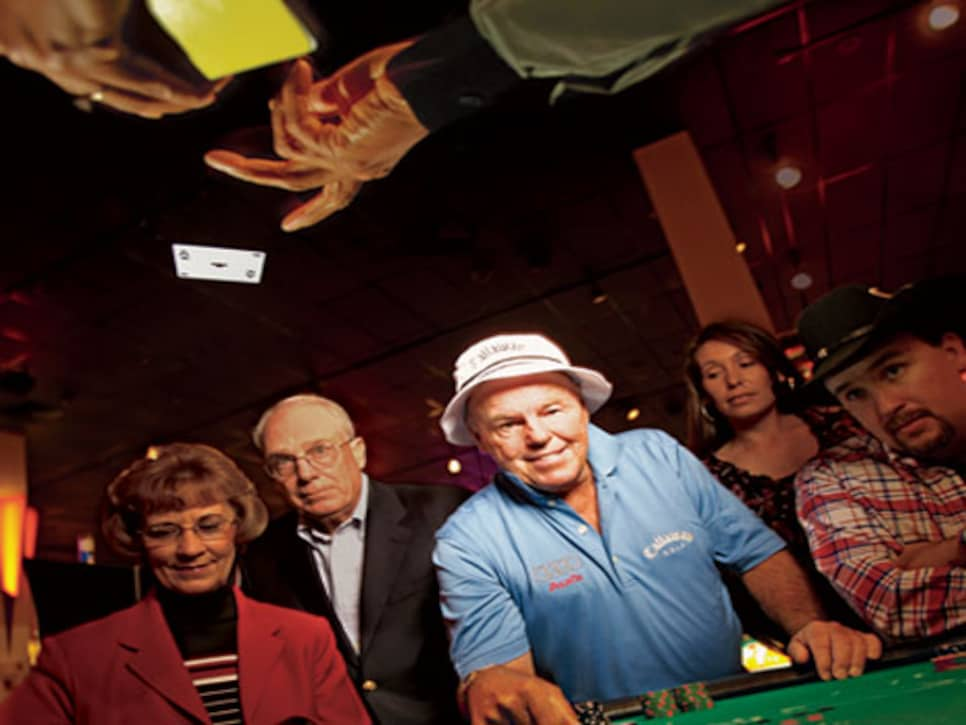 Jim Colbert, photographed Nov. 10, 2005, at Harrah's Prairie Band Casino in Mayetta, Kan.
In 1997, I drew Kevin Costner as my partner in the Lexus Challenge. He had just finished making "Tin Cup." The 17th hole is a par 5 that Kevin could reach with two good shots, and he did. He made a natural birdie, net eagle, and we wound up finishing second. The next year, I drew Kevin again. By then the movie has been a hit, and we've got a big gallery. We come to the 17th hole with a two-shot lead, and Kevin drives it down the middle, right on the edge of the go/don't go zone. The gallery is screaming "Go for it!" and "Tin Cup!" Kevin smiles at me and asks, "Well, pro, what do I do?" I think hard—for about two seconds. "Take your 9-iron and lay up," I said. Kevin did lay up and made a par for a net birdie, and we ended up winning. The gallery groaned when Kevin pulled out an iron, but hey, first-place money for me was $180,000. Christmas was right around the corner. What would you have done?
When Andy North turned 50 in March of 2000, he asked me to play in the Legends of Golf with him. I was flattered and couldn't say yes fast enough. Inspired by Andy's confidence in me, I played great golf, and we won the tournament. Only after did I learn I was the ninth person Andy had asked.
I knew when I moved to Las Vegas in 1981 that I'd have friends coming in to visit, and they'd ask me to take them to the casinos. I figured I should learn how to play. So I read a lot of books and talked to a lot of people and became a passable blackjack and craps player. That doesn't mean I win every time, but it means I don't lose as often or as much. And when I win, I win pretty big.
Blackjack rule No. 1: Over time you'll lose more hands than you win. Period. You have only one edge over the house: You control the size of your bet. Think about that for a minute.
Blackjack rule No. 2: After you lose a hand, your next bet can never be greater than the original "base" bet you made when you walked in. Say you start with a $10 wager and win your first hand. Great. You're playing with the house's money and can bet $20 the next hand if you like. The key is, if you lose the $20 hand, you must go right back to the $10 bet. If you lose a bunch of $10 hands and lose your stake of $500 or whatever, so be it. It wasn't your night. Take the pain and get out of there. There will be other nights.
Let me get off the blackjack lesson for a minute and say that golf is just like gambling. If I birdie three holes in a row and I'm in the next fairway, you better believe I'm going for the flag. I'm not going to back off, thinking my luck is about to run out. You've got to have the courage to ride your streaks, and you've got to handle prosperity. If I hit my ball in the water on the next hole, I'm going to regroup and go back to my "$10 bet"—by making sure I'm in the next fairway and make a solid par, so I can get another streak going.
The same rule applies to craps. Awhile back I went to a casino with Dana Quigley, Jim Thorpe, Ed Dougherty, my wife, Marcia, and grandson Jimmy. Jimmy was a beginner, so I explained the betting principle. If I have one superstition, it's a belief in beginner's luck. Jimmy must have had 10 straight passes with the dice, and he won us a quick $4,000. The pros with us were whistling a happy tune because they were betting a lot more than Jimmy was. They were slapping him on the back like he'd just won the U.S. Open.
I was a decent player. I won eight tournaments, and 20 more as a senior. But I always wanted to win a major, and my best chance came in 1974 at the Masters. I started the back nine on Sunday in the lead or maybe a shot or two back. I missed about a three-foot putt for birdie on No. 10 but came back with a nice drive on the 11th. I was ready to pull my 5-iron for my second shot when I decided to consult with my caddie, a local guy.
"Well, Washington, what do you think?" I asked.
"I think the putt you just missed is the one we needed to win," he said.
I told Washington to put the bag down and walk back to the clubhouse. We fought for a while because he refused to leave. Finally I decided to just make the best of it.
On the 15th hole I was two or three shots behind and needed at least a birdie to stay in contention. My second shot was dead in between clubs—a 2-iron would fly too low and hot to hold that firm green and might go in the water beyond it. A 3-wood would give me a higher trajectory, but it was just too much club. I asked myself the question I always ask when the heat is really on: For all the cash, what shot would you play? The answer was a towering slice with the 3-wood, which would keep it from going too far. Right when I hit it, I knew it was the best 3-wood of my life. I actually got chills down my back and arms. Then in the course of one second I saw the ball hang up in the air while also feeling a puff of wind on my left cheek. The ball landed on the front edge of the green and rolled back into the pond. I made a 6, and that was the end of my best chance to win a green jacket. On the 18th hole, completely deflated, I hit an 8-iron second shot, and it goes in the hole for a 2. The gallery goes wild. I acknowledge the cheers, smiling, tipping my bucket hat and muttering under my breath over and over, "That ... f------ ... figures."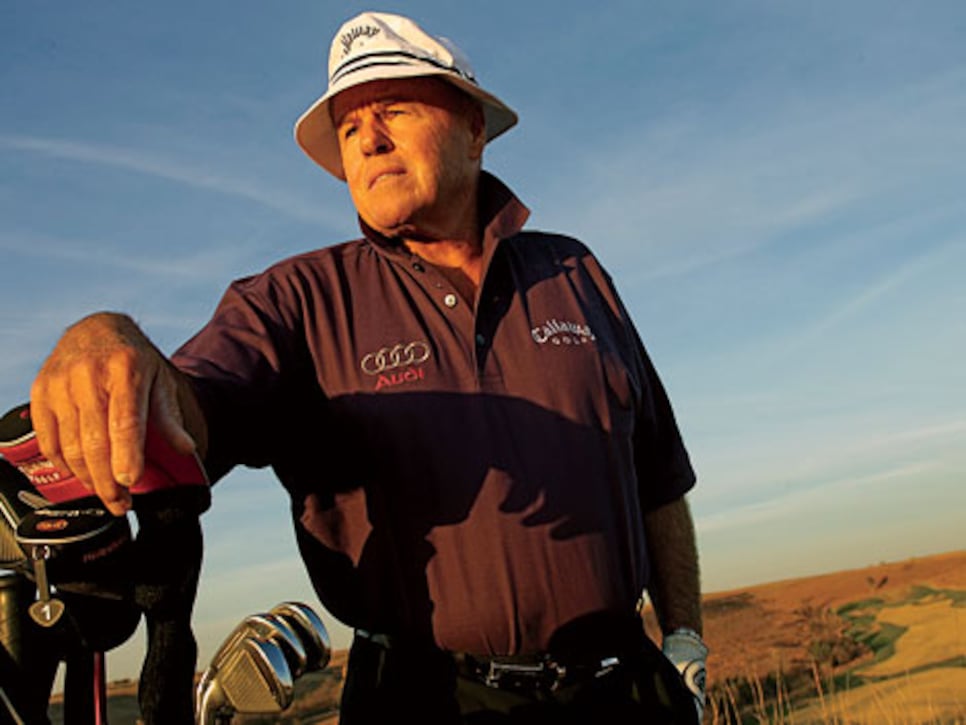 During my early years as a pro, being high on the money list didn't necessarily earn you an invitation to the Masters. One way to get in was to get a special invitation issued by the past champions. Now, Lee Elder was the first black man to earn an invitation to the Masters. He played in 1975. But Charlie Sifford was invited by the past champions years earlier. But that invitation was overruled by the higher-ups at Augusta National, and Charlie never played. Subsequently the past champions lost their vote. It wasn't right. But those were different times.
I admired Charlie more than anybody I played the circuit with. He didn't have a good swing or a great putting stroke, and he sure as hell didn't have a great life. The stuff he put up with at Greensboro and other places in the South was just unbelievable. I don't think any player today could survive it. But he did survive and made a living. He was the toughest guy mentally I ever saw.
One night I was staying in a hotel room directly below Charlie. That night I heard this awful thumping and couldn't imagine what was going on. The next morning I saw Charlie and asked him what he was doing. "Skipping rope," he said. "I skip the rope 600 times every night before I turn in. Gotta keep them wheels strong, man."
I played with Seve Ballesteros when he was 16, and he was the longest straight driver I ever saw. From 130 yards and in, he was the worst professional I'd ever seen. I played with Bernhard Langer in the European Open when he was 23, and on two par 4s he drove into the middle of the greens, but I watched him miss several putts from a little over a foot and a couple of others from six inches. Today Bernhard's short game is fantastic compared to his ability with the driver. Don't forget to maintain your strengths.
The trick to being a TV analyst is to see every shot as being played with any one of three clubs. When I was at ESPN, I got to know each player's bread-and-butter shot so I could present the options and predict what type of shot he'd play. One year Greg Norman was in contention and drove his ball into a stand of trees, his ball sitting on sandy soil. I got to the ball and told the audience, "Greg can take his medicine and just pitch out sideways, but there's also a little opening high in the trees he can choose to go through." At that point I had our camera man pan up to this small window in the pines. "Only two men in the world can hit the ball high enough off this sandy soil to find that window: One is Jack Nicklaus, and the other is Greg Norman. Greg can pull this off, but it's very high-risk." So Greg gets there, and with the camera tight on his face, you can see his eyes find that little window I'd pointed to. And he did hit the ball through it, and not only reached the green but then made the putt for a birdie. Whenever I think of that moment, I feel like doing TV again.
I haven't crouched to read a putt in 20 years because my knees are bad. But I read greens as well as anybody. The only reason golfers go into that crouch is because they see others doing it. Try standing tall when you read putts. I'll bet money it doesn't hurt your putting at all.
There are hundreds of players on the PGA and Champions tours, and not more than five wear a bucket hat. I don't get it. The bucket hat keeps the sun off the top of your head, ears, cheeks and face. The little brim is all you need to keep the sun out of your eyes. It's not good in the wind, but you can fix that by turning the sweat band in the back inside-out so it grabs the back of your head. But the bucket hat's ready to make a comeback. A lot of young people, rappers especially, are wearing it, and where rappers go, a lot of young people follow.
Blackjack rule No. 3: The last bet you lose is the largest bet of the night. The key is, the largest bet is always made with the house's money, not yours. If the biggest bet you make is with the cash withdrawal you just made at the ATM, you shouldn't be gambling.
I wore a toupee for years. I guess I was self-conscious about losing my hair at a young age, starting in high school. But when I turned 60 I threw it away. I figured at 60 it's permissible to lose your hair.