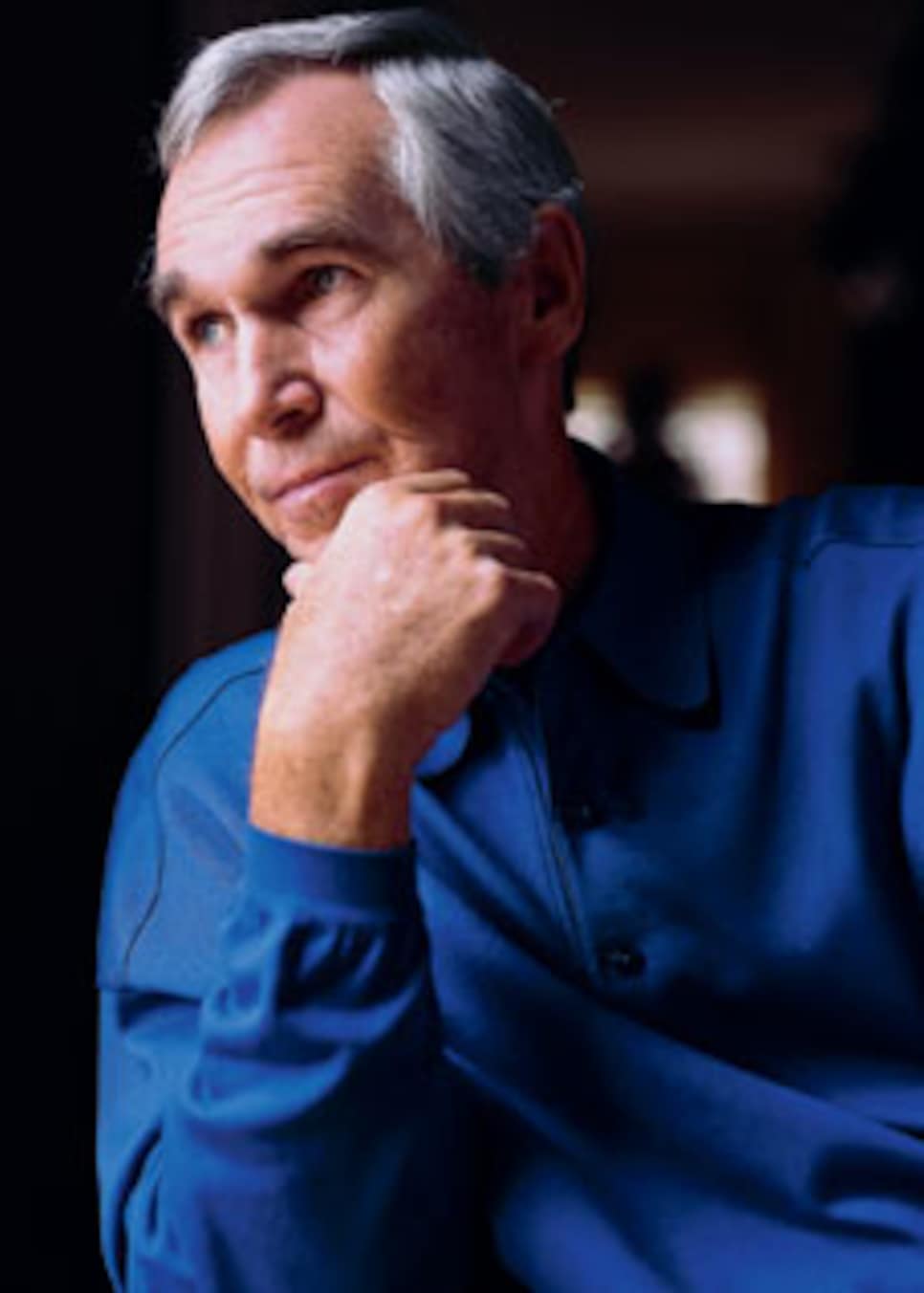 Hubert Green, photographed at home
Age 58 Mountain Brook, Alabama
People assume I was angry at Jim Kelly for what happened at the 1978 Masters. If you've never seen the tape, I had a three-foot putt on 18 that would have put me into a playoff with Gary Player. I was ready to stroke the putt when I overheard Jim, who was doing radio in those days, describing the scene. I backed away and indicated that I needed quiet. Then I got reset and pushed the putt. End of story. People are amazed that I wasn't distracted, but after I got reset it truly was like hitting the putt the first time. Pros know how to handle that stuff. Only an amateur would have been put off by the interruption—or would try to make excuses about it.
__People are curious as to what exactly I overheard Jim saying.__I used to be able to tell you, but now I don't remember. I have radiation brain, from the dance I had with oral cancer awhile back. A few things have left my memory, and it's always a surprise when some simple fact goes on vacation. I played in the Bruno's Classic in Birmingham, and a guy asked me to sign a photograph and put down the year I won. Well, I couldn't remember that it was 1998. My friends who know my wedding anniversary, I'd appreciate it if you stay in touch.
There was this nurse. Her name was Debbie. She was extremely competent, but she also was as gruff and demanding as a person could be. No sympathy at all. I never felt sorry for myself when she was around, because I was preoccupied with being mad at her. Anyway, one day I had to be rushed to the hospital. I'd lost 43 pounds from the chemotherapy, my morale was low and I was in a real crisis. After my IV was hooked up and the rest of the staff had left, Debbie appeared. She led me down the hall to an unoccupied room, closed the door and pulled the drapes. There, in the dark, she held my hand and cried with me. Debbie cared far more than I realized, and I can't think of her without getting choked up.
I started the final round of the 1985 PGA with a three-stroke lead over Lee Trevino. There were three par 5s at Cherry Hills, and I hit irons off the tee on all of them. It wasn't to keep the ball in play. See, at that time my fairway-wood play was terrible. Those holes are reachable in two if you hit big drives, and I knew if I was in the "go" position I wouldn't be able to resist the temptation. So I hit the irons to protect me from myself. That's experience.
Lee is a beauty, no doubt about it. Nick Price was in our group that day and also had a chance to win. On the ninth hole Lee and I both stuck our approach shots close, but Nick, who was struggling, missed the green. Nick hits his pitch, and as his ball nears the hole I hear Lee mutter under his breath, "Get away from the hole, ball! Get away!" After Nick's ball stops rolling I said, "You're pulling against me, too, aren't you, Lee?" And Lee says, "Oh, no, Hubert, I always root for you. You're my man!" I said, "You think I'm stupid enough to believe that?" And we both cracked up.
One year I was paired at the Bob Hope with President Ford, Clint Eastwood and Mr. Hope. As we're standing on the first tee, Moose Wommack, who was a rules official, came up to me. "We need to get around in 4½ hours, so keep your group in position. Don't get behind." I said, "Let me get this straight: You want me to tell the host of our tournament, the President of the United States and Dirty Harry to pick up their balls and get moving? I think not. We're not playing fast, and we're doing it very slowly, if you get my drift. Goodbye, Moose."
We're playing a par 5 at Eldorado, and President Ford is looking over his third shot. I sidle over and see he's got 128 to the hole, the pin back. "What are you gonna hit, Mr. President?" I ask. "A 9-iron," he says. "The pin's in the back, sir—better hit the 8," I said. President Ford hits the 8-iron—and airmails the green. I can feel him sort of glaring at me. I just shrugged. "I'm a private in the National Guard, you've been the Commander-in-Chief of the Armed Forces, and you're listening to me?" I got out of there.
Years later I'm paired with President Ford again, this time in another pro-am. On a par 3, I ask, "What you got out?" Immediately he replies, "I have a 5-iron. And I remember what happened at Eldorado." I just nodded and backpedaled over to my caddie.
My pet peeve of the pro tours is seeing the empty glove and golf-ball packages strewn all over the practice range. It's like these guys expect someone else to pick up their trash. It's a small sign of disrespect and entitlement we never used to see.
I won't lie to you. After I got that death threat at Southern Hills in 1977, I was scared—not from the threat, but from being at the top of the leader board in the U.S. Open. I was a little more nervous playing the 15th hole, though, because that's where I was going to be taken out. I was on the green in two but a long way from the hole, and when I stood over the putt I suddenly got the sensation I was going to be shot at any second. As soon as I hit the putt I knew I'd left it short. I also knew I hadn't heard a gunshot.
I said out loud, "Chicken!" And I wasn't talking about leaving the putt short.
About a year later I got another threat. There was a note on my locker that said, "Sorry I missed you last year at Tulsa on 15. We'll see you today." I knew the threat was not real, but it probably was from the same guy—though he didn't leave his address. Tiger has made public the fact he gets death threats, and other players get them, too. Much more often than you'd think.
In my Ryder Cup match against Nick Faldo in 1985 we chopped up one hole pretty badly. I three-putted, but Nick four-putted to hand me the hole. The gallery at The Belfry was pretty quiet, so as we walked off the green I thought I'd inject a little humor. I approached a woman, pulled £5 from my pocket and said, "Lady, this golf is so bad, I feel like I should be paying you to watch us instead of the other way around." She didn't change her expression at all. Just took the money and walked away.
Winged Foot is my favorite course, and the way it was set up for the 1974 U.S. Open also makes it the hardest course I've ever played. Two things made that tournament memorable for me. First, I shot the low round of the tournament, a 67, and I'm proud of that because the winning score was seven over par. Second, on the first green of the third round, there was a bird dropping on my line. I called over a USGA official and asked if it could be removed. He said, "Yes, you certainly can remove it." I said. "Great. Would you mind removing it for me?" I was just joking, but before I could do anything he said, "Of course" and bent down and wiped the dropping away with his finger. The USGA scored a lot of points with me that day.
My older brother, who caddied for me for a while, did two tours in Vietnam. He was a career Marine. I reminded him once that he'd won two Purple Hearts. "No, I got three," he said. "You have two; I saw them," I said. "Hubert, if you get wounded a third time, they make you go home. I didn't want to go home." He told me that sort of thing is common, guys not wanting to be recognized because they don't feel they're doing anything that heroic. He says you can bet there are guys like him in Iraq right now.
Me, I was in the National Guard. For six years. I was in charge of keeping pink elephants out of South Alabama, and I'm proud to say none got in while I was there.
I never really knew my dad. I never saw my mom and him kiss or hug, and he never hugged us. Not once. He never praised us. I worked so hard to get his approval, but it never came. One year I took him to Japan. I played well and decided to spring for first-class tickets on the way home. We were somewhere over the Pacific when Dad, with a bourbon and water in his hand, turned to me and said, "Son, you done good." For the next five hours, I was higher than the plane.
I'm sure my upbringing had something to do with me not being a great father myself. I felt awkward trying to show affection to my three boys, counseling them and everything else I was supposed to do. Finally I said, "I'm trying to give you the love you need, trying to show you the way, and I'm doing a poor job because I don't know how. I'm asking you to forgive me, and for your help. I need help helping you." I'd like to say my speech cured everything, but it didn't. I envy these fathers who say how much fun parenting is, because for me it was work. I never did get good at it.
My wife, Michelle, grew up with a phobia of hospitals, so my getting sick was no day at the beach for her. It was like putting someone with a fear of flying in the cockpit of a 747—with her loved ones in the back of the plane. She was outstanding.
The last thing Hale Irwin needs is to be lucky, because he's one of the great players of all time, period. But he's a lucky golfer. At the Crosby one year he drove the ball over the cliff to the left of 18 at Pebble Beach, and it bounced off the rocks and back into the fairway. He ended up winning the tournament. The one I remember best was the break he got at Newport Beach. He was running neck and neck with a guy, and on the 17th hole his ball was bouncing toward a water hazard. Unbelievably his ball hit a rake on the edge of the hazard, stayed dry, and Hale won. The reason I remember it so well is that the guy he beat was Hubert Green.