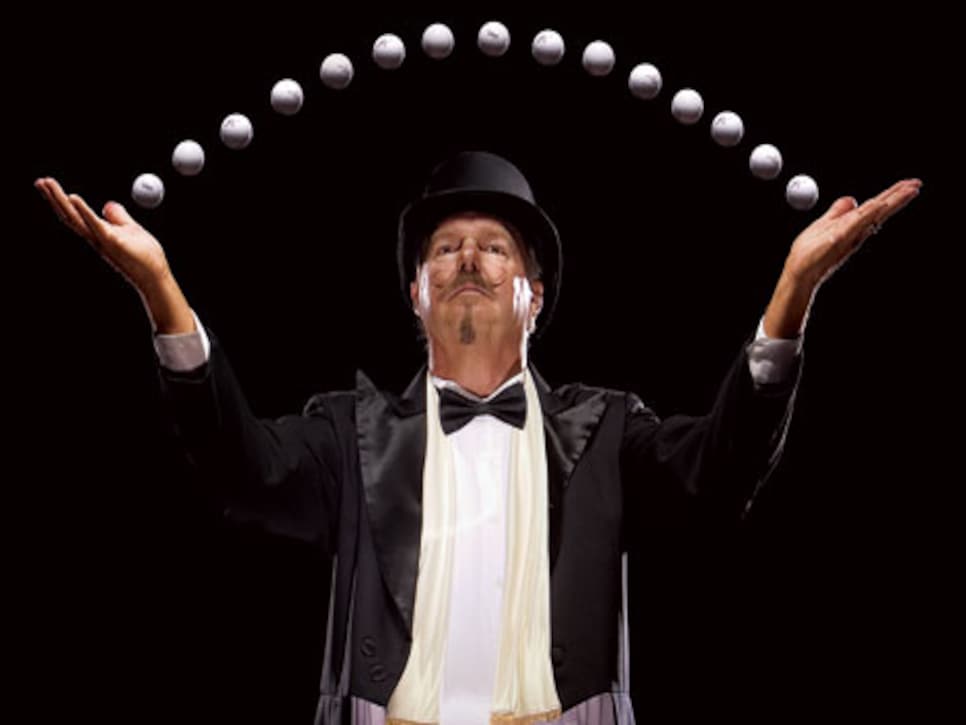 Gary McCord, photographed Oct. 27, 2004, at Grayhawk Golf Club, Scottsdale.
Age 56 Paradise Valley, Arizona
Are you one of those 45-year-old amateurs who think they can make it on the Champions Tour? It takes cajones to think you're going to stare down Tom Watson in the final group on Sunday, and that's a good sign. But after you quit your day job and secure one of the seven spots available at Q school, you have exactly one year to get it done. You will play every single week and not come up for air, even if you pull a muscle in your toupee, because if you don't finish in the top 30 on the money list, you're done. Thanks for coming, and come back and see us soon. The bottom line is, it's the hardest tour to get on and stay on in the world.
The first time I played a PGA Tour event at Tucson was 1975. I came off the course on Sunday feeling very good about myself. I'd finished at even par, and I knew I could play even better if I worked at it. I cleaned out my locker and stopped to watch the finish on TV. Johnny Miller, the leader, is playing the 18th hole at Tucson National, a long, hard par 4. Miller's got 225 yards uphill to a back-left pin and decides on a 4-wood. As soon as the ball leaves the clubface, Miller shouts, "Go in!" The ball bounces one foot behind the hole, and he makes it to shoot 25 under. I just stood there thinking, Maybe I'm not good enough to be out here. It was a long, sobering walk to the car, and a long 24 years on tour.
In Valdosta, Ga., during a mini-tour event, a player named James Black bet me $20 he could put five golf balls in his mouth and then close his mouth all the way. I tried it but could get only two in there. James put all five balls in, which was amazing, but then he said, "I'll give you a chance to get even. I bet I can fit a whole loaf of bread in my mouth." There's no way a human can do this! So I went out got one of those extra-long loaves of Wonder Bread and took it back. James just smiled. He started compressing the bread--squeezed it, sat on it, stomped on it--and then began shoving it in his mouth. It took awhile, but he got it all in there and closed his mouth. It was the damnedest thing I've ever seen, a bargain for the $40 it cost me.
Many years ago, in the throes of my struggles on the PGA Tour, I had difficulty even getting into pro-ams. I needed money, so I put together a 45-minute magic show I'd perform at corporate events surrounding the tournament. My interest in magic was kindled by Steve Martin, the comedian I'd gone to high school with. One time I even performed on TV during a rainout. My specialty is cards and coins. I'm not very good, but I talk so much nobody notices. Hey, I'm trying to be the total package.
People ask if I've ever had a bad day. One day in the early 1980s outside Flint, Mich., I had just missed my fifth or sixth cut in a row by one shot. My first marriage had dissolved, I was dead broke, my game was terrible and I had an unexplained rash. Standing in the locker room, I had a real stupid idea. I thought, I can punch the locker and break my hand. Collect the insurance and get my life back together. Here comes a hard right hand, over the top, but all I did was dent the locker. I hit it again, but still, nothing, except a bigger dent and some scraped knuckles. Two locker-room attendants ran over and asked what was the matter. I sat there with my face in my hands, feeling like the guy in "It's A Wonderful Life," who couldn't even kill himself properly. I looked up at the guys. "Fly was bothering me; I think I got it," I said. "Where's the tour next week?"
If you find yourself broke and essentially homeless, like I was coming out of my divorce, a concrete storage unit makes for suitable temporary housing. I rented a "U-Lock-It" and actually slept in it a few nights over roughly a two-week period. I was pleasantly surprised by how cheap, comfortable and quiet it was. The amenities weren't much; I had to run an extension cord into the unit to power the night light and space heater. But plastic flowers improved the ambience.
I am the poster child for Attention Deficit Disorder. In the CBS broadcast booth I'm constantly thumbing through magazines while we're on the air. But golf is the perfect sport for someone with ADD. You only need to concentrate for a few minutes at a time, as Lee Trevino proved.
Where do I get my lines? Whatever's hot in pop culture, really. I jot little expressions into my laptop, and if something happens that fits, I'll use one. It's amazing the parallels you can construct between golf and celebrity boxing, the Osbournes, lip-syncing or whatever. Most don't make the cut. Others do, for better or worse.
The "body bags" and "bikini wax" comments were merely the straw that broke the camel's back for me at the Masters. I don't think the Masters people were comfortable with my style from the beginning. One year a ball bounded over the 14th green and I remarked, "Oooh, that one's in the cheap seats." I silently began counting the seconds, and I didn't get to four before [producer] Frank Chirkinian shouted in my headpiece, "There are no cheap seats at Augusta National!" Eventually I found out he had a Batphone connection to [Augusta National's] Hord Hardin, who immediately let it be known this is not the type of thing we say at Augusta.
When I said about the 17th green, "They don't mow this green, they bikini wax it," I'd just read the phrase in a magazine. Moments earlier I was reading a story on the Golden Door spa near my home in Escondido, and it mentioned bikini waxes. Those words were on my mind, and they just popped out of my mouth. The president of CBS Sports, Neil Pilson, was sitting right next to me when I said it, and he laughed and the cameraman laughed. If someone laughs at Augusta, it's a bad sign. Chirkinian himself once told me, "If I laugh about something, it's not funny." Anyway, a short time later I was gone.
I never played in the Masters, of course. But I did get to play Augusta National during a practice round in the mid-1980s. I was with Mac O'Grady and Jodie Mudd, and when we came to the 16th hole the flagstick was back-left in its traditional Sunday location. Mac says, "Gary, let's not go for the hole; it's too easy. See that little shelf on the back right? It's very difficult to make the ball stay up there. It's probably the hardest shot on the course. Let's aim there." I said sure, and of course my ball doesn't stay on the shelf. It rolls sideways down the tier, all the way across the green and dives in the hole. The gallery, of course, goes wild. All the way to the green I'm bowing, waving and smiling, saying quietly, "Thank you .... I wasn't aiming there. ... Thank you. ... It was a terrible shot.... Thank you. ... I stink."
I don't want to age the way Ben Hogan did. I met Hogan once, a story that has been well chronicled. But what stayed with me from that visit to Shady Oaks was when I went downstairs to the card room. A bunch of guys are playing gin, and they tell me they won't let Hogan in the card game because he was a little overbearing. Mr. Hogan, like a lot of old people who spend their lives being difficult, became lonely. Only then did he make an effort to be nicer to people, and I don't think it went down easy on him or others because neither party was used to him being a people person. He was saying hello when it was time to say goodbye. I came away thinking, I'm going to be nice my whole life.
On the last hole at the Toshiba Classic in 1999, I needed to hole a long eagle putt to win my first tournament on either tour. I thought that was the deal until my good friend John Jacobs, who I'm paired with, holes his shot from 30 yards off the green. Now I need the putt to extend the playoff. The crowd is going crazy, and I'm playing along with the theatrics, making all sorts of gestures to make it fun and dramatic. It finally grows quiet and I settle in over the putt. Then it occurs to me: I haven't read the putt at all. I have no idea how it breaks, and I'm too embarrassed to step away. This is what age does to you. I decided to just hit the putt. Damned if it doesn't go in. I end up winning the playoff, and for a moment, getting old is a beautiful thing.
Before you move into the storage facility, get to know the security guard.