For 35 years he came into our living room as an inimitable TV presence. Now it's our turn to drop in on him for a breezy trip to the memory bank.
Ken Venturi, photographed Sept. 29, 2004, at The Club at Morningside, Rancho Mirage, Calif.
I often play a few holes in the morning, alone. A while back I made a hole-in-one, which is always fun, and when I got in one of the assistant pros asked how I was doing. "Great," I say. "I just made a hole-in-one." He kind of rolls his eyes as he walks away with my bag and says, "You sure it wasn't two holes-in-one?"
I had a terrible stammering problem when I was young, and as a result I spent a lot of time alone. Golf-wise, there were advantages to that. When I went to the golf course by myself, I'd play two balls. One ball I had to fade every shot, the other ball I had to draw every shot. If I failed to at least curve the ball in the direction I wanted, that ball lost the hole, and I moved on. By the time I got to the point where the fade and draw won about equally, I was a very good player. To this day, I think it's a wonderful way for a kid to learn how to play golf.
I started the final round of the 1956 Masters with a four-stroke lead, but then shot 80 to lose to Jackie Burke by one. I hit 15 greens the last day but three-putted six times. The mistake I made was consciously trying to two-putt every green and just coast home. The hardest thing in golf is trying to two-putt when you have to, because your brain isn't wired that way. You're accustomed to trying to make putts, and when you change that mind-set, your brain short-circuits, especially under pressure.
When Byron Nelson was unable to be the honorary starter at the 1983 Masters, he asked me to fill in for him. Of course I agreed. After Gene Sarazen, Sam Snead and I teed off, we decided to play the front nine. Much to my surprise, I made four birdies and one bogey and made the turn at 33. Boy, did I hit it good. My imagination started flying. "Gene, I want us to keep playing," I said. "I can lead this tournament." Sarazen saw the desire in my eyes, and we started walking toward No. 10. Suddenly, Gene stopped. "On second thought, to hell with it," he said. "You can't lead anything, Venturi. Let's get some lunch." I just followed Gene into the clubhouse, like a puppy.
Bobby Jones told me in 1958 that, had I won the 1956 Masters and remained an amateur, he would have asked me to be president of Augusta National. Mr. Jones cherished the fact he was a lifelong amateur, and he really wanted to see an amateur win the tournament and succeed him. That was some high honor. If I'd won in 1956, I for sure never would have turned professional.
Frank Sinatra was my best friend for many years. When we lived together for a time, Frank would get up in the morning and scan the newspaper for stories about people going through some terrible crisis. Countless times Frank would donate money to the victims, always with the condition that he remain nameless. Frank impressed me in many ways, but the greatest thing was his charity.
At the 1959 Los Angeles Open my swing was just a little off. The night before the final round, I was practice swinging in my hotel room when I suddenly stumbled onto a thought. To see if it worked, I got some balls, opened the balcony window and hit a dozen or so balls out into the night. It worked all right; I shot 63 the next day and won the tournament. The moral of the story is, think about your game away from the course. Keep a putter next to your desk, grip a club while you watch TV. That's where the best thoughts come to you.
For 27 years I conducted the Guiding Eyes Golf Classic, an outing in New York that has raised more than $6 million toward giving guide dogs to the blind. It's very worthwhile, because the dogs cost $40,000 to raise and train. During the September 11 attacks at the World Trade Center, a blind man named Omar Rivera was on the 71st floor of the north tower. Omar didn't think he could make it down through the crush of people, so he asked another man to save his dog. The man agreed, but the dog shook loose, retrieved Omar, and got them both all the way out. Some time later, at a Guiding Eyes gala at Rockefeller Plaza, Omar came forward and told his story. Toward the end, he said, "This dog came from Ken Venturi." I cry easily enough as it is, but I cried buckets that day.
I see where Moe Norman died. I'm here to tell you he was better than anyone can imagine. When Moe played in the Masters back in the '50s he caused an uproar, hitting full iron shots off the practice putting green. Some members came down, all upset, but they got frustrated because Moe didn't leave a mark on the green, he picked the ball so clean. I didn't know Moe well. Not many people did. But as a ball-striker he was as good as it gets.
I began seeing my wife, Kathleen, while I was undergoing treatment for prostate cancer. She made 35 trips with me to Loma Linda, and she fell in love with me when I was going through a difficult time. I wouldn't wish cancer on anyone, but there's something to be said for starting a relationship when one of the parties is in a tough situation. When you get better, the relationship has deep roots. Every day is like heaven on earth for us because together we overcame a difficult experience.
Someone complimented Ben Hogan once on his terrific "muscle memory." Ben wasn't flattered. "My muscles don't have memory," he said. "I tell them what to do."
The story I love most is Jack Fleck on the 15th hole at Olympic in the 1955 U.S. Open. An official approaches him and says, "If you make two birdies coming in, you'll tie Hogan for the Open!" Fleck turns to his playing partner, Gene Littler, and says, "What do you think?" And Littler deadpans, "You've got to par the other two."
The uproar over the seventh hole at Shinnecock during the U.S. Open was ridiculous. I couldn't help but think of Billy Casper at Winged Foot in the 1959 Open, when he deliberately laid up at the third hole, another tough par 3. Every day, Billy deliberately played short, then chipped up and made his par. On the other hand, the players this year just bombed away at that par 3 like lemmings heading over a cliff. They complained that it wouldn't hold a well-struck shot. Well, so what? What did you expect, Bermuda Dunes? If they had looked at it as a par 4, which it really was under those conditions, and accepted that score and moved on, they would have been fine. But they couldn't do it. The USGA people promised a total test—skill, endurance and patience—and boy, did they deliver. The bottom line is, the section of the exam marked "patience" is the part a lot of them flunked.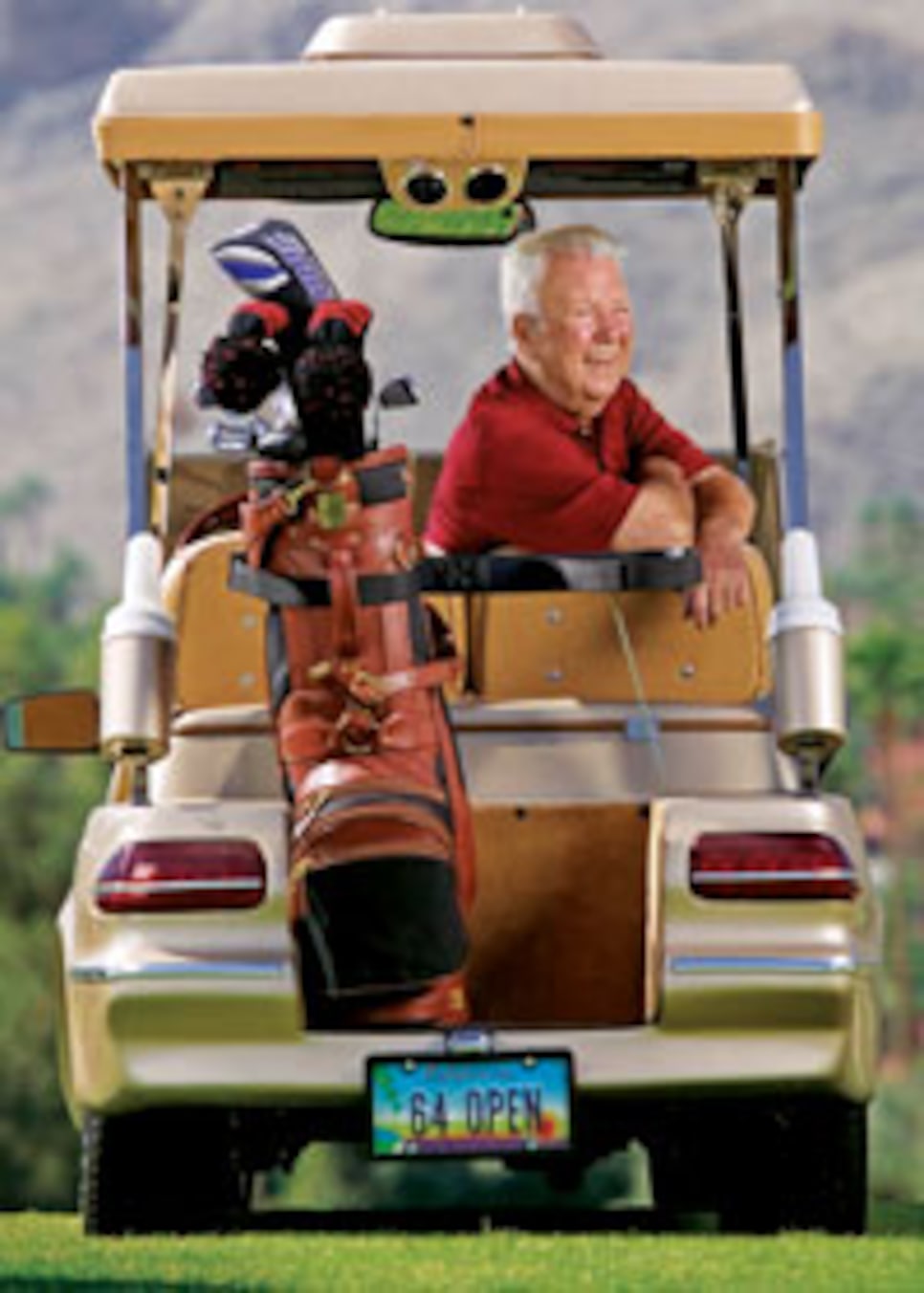 My victory at the 1964 U.S. Open at Congressional is viewed as heroic because I played the last 36 holes on the verge of collapsing in 100-degree heat. But I have to admit, my getting sick and dehydrated was my own fault. In the morning, I was so focused on playing I didn't take one drink of water. At the break I drank a lot of iced tea, which has caffeine in it, which is bad for you in hot weather. In the afternoon round I was in bad shape again. The doctor who followed me around, Dr. John Everett, kept feeding me salt tablets—I consumed 18 that afternoon. We know today that taking salt tablets on a hot day can further dehydrate you. In the end, I beat a tough golf course and a great field, but I also overcame my own mistakes.
Hogan gave me a great tip for playing under pressure. All you do is grip the club at the far end of the handle, so the butt end of the grip barely reaches the little finger of your left hand. Because your left-hand won't feel quite as secure, you'll swing the club easily instead of with the fast, violent action we're all prone to when we're under the gun.
Another surefire tip for handling pressure: Picture in your mind an apartment window exactly on the line you want your ball to fly. Now pretend that someone will give you $1,000 if you break the glass in that window with your shot. It won't cost you anything if you miss, there's just a reward if you pull it off. It's a very positive, effective little gimmick.
My favorite Pebble Beach moment: The incomparable Phil Harris is sitting to my right, and Jim Nantz is on my left. Phil, who'd been slaking his thirst all day, gets out of his chair, sticks his head over my shoulder and whispers very loudly, "I'll be back; I have to take a piss." The microphones are very sensitive; everyone heard him clearly. Someone is playing a wedge shot to the 18th, and I quickly say, "This is a shot he'll either make or miss." Frank Chirkinian, our coordinating producer, says into my headset, "I don't know what the hell is going on down there, Venturi, but you are good."
Gene Sarazen told me he lost a U.S. Open once because there was one hole he hated and played poorly every day. "It didn't fit my eye," he said. Everybody has a hole, or type of hole, that just doesn't jibe with their imagination. The key is to make it fit your eye, even if it means hitting an iron off the tee and then a fairway wood to the green. Never fight your eye. The hole will win every time.
Retirement isn't so bad. Give me a tall drink, a plush sofa and a rerun of "Matlock," and you can have the rest. Matlock is my hero. He never loses.