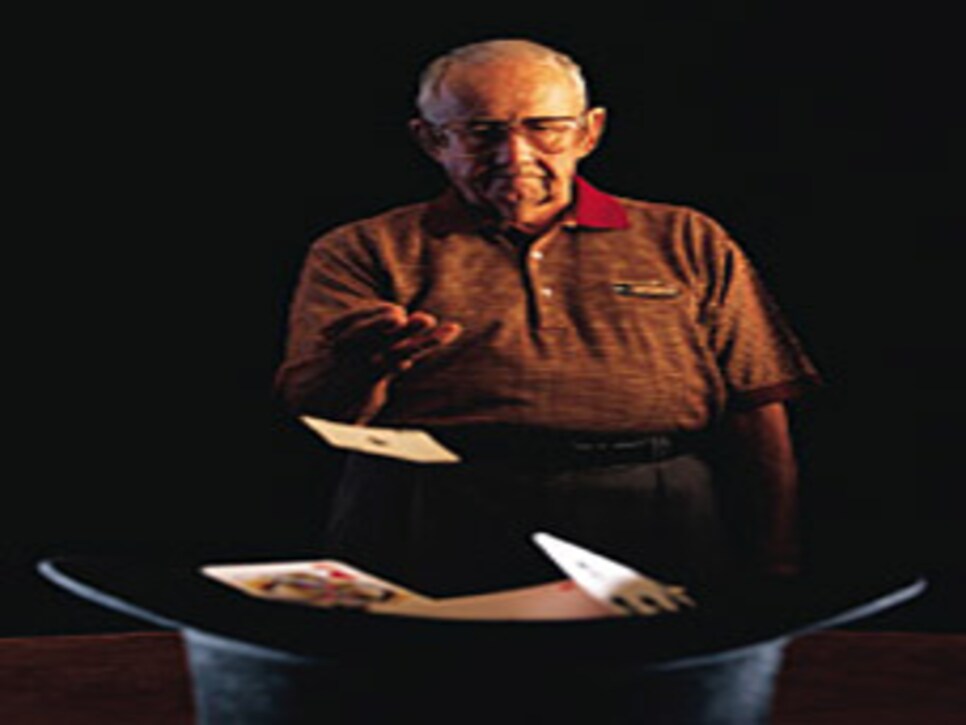 Bob Rosburg, Oct. 1, 2002, La Quinta, Calif.
golf analyst and former PGA champion
Rule 1 for an on-course commentator: Don't talk while the ball is in the air. You're not adding to the suspense, and if you're wrong, you sound like an ass.
I haven't said, "He's got no chance" in four years. I have nothing against the expression; it's just that players nowadays always have a chance.
There are places in America where handicaps just can't be trusted. Palm Springs is one. Miami is another. Anywhere in Texas is a third.
There aren't as many high-stakes gambling games around Palm Springs as there used to be, but you can still find action. There's a club about five miles down the road where $18,000 changed hands in one morning. Later in the day, three of the guys who had won big decided to play some more. On the 15th hole, some guys came out of the woods with pistols and robbed them of everything. A couple of guys were relieved of a lot of cash, but one fellow had been paid with a check made out to cash. After the robbers took it, he immediately called the guy he'd beaten and begged him to stop payment on the check and issue a new one. To which the loser replied, "To hell with you."
When I was a boy, my dad took me aside and told me to get good at all games. He told me that when I went to college one day, it would be very useful. So I got good at them all — bridge, checkers, pinochle, you name it. And dad was right. When I got to Stanford I made quite a bit of money playing those games.
__At one time I was world-class at throwing cards.__I mean for distance — over a two-story building, say, or from the clubhouse out to the 18th green. The trick is to crimp the card and let it fly with an upward snap of your wrist. The best right now might be Pete Bender, a caddie on the big tour. Pete can go to a bowling alley and knock down a pin from regulation distance.
In the Crosby one year, I was in a group with Don Drysdale, who was in his prime as a pitcher for the Dodgers. On the first tee, he hit a shot off the heel and almost tore somebody's head off in the gallery. The ball barely missed hitting some other people, then hits a tree and ricochets back toward the clubhouse.
At the same moment the ball got there, somebody opened the door to the pro shop and the ball rolled inside. Funniest thing I've ever seen on a golf course. Poor Drysdale was 6-feet-6 when he hit the shot, and 5-6 after it disappeared.
If football is a game of inches, how do you describe golf?
The week I won the 1959 PGA, I never hit a practice ball. The practice range was down in this hole where it was steaming hot. All week I just warmed up by hitting a few chips and putts. I'm probably the first and last guy to win a major without hitting one practice shot.
I knew Tony Lema very well. Prior to the first big tournament he ever won, the 1962 Orange County Open, he told the press guys that if he won he was going to buy champagne for them. Well, he and I wound up in a playoff, and on the first hole he hit the worst hook you've ever seen.
It had to be out-of-bounds, so he hit a provisional ball. When we get down there, damn if his first ball isn't in bounds by two feet. He went on to win the playoff, and his career really took off. I was happy for Tony. We were good friends, and I was sad when he was killed in a plane crash in 1966. Many years later, a man approached me on the golf course and says, "Mr. Rosburg, do you remember the Orange County Open in 1962?"
I said, "Sure. Like it was yesterday."
"Remember the first playoff hole?"
"Well, that ball was out-of-bounds. My friends and I were standing there, and we were Marines, and Tony had been a Marine, and we wanted to help him. So I kicked it back in bounds."
Now that's a hell of a thing to hear. I couldn't help myself.
I said, "I should be mad at you, but I understand. But I want you to know one thing. Tony told me that if he didn't win that tournament he was going to quit and become a club pro. So if you hadn't kicked that ball back on to the golf course, Tony Lema would be alive today."
The senior tour has small events for the guys who are too old to compete. It's a beautiful thing. The first three I played in, the average age of my partners was 88. I had Paul Runyan, Freddie Haas and Sam Snead. Snead, as usual, was a beauty. After nine holes, he said, "I'm real embarrassed by how I'm playing, and I'm going in." I said, "Sam, it's your choice, but they're paying us $12,000 even if we finish last. So what do you say? Let's finish." Sam gives in, and I proceed to birdie 10, 11, 13, 15 and 16. We're tied for the lead, and suddenly Sam is all pumped up. I three-putted the last hole, and we lost by one. The next day in the paper, I read a quote by Sam: "If Rossie wouldn't have three-putted the last hole, we could have won the tournament."
On the final hole of the 1969 U.S. Open, I missed a three-foot putt that would have put me in a playoff. Left it short. At first I felt crushed, but within 24 hours I realized it was the best thing that ever happened to me. At the time I was trying to get a divorce and was struggling to come up with enough money to satisfy my wife while leaving something left over for me. It dawned on me that if I'd made that putt and won the prize money and everything else that comes when you win the U.S. Open, my wife at the time wouldn't have granted me the divorce. That, or she would have demanded a fortune. As it was, she let me go, and two years later I was able to marry Eleanor, who I've been happily married to for 31 years.
Have you seen Billy Casper lately? When his son was convicted for robbery and all that, it just took the life right out of him. When you think about the victims of crime, don't forget the parents. They suffer terribly, too.
Hootie Johnson made one key mistake in responding to the demand by Martha Burk that Augusta National admit women. He proceeded as though it were a legal issue, when in fact it is a moral issue. You can't win a battle over a moral issue, and it isn't hard to tell where the public's sentiments lie. The PGA Tour made a similar mistake on the Casey Martin case. When will they all learn?
Women's short games are not as good as the men's. Judy Rankin agrees with me. My theory is that girls are less likely to be dropped off at the golf course by their parents. So they don't spend the entire day practicing, playing and developing their imaginations.
I beat Ty Cobb, 7 and 6, in the first flight of the club championship at the Olympic Club when I was 12. He was a fierce competitor, and I remember him getting mad at himself for not playing better. But he was nice to me. He shook my hand. It was almost the last I saw of Mr. Cobb, because the guys at the club rode him unmercifully for losing to a child. He disappeared and didn't come back to Olympic for years.
I've had open-heart surgery, gall-bladder surgery, hernia, appendix — you name it. I've come to hate going to the doctor. Every time I go they find something wrong. If I showed up with a hangnail, they'd slow-play me with 40 tests just to make sure that's all it was. From now on, even if they find something terrible, I will refuse to have any more surgery, and I won't go through chemotherapy. So why even go, right?
If you're a youngster growing up putting on bad greens, be patient. Eventually you'll see some nice, smooth surfaces, and when you do, you'll hole everything.
Cary Middlecoff was a terrific, underrated player, but by the early '60s he was pretty much washed up. When they held the first Legends of Golf tournament in 1978, Doc came out of retirement to be my partner. His nerves were shot, but I shot 69 on my own ball the first day, and we were in good shape. Then I shot 33 on the front nine, and now it looked like maybe we could win — if I could get some help from Doc. So at the turn I told him, "I want you to go to the locker room and get a paper cup full of vodka. We have got to calm your nerves." Reluctantly, Doc disappeared into the locker room. He came out looking a lot healthier and hit a big drive down the 10th fairway, only 90 yards from the green. I drove my ball into a water hazard, so now it's all up to Doc. He took out his wedge, and after waggling it for a minute, he puts it back into the bag and pulls out a 5-iron. He then played a 90-yard chip shot that ran onto the green 18 feet from the hole and made the putt. I birdied the next hole, Doc birdies 12 and 13, and we're tied for the lead. We didn't birdie anything coming in, and we ended up finishing third. But Doc made the biggest check of his career, and you've never seen a happier guy.
Never tell a golf joke to a tour pro. He's heard it already.
What rule would I change? I think every golfer should keep his own scorecard. At the end of the round his fellow-competitor attests the card, and if the score is wrong, the player is banned forever. Simple, isn't it?
You can take Sinatra or leave him. But if you live in Palm Springs long enough, his stuff will grow on you.