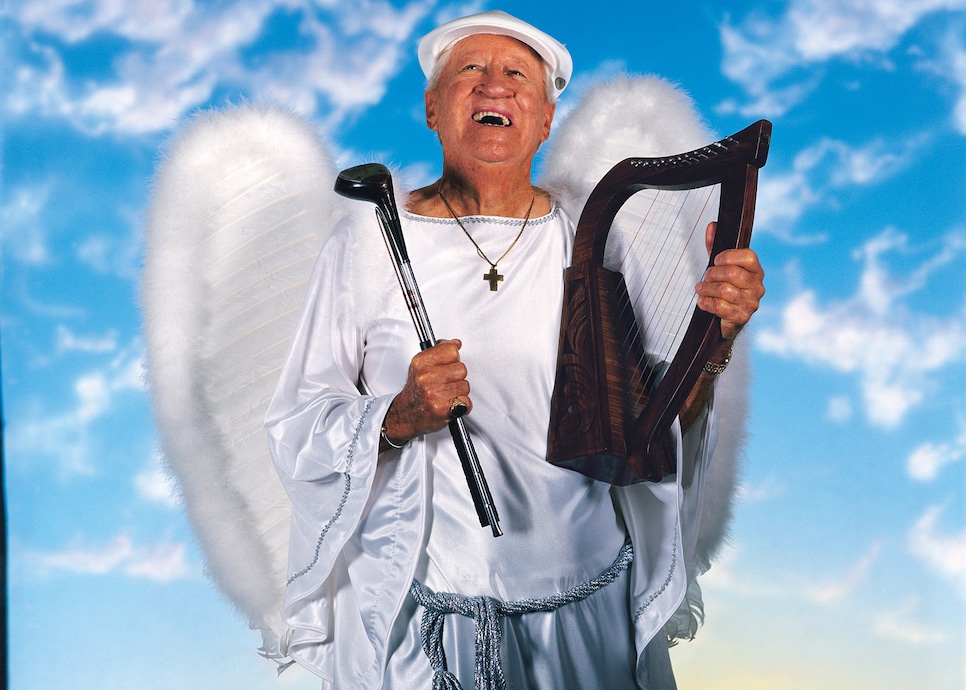 Tommy Bolt, Aug. 15, 2002, Cherokee Village, Ark.
Age: 86, Cherokee Village, Ark.
It thrills crowds to see a guy suffer. That's why I threw clubs so often. They love to see golf get the better of someone, and I was only too happy to oblige them. At first I threw clubs because I was angry. After a while it became showmanship, plain and simple. I learned that if you helicopter those dudes by throwing them sideways instead of overhand, the shaft wouldn't break as easy. It's an art, it really is.
For years I was critical of the Senior PGA Tour, especially the way the tour took care of the younger seniors but not the older guys like me. Not long ago I stopped complaining, and the next thing you know I get elected to the World Golf Hall of Fame. It goes to show: You attract more flies with honey than with vinegar.
Arnold Palmer was a good player in any case, but when the crowd got behind him, he became great. It's easier to make birdies for someone else than it is to make them for yourself.
I still play every day. The only difference is, I walk in when my score reaches 80. But Old Tom doesn't walk in very often.
When I won the U.S. Open at Southern Hills in 1958, we still had a 36-hole finish on Saturday. We didn't play on Sunday because that was the Lord's day, you see. But seven years later, the USGA and television discovered there was a lot of money to be made on the Lord's day, and that was the end of the 36-hole finish.
I sold newspapers on a street corner when I was about 12. The first thing I did when I opened my bundle was go to the comic strips and read "Ben Webster — Bound to Win." The hero, a little kid named Ben Webster, was always overcoming obstacles to win things. Marble-shooting contests, spelling bees, whatever. Maybe because I was poor, Ben became my alter ego. It sounds childish, but on that Saturday at Southern Hills, I was saying to myself, "Bound to Win ... Ben Webster ... Bound to Win." It made me feel like I had a little extra something behind me.
The first time I really lost my temper was before I went in the Army. I was working as a carpenter, and in that line of work you're occasionally going to whack your thumb with the hammer. One day I slammed my thumb good, and my helper made the mistake of laughing at me. He stopped laughing when the hammer I was holding missed his head by two inches.
I spent part of World War II as the golf pro at a course in Rome. The course only had 16 holes because Mussolini, who didn't want his people watching golf, had shut down the two holes that weren't concealed by trees. The Army guys would come there on furlough, and to give them something extra to do, I built a big craps table and ran a dice game. Man, did I get rich. I "faded" those guys — I bet they wouldn't make their point, and most of the time they didn't. I left Italy with a footlocker crammed full of cash. There had to be $50,000 in lira inside that trunk.
Now comes the sad part. On the troop ship home were a bunch of criminals — American soldiers who had spent most of their hitch in the brig. I started another dice game, but these were street guys who knew how to roll dice. Within three days, I'd lost the whole $50,000. When we hit port, my gambling habit was cured forever.
Some guys might have jumped off a bridge. But money never meant much to me, and I knew I could still make a living as a golf pro or, at the very least, go back to being a carpenter. I just shrugged it off and moved on. Ben Webster — Bound to Win.
After I turned 70, I started setting my goals five years at a time. It's worked so well, I wish I'd used the same strategy when I was younger. If you can achieve the short-term stuff, you'll do fine in the long run.
After you turn 80, you can count on losing 10 yards in distance per year.
When the day comes that I hit my pitching wedge and driver the same distance, that's when I'll pack it in.
Here's irony for you: The driver goes the shortest distance when you throw it. The putter flies farthest, followed by the sand wedge.
When you hit an iron shot, you want to take as long a divot as you can. You want it to be long and thin, like a big strip of bacon. You have to apply equal force with both hands to do it. If your divots are short and deep, it's because you're using too much right hand.
You'll see the hole and putt better if you have someone tend the flag on everything outside 15 feet.
You never stop learning. A couple of years ago I watched Tiger Woods hit a 6-iron 200 yards out of a fairway bunker and noticed he kept his lower body very quiet. I copied that move, and I probably catch the ball cleaner out of sand than I did 50 years ago.
I wish I could have won the Masters. But I never felt comfortable at Augusta National. I always felt insecure around people who had a lot of money and didn't work for it. The course was perfect for me, but I never played well there, because I resented the people who ran the place. It was my fault, not theirs.
__Other than having measles when I was a kid,__I've never been sick. I can still read the newspaper without glasses. I can hear my iron shots hit the green. My memory is still good, and I keep my weight down. If I don't make it to 100, it will be a total fluke.
Television evangelists disgust me. All of them except Billy Graham. I see the expensive haircuts and three-piece suits and imagine those poor old widows reaching for their purses, and it's all I can do to stop from coming out of my chair and going right through the TV screen.
__By 1957 my playing__sort of tailed off, so I decided to take a club-pro job in California. The year I spent behind that counter was the longest year of my life. Treating every member as your boss was one thing, but taking orders from the members' kids was too much for Old Dad. They drove me right back to playing, which was a good thing, because I won the U.S. Open the following June.
My temper was nothing compared to that of J.B., my older brother. When we were teenagers, we pooled our money and bought a set of hickory-shafted irons. One day he had a bad hole, and I watched him go to the side of the green and shatter every one of those clubs against a tree. It made me cry. But I was afraid to say anything to him for fear he'd punch me in the nose.
When I was a kid and poor, I never had shoes that fit. The first date I ever had, I borrowed a pair of my older brother's shoes. They were a size 9 ½ my foot was a size 10. They hurt my feet so bad I forgot to kiss the girl good night. Later on I played in tournaments wearing shoes I borrowed from the pro at home. Shoes were always a problem, so when I could finally afford them, I went overboard. At one point I owned 70 pairs of shoes. I can't help but take good care of them. I walk around in them like a cat for fear of wearing them out. The pair I have on right now is 30 years old, but they look new, don't they?
Tour players today must sleep in their hats and shirts. How else could they get that dumpy and wrinkled?
When Bobby Jones won the 1929 U.S. Open in a playoff, the guy he beat was Al Espinosa. It so happens that Al Espinosa shaped the course of my life. When I was 13, he showed up at Shreveport [La.] Country Club wearing wingtip golf shoes and the biggest golf bag I've ever seen before or since. Espinosa carried 30 clubs, and me caddieing for him was like that scene in "Caddyshack" where the little kid tries to carry Rodney Dangerfield's bag. I could barely lift the damned thing. But between the way he dressed and carried himself and those wingtip shoes, I thought he was the biggest man in the world. That was when I decided to be a golf player.
__Before I turned pro,__I made a living playing the amateur circuit around Shreveport. As the best player in town I was able to sell the first-place merchandise prize before the tournament even started. And I'd already have the cash spent before I teed off, which meant I'd have to win to avoid getting in big trouble with the guy who'd bought the prize. That was pressure, boy. But most of the time Old Dad came through.
__For a long time__I had an endorsement contract with a scotch importer. The company reimbursed me for what I drank, and paid me extra besides. It's tough to stay off the sauce when they're paying you to drink it. It's a wonder I didn't become a full-fledged alcoholic.
I never drank so much to where it was a serious problem, but I was drinking more than was good for me. It was my dermatologist, of all people, who convinced me to ease off. I went to see him about my nose, which had gotten big and red. He told me it was because of the scotch. For years after that, I used my nose as an alcohol regulator. It's been in good shape for a long time now.
__Mary Lou and I have stayed married for 45 years__because we fight fair and try not to go to bed mad at each other.
__I keep hearing that Ben Hogan was a bad putter.__I must have missed something, because he was one of the best fast-green putters ever. How else did he win four U.S. Opens? Give him a surface where he didn't have to hit the ball hard, and he could roll that little jessie like nobody I ever saw.
Never break your driver and putter in the same round.