Courses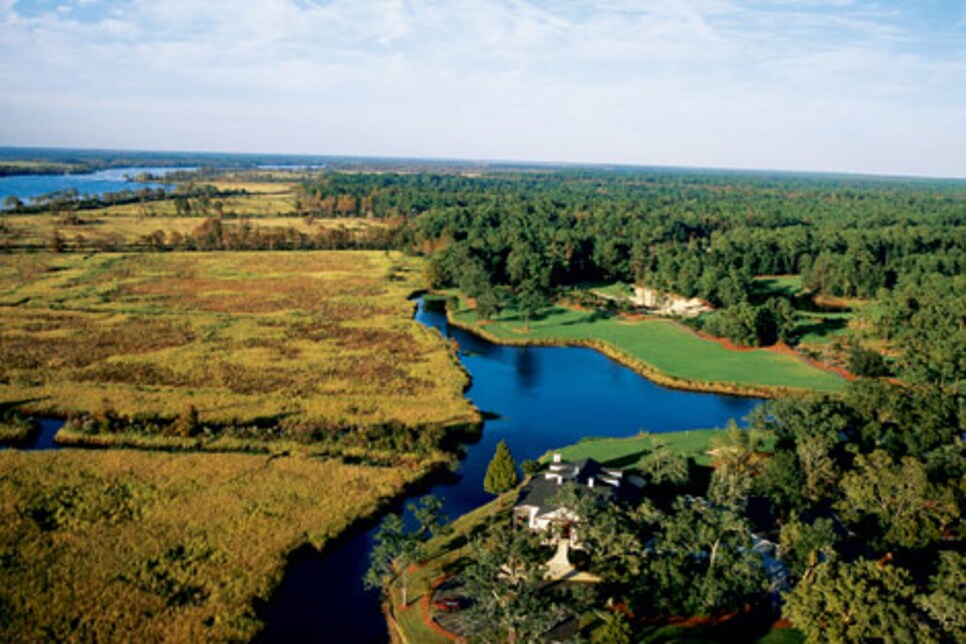 Lowcountry, high style: The Caledonia Golf Fish Club is set on a gorgeous old rice plantation 45 minutes south of Myrtle Beach. Combined with the adjoining True Blue Plantation (below), it makes for a memorable day of golf.
When Golf Digest handed me $2,000 and told me to design my own vacation, I decided to take my 68-year-old father along for the ride. Since we live nearly 2,000 miles apart, we don't see each other all that often, and I figured this would be a great chance to catch up. Plus, Dad is the most voracious golf traveler I know. He's played everywhere from St. Andrews to Banff to Pebble Beach, and I knew he'd have some good ideas about where we should go.
So I put the question to him and, to my surprise, he came back with Myrtle Beach.
Myrtle Beach? Yes, he explained. Though he's played golf all around the world, he'd never been to Myrtle. He wanted to know if it lived up to the hype.
How could I say no? I knew we could get in a lot of golf, and though I hadn't been to Myrtle since a bachelor party 10 years ago, I figured we could do it comfortably under $2,000. And I was right. Whatever golf experience you're looking for, there's no denying a weekend in Myrtle is a good value. We stayed at the sprawling Caravelle Resort, a high-rise stucco monster on the beach that, like most of the hotels, appeared locally owned. None is what you would call premier lodging; the signature decoration of every place I saw was a set of white-plastic chairs on the balcony. But it's hard to quibble with what you get for your money. We booked four nights in a two-room suite, with kitchenette, ocean view, a breakfast buffet and three days of golf, for $442 a person. Add a car, meals and airfare for two of $800 and the price for the entire trip came in around $1,960. We had enough left over to play 36 holes one day, which added $30 a head.
We played four courses, and the one that will stay with me was the Caledonia Golf Fish Club, a gorgeous 18 built on an old rice plantation 45 minutes south of town. From the ancient live oaks to the plantation-style clubhouse to the manicured gardens, it was exactly what I wanted. Not as tough a test as its sister course, True Blue, but a memorable afternoon of golf. Caledonia's finishing hole, a short par 4 with the second shot over water toward the clubhouse, was a beaut, as was the fourth at True Blue, a three-shot (for me) par 5 around a lake in which every shot calls for a carry across water. When we finished, Dad and I sat out on the hard-wood rockers lining Caledonia's clubhouse deck, peered out through the gloaming over the watery old rice fields, and I thought, "This is what Myrtle needs more of.''
The problem with Myrtle, and this is really a niggle, is that so many of the courses feel derivative. The faux Scottish-castle clubhouses. The fact that every other course seems to be "inspired'' by Tillinghast or Ross or a Jones. Maybe I'm a snob, but the courses I've enjoyed most—Lahinch and Ballybunion in Ireland, Bethpage Black on Long Island—have had something genuine about them, a sense, however slight, that they belong to the land around them. Imitation irks me, and imitation is mostly what you get in Myrtle.
It hit me on our last day as we finished the ninth hole at the Legends Parkland course, a decade-old layout carved out of the South Carolina pines. Suddenly the sound of bagpipes wafted over us. A piper in plaid kilt was standing near the driving range, playing, and the sound was, I have to admit, lovely. But there was just something so kitschy about the moment, it crystalized what disappointed me about Myrtle Beach golf.
This was doubly disappointing because as a native of Memphis and a child of Arkansans, I revere the South, Carolina especially. Shrimp and grits, plantation homes, towering live oaks laden with Spanish moss—all of it speaks to my soul. And yet the one thing you see so little of in Myrtle is anything Carolinan; it's almost like the city fathers are ashamed to be Southern. I must've asked seven people where to find decent lowcountry food, and not one had a clue.
I must say, none of this bothered Dad. What mattered to him was the golf, and while he's not as long as he used to be, we didn't face carries of more than 130 yards anywhere, and he made it easily across every time. He got excited when he managed to clear a bunker wall at Legends Parkland that towered a good six feet over his head; he said it was deeper than any bunker he'd played in Scotland. Still, he wasn't crazy about the Fazio course at the Barefoot Resort, a pleasant if unexceptional layout with home construction and highways lining too many of the holes. And the pace of play at every course drove us nuts; our round at True Blue clocked in at just over 5 hours.
Later, I asked Dad how he would rate the Myrtle experience. Keep in mind this is a man who subscribes to more than one golf-travel newsletter and is forever pelting me with the best reviews. Secretly I knew he'd had a great time. The best part of our golf getaways isn't really the golf or the food. The best part is just having the time to just do nothing together.
"I'd say Myrtle is very good,'' he said. "Yeah, I would come back.'' If I could go again with my Dad, I would, too.