News
Myopia Hunt would love to have Dustin Johnson come by to test-drive a variable distance ball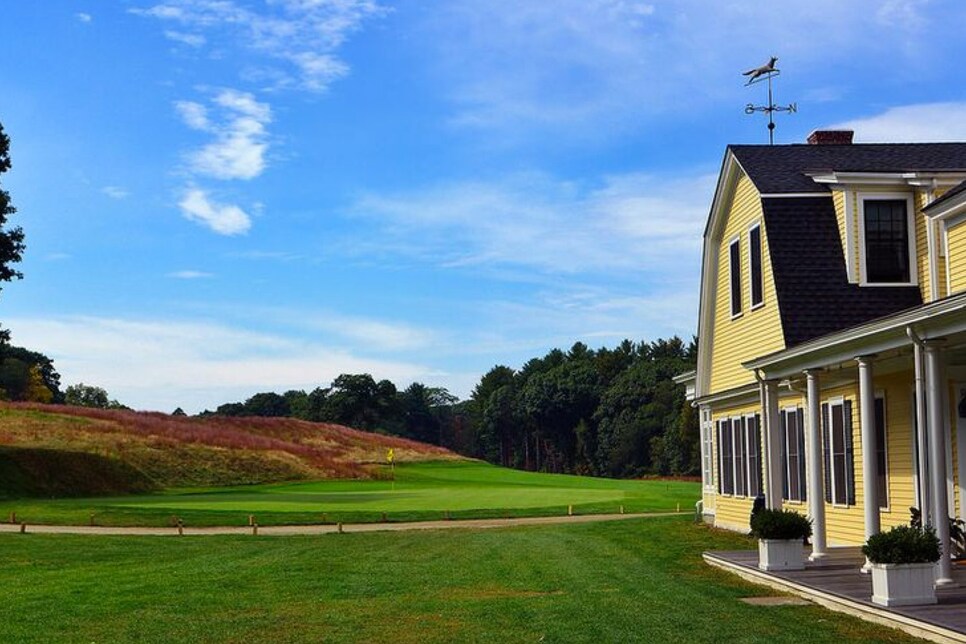 Jon Cavalier (@LinksGems)
Dustin Johnson, consider this your invitation to Myopia Hunt Club. The venerable, but shortish turn-of-the-last-century Massachusetts course that hosted four U.S. Opens, has heard last week's suggestions of USGA Executive Director Mike Davis for "a variable distance golf ball" and it is ready to extend an invitation to Dustin Johnson and any of today's bombers to experience its historic venue should a 20-percent shorter golf ball ever come along.
"The thing I want is to take some golf courses that may have had their architectural integrity compromised at least by some degree," Davis said in his concluding remarks at NAGIS. "OK, Dustin Johnson we're going to go play Myopia Hunt Club, throw him an 80 percent golf ball and go play the back tees and guess what? It would be a great experience for him, and he would be able to play this wonderful historic golf course that by and large he can't play anymore."
Sebastian Carpenter is head of the greens committee at Myopia Hunt Club, and he found Davis's remarks intriguing, although he conceded the current golf ball "doesn't go far enough for me."
"It would be great to see them here, it would be great to see them on a lot of the old courses," Carpenter said. "Let's give them a persimmon head while we're at it.
"It's sort of like the difference between the oversized tennis rackets and hard courts of today versus versus the old wooden rackets I grew up with on a clay court."
Carpenter thinks a shorter golf ball used in a special circumstance might be no different than the calculations we saw players having to make at a high elevation golf course like Club de Golf Chapultepec during the WGC-Mexico Championship.
"It would be one more thing for them to have to think about and adjust to," he said. "Although I do understand the idea that one of the things that's appealing about the game is that the pros play the same ball as the rest of us do."
The USGA actually asked golf ball manufacturers to supply examples of golf balls that flew 10 to 20 yards shorter more than more than a decade ago and held player tests of the balls for a number of years. The results of those tests have yet to be published. Golf Digest covered one such test in Sweden back in 2012. The Ohio Golf Association conducted a similar test at a tournament in 2006.
But Carpenter put to rest the idea that Myopia Hunt might some day be prepared to host a U.S. Open again, even if an alternative ball was developed.
"I wouldn't hold your breath," he said. "There's a one-lane bridge into the club. The TV crews couldn't even get in here. We just don't have the infrastructure for it, and I don't think we'd really be interested in shutting down the rest of the club."
Still, he'd love some of today's bigger hitters to come to Myopia Hunt Club, although he concedes players like Dustin Johnson might only need to tee off with a 6-iron on many holes.
At its full yardage, Myopia Hunt plays 6,539 yards, about what it played when Bobby Jones occasionally got out there when he was a student at Harvard Law School. For perspective, no player in the field at the 1901 U.S. Open played at Myopia Hunt—not one—broke 80 during any round. The best 72-hole score to win a U.S. Open at Myopia Hunt was 314 by Willie Anderson in 1901 when the course was just 6,130 yards long. That's 46 shots higher than the current mark of 268 held by Rory McIlroy and set in 2011 at 7,574-yard Congressional Country Club.
Myopia Hunt is a private club located about 30 miles north of Boston and is so off the beaten path that Carpenter joked even some locals don't know that the club, famous for its hunts and polo, even has a golf course. A delightful mix of elevation changes, distinct and occasionally blind angles and firm bounces, the fairway grass height runs directly into many of its bunkers and the greens' slopes can be especially treacherous at modern speeds. It has two par 4s that play less than 280 yards, a par 3 that plays 255 yards and only one of its three par 5s plays longer than 490 yards.
"It might be really interesting to have any of today's tour players come here with a shorter ball," Carpenter said. "That might insure they don't tear it to pieces. Maybe we should make them play left-handed."
Note to Dustin Johnson and colleagues: The red tees at Myopia Hunt Club are the back tees.