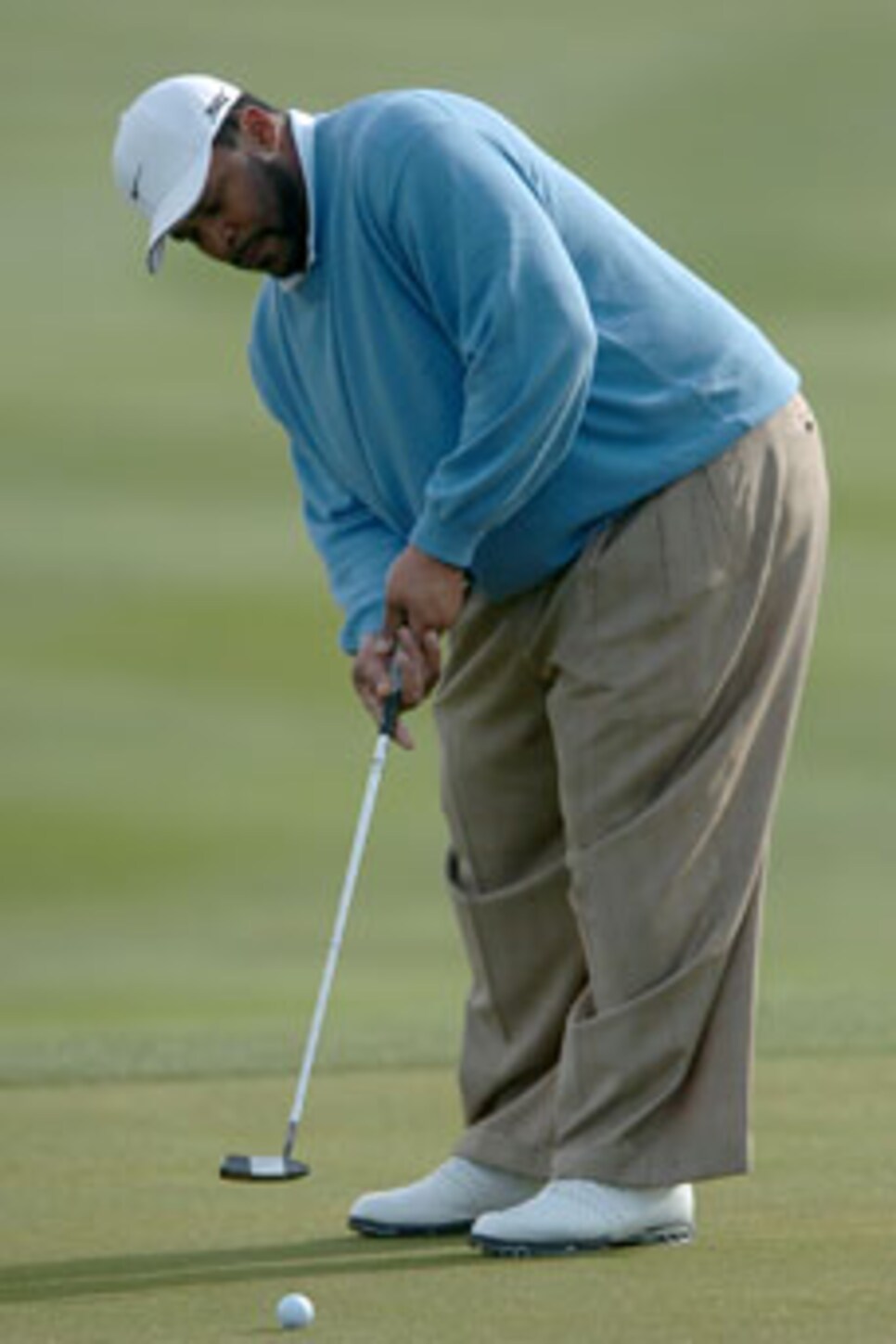 Jerome Bettis said life in the NFL has prepared him for the practice time needed for golf.
*Editor's Note: In "My Game," a weekly series, GolfDigest.com asks noted personalities to expound on their experiences in golf, and what keeps bringing them back. This week, six-time Pro Bowl running back Jerome Bettis, 37, discusses how football players' commitment to practicing has helped expedite his desire to improve at golf. *
Football players have a distinct advantage in pursing golf: We already are used to practicing. In football, we practiced five days a week and played one day a week. So it's not that strange for us to want to practice more than we play. Often amateurs want to play rather than practice. But we're comfortable with the concept of practicing a lot. That has really helped me speed up my transition to becoming a better golfer. I like to beat balls, absolutely. When I'm working on something, I love to try to groove it.
I wasn't always this committed to the game. I was introduced to it early in my career, by my barber in Detroit. He suggested I take up the game. He said, "You'll love it. It'll be great for you in terms of competition, but also from a business standpoint. You'll be able to use golf to entertain." I was 21 or 22 and went out and played and did not have a good time. I didn't really care for it, so I put it down.

When I got to Pittsburgh, there was a group of guys who were playing a lot of golf. The quarterback Kordell Stewart was one of them. We got to be pretty close friends. So he took me out, I tried it and started to really enjoy it. But I still didn't catch the bug until about three years ago. When I retired, I became really serious about it and started taking lessons and going hard at it.
What hooked me was my thirst to be a good player. I wanted to see my handicap get better and wanted to play well. I was playing with so many different people, but my game didn't travel well. So I was dead set on making sure my game got good enough to travel and that I could play with anyone. Right now, I'm playing to around a 10 handicap. I'm a member at Hawks Ridge Golf Club outside Atlanta and at the Detroit Golf Club.
Where football didn't help was that you've got to have a fluid swing, soft hands, be flexible. It's difficult. Fortunately I'm retired, so I'm not doing any more weight-lifting. Then you've got aches and pains to deal with, but I don't have anything I can't overcome. Of course, my body is sore; 13 years of playing running back in the NFL, everything is sore. But it's not bad enough that I can't play.
And I play quite often. I have two little kids, a 4-year-old and a 2-year-old, and the deal with my wife is that I get to play during the week when they're in school. When they're not in school, I'm at home. When I don't have anything else to do, I play at least three times a week, or at least try to put a club in my hands three times a week, either playing or a day of practice.