News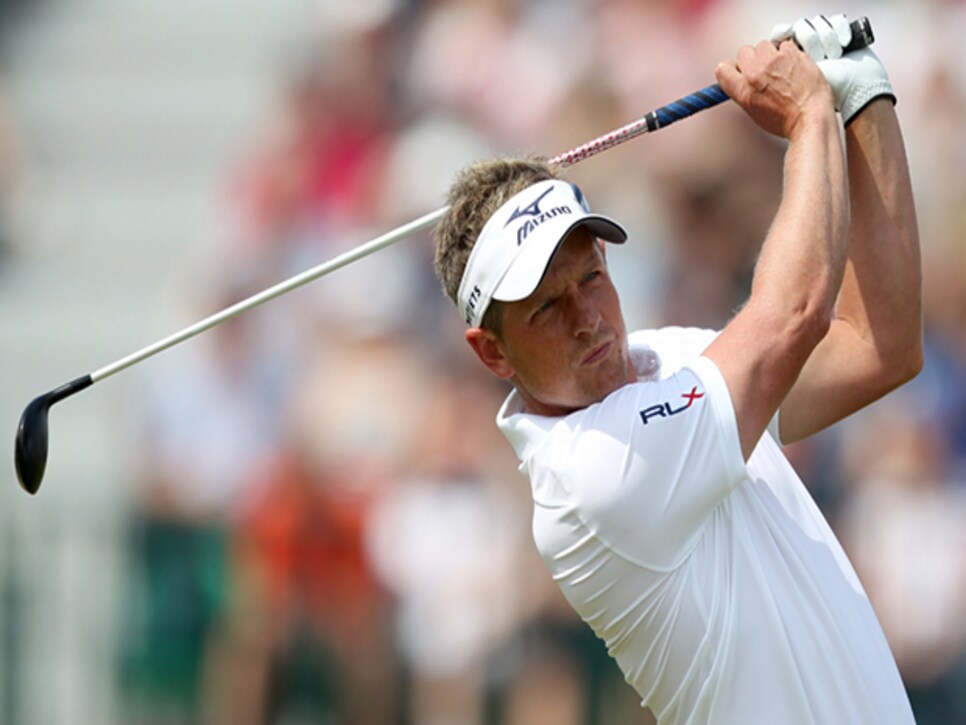 "Try to improve on your weaknesses, but don't neglect the strengths that made you good in the first place."
YOU WOULD NEVER IMAGINE JOSE MARIA OLAZABAL swearing or getting visibly upset, right? He tends to keep things to himself. That changed on Friday night of the 2012 Ryder Cup. The Ryder Cup means everything to Jose, and we had fallen behind, 5-3. We're sitting around the team room, sort of quiet. Suddenly there's an outburst of shouts and swearing like you can't believe. Someone said, "Is that Jose?" It was Captain Jose, all right. He just tore into us, about the lack of team spirit especially. He was letting the F-word fly, which was very uncharacteristic of him. He was upset that on holes where there's a walk back to the tee, both partners weren't going back as a team. Partners should always do that, he said. On and on he went. He wanted to fire us up and show a bit of Seve's passion. It actually got worse after the speech. We fell behind, 10-4, and it was good that we won the last two four-ball matches to make it 10-6. After we came back and won, it was a different Jose.
I'VE PLAYED ON FOUR RYDER CUP TEAMS, and I'm proud of the fact we won all of the four. At each of them, my nervousness was off the charts. Pressure-wise, no other event comes close. Before every match, I'm a bit sick to my stomach; sometimes it's hard to eat. On the first tee I can scarcely tee my ball. My heart is pounding, and my whole body vibrates. The only way to function is to not dwell on how much the Ryder Cup means. To deal with the pressure, I get super-focused on some tiny aspect of a shot. On a drive, for example, I seek out a tiny leaf on a tree overhanging the fairway, and I don't think of anything except that leaf.
I HAVE A GOOD RYDER CUP RECORD, 10-4-1. I've done it because of good partners. Paul McGinley, who is captain this year, has been my favorite partner. In 2004, my first Ryder Cup, I hit my opening drive 40 yards to the right. On my way to a double bogey, right out of the box. Paul was like, "Don't worry, I'll make 4. I got this. You'll be fine." Very calming. Sergio Garcia also is fantastic. Very positive and passionate. He's physical—very Spanish. There are lots of back slaps, high-fives and hugs, a very good partnering trait.
WHEN SERGIO CAME TO MY WEDDING IN GREECE IN 2007, he brought as our gift some really nice wine and a leg of Pata Negra 5J ham, the finest in the world, made from a certain type of pig and produced on the Iberian Peninsula. It's expensive, around $1,000 for a leg. You cut a paper-thin slice of this, and the texture and flavor—slightly oily with an incredibly fruity taste—is like nothing you've ever had.
I GOT STARTED PAINTING BEFORE I WAS 10, at a private Steiner school in England. I majored in art theory and practice at Northwestern. It has certain correlations with golf. When I look out at a hole from the tee, it's like looking at a blank canvas. I visualize how the hole should be played, just as an artist forms a general idea of what the painting will be. But usually it does not go perfectly according to form. If you hit your ball on the opposite side of the fairway, everything changes. You're forced to improvise, and that's where the art, and the real fun, begins. Golf, at least the way I play it, is not a paint-by-numbers proposition.
I LOVE PAINTING, but it's become a casualty of golf and family life. My last work, which I did leading up to the last Ryder Cup, at Medinah, was a scene titled, "European Stars Over Chicago." It was a depiction of the Chicago skyline at night. I painted it atop a large plastic model of a golf ball. LeRoy Neiman did one as well. They were auctioned off and raised some pretty good money for charity. I believe mine went for $10,000.
AS A BOY, I had a decent soprano voice and sang in some individual singing contests. Performing publicly was not my cup of tea. My mother used to throw dinner parties and make me sing for the guests. Classical songs such as "Panis Angelicus" and "O For the Wings of a Dove." There was a small portal separating the dining room from the kitchen, and the only way I could perform was to go into the kitchen and sing through the opening. That way I didn't have to look at the guests' faces. Nobody was more pleased when my voice changed than I was.
I'M A FOODIE, FOR SURE. When I won the Dunlop Phoenix in Japan in 2012, one of the perks was a cow's worth of Miyazaki beef, rated No. 1 in the world. Perfectly marbled, incredible flavor, melts in your mouth. They offered the cash equivalent, around $10,000, but I chose to take the beef. Eventually, with help from my friend and restaurateur Nick Kokonas, we had it butchered, and 100 pounds of meat was sent to us. When I won again the following year, I did it again. That's a lot of beef, and we bought a freezer just for the occasion. A year later, we still have beef left over.
IF YOU'RE A SERIOUS HOCKEY FAN, like I am of the Chicago Blackhawks, you buy a jersey, and you wear it. You support the team. So that's what I did. I chose my favorite player, Patrick Kane, because he's a little like me—not big physically and relies more on speed, athleticism and smarts. The first time I wore it, during the 2010 playoffs, Patrick scored a huge goal. I'm not that superstitious, but from that moment on, I've tried to wear that jersey as much as possible when I'm at home watching them. And if I'm on the road, I make sure someone in our house, be it my wife, Diane, her mother or one of my daughters, has that jersey on. A little extra mojo doesn't hurt.
AS COOL MOMENTS GO, it's hard to top playing with Jack Nicklaus in his last round at a major. It was the Open at St. Andrews in 2005, and the other guy in the group was Tom Watson. When I looked up at the Old Course Hotel and other buildings near the 17th and 18th holes, every single window was completely packed with faces. The love the people showed for Jack was unbelievable, and how he kept his eyes dry until the last hole, I'll never know. What was interesting was the way Jack competed through all that emotion, including a birdie on 18 that under the circumstances was remarkable. To have a ringside seat for that is not something you forget.
WATSON DID SOMETHING THAT DAY that underscores the word "professional." We're both under contract to Polo Ralph Lauren. We showed up on the first tee wearing the exact same style and color shirt. When you have an endorsement deal, it's not an ideal thing to have happen. Tom said, "It's OK, I have a sweater" and pulled one out of his bag. It was very warm that day, but he never took it off. It was a total pro move from Tom.
OVER DINNER WITH MICHAEL JORDAN, he told me that one year he decided to lead the NBA in scoring. To do it, he figured that if he scored eight points per quarter, he'd score 32 points per game, which would probably get the job done. Michael said that hitting four buckets per quarter was a lot less daunting than 32 points total. Golf is much like that. Simplify your goals. Make them attainable. Rather than looking at how many tournaments I'd like to win or what kind of scores I want to shoot, I break it down. I know if I hit roughly two-thirds of the fairways and two-thirds of the greens, that with my short game, I'm going to be successful.
MY FRESHMAN YEAR AT NORTHWESTERN, we played a tournament at Hilton Head. Our coach, Pat Goss, took me aside. "You're playing with a guy named Hank Kuehne from Southern Methodist," he said. "He hits it a mile. Don't think anything of it. Just play your game." When Kuehne started pounding it 70 yards past me, I got freaked out anyway. He was hitting sand wedges into greens where I was hitting 4-irons. It was unsettling enough to the point where I headed straight to the range after the round and started to hit drivers as hard as I've ever hit them. Well, it still happens today. I've learned, however, to play to your strengths, and control what you can control. That mentality got me to No. 1 in the world.
I WOUND UP AT NORTHWESTERN ONLY BECAUSE I WAS REJECTED BY STANFORD. I was told my grades weren't good enough, but I never quite believed that. The truth was, there was another player, a kid named Jimmy Lee, they thought was a better player. When I got to Northwestern, I was filled with all kinds of motivation. I broke Tiger Woods' scoring record at the NCAAs in 1999 and eventually was inducted into the Northwestern Hall of Fame. In my speech, I repeatedly thanked Jimmy Lee.
I'M A NICE PERSON. I'm pretty modest. But that world No. 1 spot came about by bringing out a different side of me. The evil side. The desire to be dominant. If I have you 5 down, I will do my best to have you 6 down after the next hole. No mercy. One thing Dave Alred, my former mental coach, told me was to have no sympathy for the golf ball. Hit the ball like you're in charge. Make it go where you want it to go, not where it might want to go.
YOU HAVE TO BE CAREFUL ABOUT STATISTICS. Mark Broadie has done some phenomenal research on golf and has revealed that you can gain more strokes through the long game than chipping and putting. I'll never consistently hit the ball over 300 yards. So what you do is structure your practice so you balance out all areas. Try to improve on your weaknesses, but don't neglect the strengths that made you good in the first place.
MY FOUR BEST FRIENDS, I've known since I was a little kid growing up in England. The five of us are very close. None of them plays golf except me. They are not at all impressed by the fact I've become a successful golfer, though they think it's cool I can pick up more tabs than in the old days. It's a great escape from my day-to-day life. Once or twice a year, we meet up somewhere—Las Vegas for the Mayweather-Hatton fight, Florida for spring training are examples—and tear up the town. If the world knew some of the things my friends know about me, I'd be embarrassed to no end. But I'm lucky. Everyone has friends, but I have guys who would lie down in traffic for me.
WHAT DO WE DRINK WHEN WE'RE ON HOLIDAY? Wine from the Luke Donald Collection, of course. I'll take a run at describing my cabernet merlot, my favorite of the three wines: "Hints of dark berries, good depth, nice aroma (I don't say "nose"), pairs well with barbecued meats. Complex and interesting flavor. Not heavy, and can be drunk in quantity. Ages well."
I DON'T SWEAR ON THE COURSE, at least not out loud. To each their own, but I don't think it looks good or is particularly classy, and it disappoints some people and isn't a good example for all the kids who are around. Not that I'm a prude. I swear plenty under my breath after bad shots. Let's face it, golf is hard, and it's OK to get fired up now and then, but you've always got to follow it up with a quick reminder of how lucky I am to be living the life I'm leading. A few seconds after the bad shot, you've got to let it go and be ready for the next one.
MY THREE DAUGHTERS ALL ARE 4 YEARS OLD OR YOUNGER. Every day I'm stunned by how many things they're seeing, hearing or experiencing for the first time. They're like little sponges. I decided recently to be more like they are, curious about the world around me. To spend more time investigating things that might look mundane at first glance.
THE TREND OF HATS BACKWARD, shirts untucked and pants low are just that: trends. When I came to the U.S. from Europe for college I wore slim, fitted jeans, and people laughed at me. Relaxed fit was all the rage. But I've always gone with my own style. Now, slimmer jeans and golf pants are in style. Longer hair is phasing out. Look at all the shorter haircuts guys have gotten lately. Give it a few years, and it will swing back the other way.
NOTHING AGAINST 15-INCH CUPS, but they're not the answer. One less putt means 15 seconds, and if you do that 12 times a round, you've saved a grand total of three minutes. How much time is that, really? If 15-inch holes were the norm, I guarantee that players would start plumb-bobbing chips and pitches, trying to hole them instead of just getting up and hitting. To speed up play, you need shorter courses, with less rough.
NOT BEING A LONG HITTER or especially accurate has its advantages, especially in match play. You can wind up your opponents pretty easily. In pro-ams or casual games my ball-striking is pretty average at times. Often my concentration just isn't there, and I'll squib it around. We'll finish, and they'll ask, "What did you shoot?" When I answer, "67," they'll often flatly deny it. "There's no way you shot 67." I have to go hole by hole to prove it to them. Knowing how to score and being proficient with your short game can make up for an average ball-striking day, and sometimes that can really frustrate your opponents.
I'M IN THE MIDST OF A SWING CHANGE WITH CHUCK COOK. I went into it knowing full well how dangerous it can be. After all, I'd been No. 1 in the world—why change? Well, every golfer is always trying to get better. I knew deep down that I could improve my long game, and if I didn't at least try to improve it, I would have regrets that I never made an attempt to get better. The change is coming along. I'm not quite where I want to be, but it's very close.
PEOPLE POINT OUT THAT BEN HOGAN didn't have advanced technology or a million statistics at his disposal, but he discovered things that would surprise golfers even today. Chuck Cook tells me that when Hogan practiced, he would pick out a tree and hit over it with a wedge. Then he'd see how far back he'd have to move before he could clear it with a 9-iron, then an 8-iron, and so on. He discovered that all clubs went the same height at the apex of their flight. Simple research, but amazing things came out of it. It's important to make little discoveries about the game. That's the fun of it.