'Get Excited...But Don't Get Crazy.'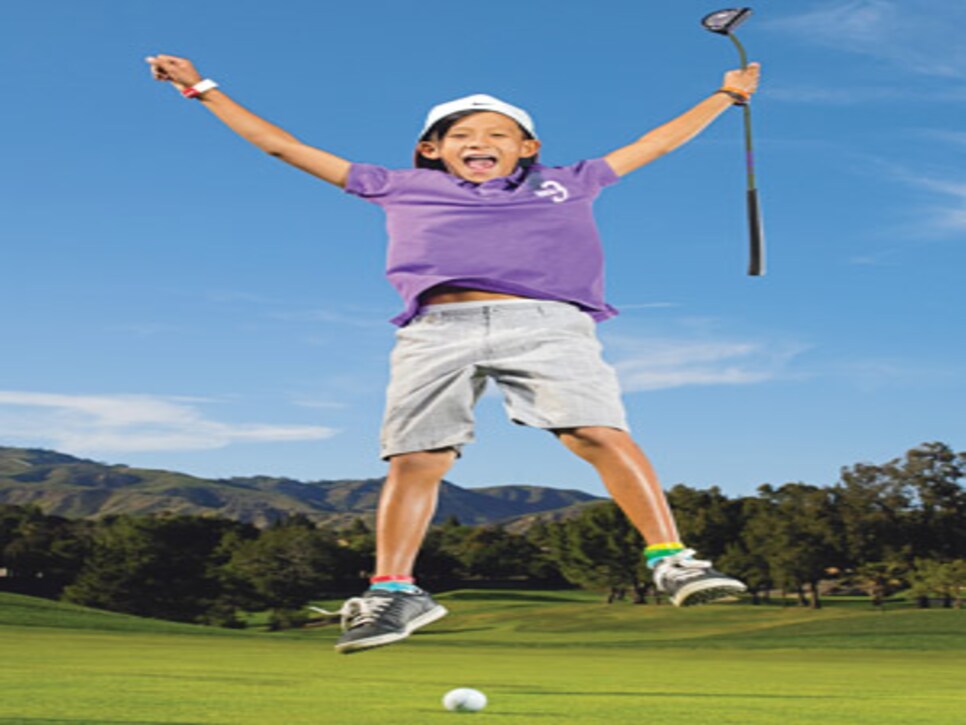 "Getting people into golf makes you feel good. You should try it."
PEOPLE TOLD ME the greens at Augusta National were so fast I should practice putting on our hardwood floor. But you know what? I didn't think they were that fast. I think it was because of the dew that morning. But I expected the greens to be faster.
THE PUTT I MADE ON 18 was a double-breaker. It went right, then left at the end. Before we left on the trip we watched the replay of Adam Scott making the same putt last year. My dad and I watched it a few times, looking for clues. Sometimes when you have a double-breaker, you aim straight at the hole because they equal out. I just aimed straight at it.
I DIDN'T HAVE TO make that putt on 18 to win. I just needed to get it inside three feet. My dad was worried that I was thinking about doing a fist pump if I won. He was afraid I might hit it way past the hole like some of the other kids did. When it was my turn he said, "Don't think about the fist pump." Then he said, "Don't try to jam it in the hole." Then he said, "Leo, this putt is for your grandpa." My grandpa back in Hong Kong is very sick [stage 4 lung cancer]. When I won, my dad got emotional.
MY DAD TOLD ME if I won the drive, the chip or the putt, he'd get me an iPod. If I won the whole thing, I'd get an iPhone. I took fourth in the driving. After I won the chipping contest, I had the iPod locked up. I wasn't going to choke on that putt you saw on TV, because I was a winner already. But man, I wanted that iPhone.
WE GOT TO STAY and watch the practice rounds. Dustin Johnson, Rickie Fowler, Phil Mickelson and Jason Dufner were playing together and saw me when they finished putting on the ninth hole. Jason said, "Leo! My man!" and gave me a high-five. Rickie said, "Great job." Dustin said, "Leo, nice job, buddy!" Phil said, "Where's your dad? I have got to have my picture taken with you." Those guys think I'm famous.
DUSTIN IS MY FAVORITE player. He has great posture and a cool follow-through. Somebody told me they had to build a new range at Augusta because of him. He kept hitting it over a net on the old range, clear out onto a road where it could bash cars. If they're building new ranges because you hit it so far, you have to be pretty awesome.
WHEN I PRACTICE, I make it a competition out of any random three players: For example, Dustin, Vijay Singh and Leo Cheng. I imitate their styles. Dustin wins sometimes, but the way he bends his left wrist backward on his backswing doesn't really work for me. I try to give them both a fair chance, but Leo Cheng usually beats those guys.
EVERY PLAYER and chaperone got a free hat and shirt. I don't know if you noticed, but every kid had a curved bill on their hat except me. I had my dad iron mine at the hotel. Rickie Fowler and me, we're flat-brim guys.
YOU SHOULD SEE the practice balls at Augusta National. Brand-new Pro V1s, my favorite ball. I asked my dad, "Can I take one of these balls home with me?" He said, "Better not."
MY DAD is Andy Cheng. He works in movies. He was Jackie Chan's stunt double in "Rush Hour" and "Rush Hour 2" and was the action coordinator in "Twilight." When he was young, he was a tae kwon do champion. He once shot 70, even par, at Porter Valley, our home course.
MY BEST SCORE is 29 for nine holes. Kids' tees. My putts were diving into the hole like a rabbit, no side doors. But golf gets harder when you make the course longer. From the regular tees I have a 14-handicap. I can't reach some of the par 4s in two shots. But when I get older I'm going to work out. That's when I hope to be awesome.
IF I WERE GOING to make a golf movie, it would be about a golfer who reaches for a club even before he can walk. He's a natural. Everything is great, and he wins all the junior tournaments, but then bad things happen. He gets tendinitis. He gets bullied at school. But he never gives up, and he becomes a superstar, wins the Masters and gets rich. At the end he tracks down the bully, and instead of being mean to him, he gives him the ball he won the Masters with, and a bunch of money. The bully can't believe he's being treated so nicely. Everything comes out good.
MY FAVORITE TOURNAMENT, next to the Masters, is the Ryder Cup. If I were the captain, I would make sure not to yell at the players for hitting a pitching wedge instead of a sand wedge. I'd tell them how great they were, and to never give up.
WHEN WE GOT HOME, they had a fundraiser for The First Tee at Porter Valley. For $5, you got to chip against me. If you hit your ball closer than me to the hole, you got a sleeve of balls. In three hours, we raised almost $500. Some of the ladies weren't very good, so I let them win.
IF YOU THINK I'M GOOD, you should see my big sister, Carol. She's 14 and has a 1-handicap. She's smart, too. She's helping me come up with an invention. We're going to create tiny chips you put in a golf ball so you can't lose it. When you get near it with your iPhone, it will beep, and a dot on your screen will turn from blue to red. Every new ball will come with its code that you register, so you don't find a million balls at once. Carol and I are going to get rich.
GET EXCITED. Do a fist pump when you make a putt. Let it make you a little hyper. But don't go crazy. Sometimes when the pros chip in and do a fist pump, they hit it in the water on the next hole. If you get hyper all the time, you'll choke.
KIDS HAVE AN ADVANTAGE over adults. We have more time to play. We get summers off. We don't have to work a real job for our money because our parents take care of us. I wouldn't trade being a kid for anything.
WHEN YOUR BALL goes out-of-bounds, you should be able to move your ball into a good lie at the spot and hit it, with only a one-stroke penalty. Going back to the tee with a penalty is just mean.
WHEN HE WAS 4, my friend Timothy Miner gave up golf. He tried really hard, but he thought it was boring. After I won the Drive, Chip & Putt, he said, "I'm coming back to golf." He's been out there almost every day. Getting people into golf makes you feel good. You should try it.
I WANT TO PLAY those 15-inch holes. It wouldn't be long before I made my first hole-in-one. And you know those ladies I played against in The First Tee fundraiser? Chipping would be so easy for them, I wouldn't have to let them win.
Want a chance to compete in the Drive, Chip & Putt finals at Augusta National?
Registration is open on a first-come, first-served basis for kids 7-15 to participate in one of 256 local qualifiers (available in all 50 states). For more information, visit drivechipandputt.com