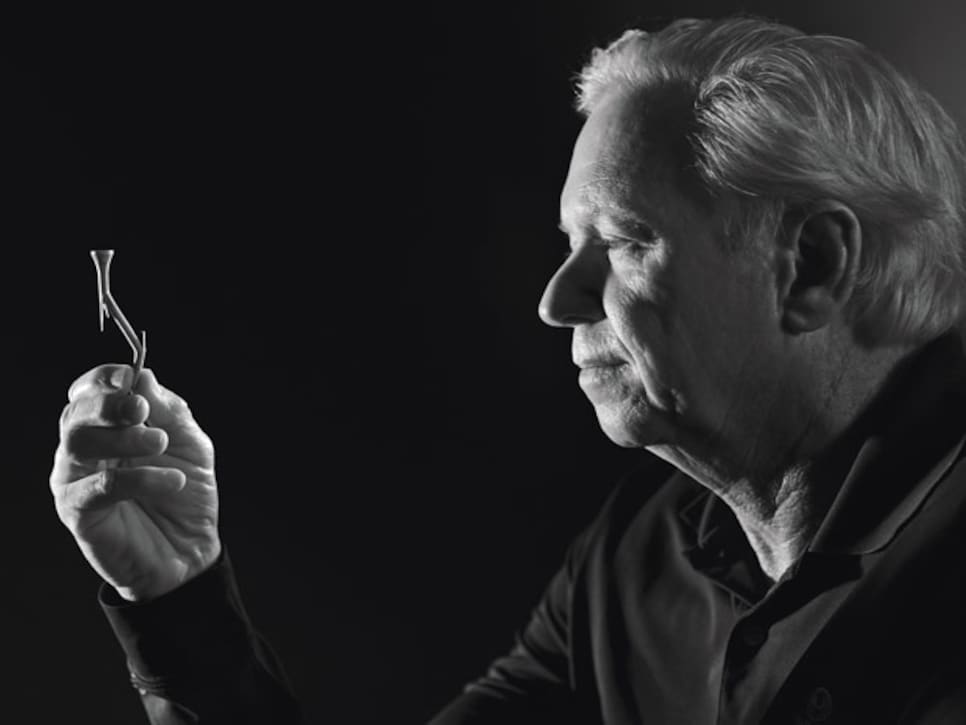 Jim McLean / Teacher and Entrepreneur / Age: 63 / Miami, Florida
Every facet of the game has changed, and it isn't done yet. The culture is changing. Golf is taught, played and communicated differently. Courses are more difficult. Equipment has evolved more dramatically than in any other sport. Traditionalists who thought golf would never change find the Big Shift unnerving. To me, it's just different. The Big Shift is about change itself. We must adapt. In this game, you either change or get run over.
in New York in 1988, a lot of rounds were taking five hours. Jim Hand, a board member and former USGA president, asked me to bring rounds down to four hours, at any cost. Sleepy Hollow, perched above the Hudson River, is hilly and not an easy walk, but the board thought something had to be done. So we instituted a rule: The first time you play in more than four hours, you get a letter. The second time, you can no longer play until after 11 a.m. No excuses! The first year was tough. A few of the members were outraged at feeling hurried. But the second year, rounds came in under four hours. It became a huge point of pride among the membership. The peer pressure was enormous; slow players didn't want to be identified as slow, and they picked up the pace. The effect on handicaps was nil: Everyone played as well or better, and they had a lot more fun. The shift toward faster play is going slowly.
MY DAD used to play 36 holes every Saturday. It was easy for him because he played each round in about three hours. He and his pals would show up at our home course in Seattle, check in and go. The 36-hole Saturday for most people continued into the 1990s. It was an era when men played 36 and then retired to the grillroom for cards and backgammon. But now the 36-hole day has been reduced to 18, and in some cases, nine. There are layers of small things that add up to golf taking longer. It takes longer to check in, pay and warm up. It takes longer to hit each shot, due to longer pre-shot routines, golfers painting alignment stripes on their balls and the natural tendency to copy tour pros. Playing 18 holes is, essentially, a daylong commitment. I hope the campaign encouraging golfers to squeeze in nine holes works, because you can't shorten rounds much further from there.
ANOTHER SURPRISING shift is toward wealth. Twenty years ago, we imagined a utopia in which the game would be affordable to pretty much everyone. But the opposite has happened. Golf always has been a game that favors moneyed people, but that aspect has gone into overdrive. Let's take the low end of the cost spectrum: a $30 green fee, which is available in one or two places in most cities. How does a postal worker with a wife and two kids fit in eight rounds a month even at that rate? A decent set of used clubs will run him a thousand bucks. Add in the balls, gloves, umbrella, rainsuit, shirts, bag, shoes and a sandwich at the turn, and you have costs that a middle-class person finds increasingly hard to justify, both to a spouse and his mortgage company.
GOLF HAS ALWAYS weathered recessions well. In fact, it wasn't long ago that golf once was viewed as recession-proof. The thinking was, golfers are so passionate and dedicated, the game is the last thing they'll give up when they tighten their belts. When golf thrived during an economic downturn in the early '90s, it filled everyone with all kinds of false confidence. But when the 2008 recession hit, the myth of invincibility was exploded. It's a disconcerting part of the Big Shift, but a healthy one. It'll force courses to be leaner, meaner and cheaper. Less water. Taller mowing heights and shorter courses. Slower greens. Faster players. Ultimately it'll be a good thing.
IT'S THE ERA OF THE TIGHT LIE. Fairways are cut super short, on ground that is firm but moist. There is no cushion under the ball. The surfaces look great, but the average player has a terrible time getting the ball in the air with fairway metals and middle irons; they settle for low bullets that don't hold greens. Pitching and chipping from tight lies has become a nightmare, even for low-handicappers, because there's almost no margin for error. I call the 20-to-60-yard zone Chunk City. The frustration and embarrassment are enormous and are beginning to mount. If we don't start cutting fairways a little longer, players will start looking for an easier pastime.
HAVE YOU HEARD of Lakareber Abe? A talented 17-year-old from Texas who is a student at the Jim McLean Golf Academy in Fort Worth, Lakareber finished runner-up in the U.S. Girls' Junior Championship in July. Lakareber is African-American. Few things have disappointed me more than the small number of African-American kids succeeding at the major competitive levels, pro and amateur. When Tiger Woods won the Masters in 1997, there was rejoicing that minority kids would flock to the sport. That was 16 years ago, but today, other than Tiger, there is not one African-American player on the PGA Tour or LPGA Tour. Very few African-Americans play college golf, even at historically black schools. I was on the range at the U.S. Junior Amateur last year and did not see one African-American player in the field. To solve this problem, we somehow need to produce more players like Lakareber. It's not just Tiger Woods who minority kids will try to emulate. It's down-to-earth peers, like Lakareber.
IT'S BEYOND QUESTION that America is lagging behind Asia, Europe and Australia in terms of player development. This year's U.S. Amateur was evidence of that: No American reached the semifinals. That was unprecedented. It's especially apparent on the LPGA Tour, which had to reach to select Michelle Wie—ranked 82th in the world—for the Solheim Cup. The solution: The creation of a national federation, government-subsidized in part, that helps talented youngsters along. A roadblock to this is American antipathy toward helping only talented kids. In our country, we sort of help everyone or no one. It's very democratic, but you won't produce outstanding golfers that way.
JACKIE BURKE CALLS THEM "gate clangers"—clubs that won't grant access to juniors who aren't members. That's their right, but it's unwise in terms of creating future customers and grooming talent. If each course granted access to 10 kids each season, they'd have a better experience than what is offered through The First Tee. That's not a knock on The First Tee, which has been very effective at teaching kids character. But for pure golf, clubs with big hearts are a big part of the answer. When Cristie Kerr and Erik Compton were growing up in Miami, I helped arrange for them to have access to Doral, where I run one of my golf schools. It helped get them where they are today. Cristie and Erik could only play in late afternoon and not when tee times were booked, but they were able to play a lot of golf, for free.
THE NUMBER of 13-year-old caddies spending their summers looping for grown-ups has dwindled. It's understandable. Clubs need cart revenues. There are child-labor laws, minimum-wage laws and liability issues to contend with. At most clubs that still offer caddie programs, the kids have given way to professional adult caddies who charge $100 a bag and carry double. Unlike the teenagers, saving up for their first car, these fellows are paying the electric bill. Many of the adult caddies, by the way, are former PGA Class A professionals. I had one at Bandon Dunes a couple of months ago. He was terrific, but I couldn't help reflecting on 10-year-old Eddie Lowery caddieing for Francis Ouimet in the U.S. Open. Those days obviously are gone, and they aren't coming back.
FOR THE JUNIOR who can really play—I'm talking the level of Rory McIlroy, John Huh, Martin Kaymer, Ryo Ishikawa and a ton of Korean women—college increasingly is considered a waste of time. Now that's a Big Shift. There have been terrific players who probably could have played on the PGA Tour when they were 18, but conventional wisdom dictated that they attend college, where they could learn about the world, mature and polish their golf games. The thinking now is that there is no better classroom than a sponsor's board room or a pro-am pairing with a corporate executive. Super-talented youngsters and their parents today know that college is not fundamental to golf success, knowledge or long-term happiness. I'm with them. A bachelor's degree means nothing on the PGA Tour. What's more, I've seen players' games go backward playing in the regimented atmosphere of college golf.
"BEAT EVERY MEMBER, every day." That was the creed when I joined the PGA of America in 1975. There was a very strong, healthy emphasis on the club pro being an excellent player. It heightened his credibility as a teacher, gave the members someone to look up to and brag about, and certainly forced the pro to increase his knowledge. In golf circles, club pros were looked up to almost the way doctors and teachers were. The Big Shift is toward being somewhat socialistic, to relax that standard. Today, the aspiring club pro must pass the PAT—the Playing Ability Test—to attain Class A status. The candidate must shoot roughly 78, twice, from the white tees, to pins set in the middle of the greens to pass that part of the test. A 10-handicapper on a good streak of playing can do it. Why the low standard? In Australia, PGA trainees must play 60 rounds in competitive events and shoot lower average scores than their American counterparts. It's tougher in New Zealand, too. The bar was lowered here, I believe, to make the Class A card more attainable. Did it help? Ultimately, no. Lowering that standard diminished the pros' ability, prestige and knowledge. It's one reason many pros have been forced out by owners looking to consolidate positions and save on costs, or have left the profession to find something else to do—like caddieing.
THERE IS A SHIFT away from dreaming, of pondering the game and allowing answers to come to us in the middle of the night. We're becoming more analytical. Prior to the digital age, golfers reflected on the game differently. Most golfers read more—the classics like Percy Boomer and Ernest Jones, especially—and relied a lot on intuition. That's how Ben Hogan discovered his Secret. Today there are too many distractions and not enough time for imagination to occur and take hold. Golfers still give attention to their games, but increasingly they do it the way an accountant pores over spreadsheets—they come at the game with the left-brain, numbers-crunching perspective. The modern method can sometimes be productive, there's no doubt about that. But it's not quite as inspirational, or as much fun.
ANOTHER TEACHING SHIFT is a huge emphasis on the backswing. More than half of instruction these days deals with what happens going back, when all that really matters is what happens swinging down and through. Every great instructor—Bob Toski, Butch Harmon, Sean Foley, Justin Poynter; the list goes on forever—knows this. The only thing that matters is having a square clubface at impact, with the clubhead arriving there along the correct path. So why the infatuation with the backswing? It's because it happens so slowly that instructors can make sense of it. The result is, there are a lot more picture-perfect backswings out there. But perfect impacts are as difficult to achieve as ever.
WE'RE IN A SHIFT toward complete retooling of golf swings, rather than the player tweaking what they have. Tiger Woods, Mike Weir and Matt Kuchar are examples of players who have radically reworked their swings. The results are variable. In 1972, I played in my second U.S. Open, at Pebble Beach. I thought I was a pretty good player. I'd competed in the U.S. Junior and U.S. Amateur, was an All-American at the University of Houston and had made the cut in the Masters. But in that U.S. Open I shot 81-81 and came away feeling like the worst player in the world. I made a lot of swing changes and switched out my equipment. I definitely didn't get better and eventually gave up on my goal of playing the PGA Tour. Fast-forward years later. I was reading Jack Nicklaus' autobiography, My Story. In it, Jack talked about how tough Pebble Beach was set up for 1972 U.S. Open. He referred to it as "Godzilla." I wish I'd known that then.
SPEAKING OF PEBBLE, I played there awhile back. A couple of deer were along one of the fairways. They were plump, healthy and not at all shy. I got within 15 feet of them before they even moved. It occurred to me that the deer had arrived at a place in their lives where they were not subject to everyday worries. They didn't need to struggle to survive. At courses on the Monterey Peninsula, even the deer are rich.