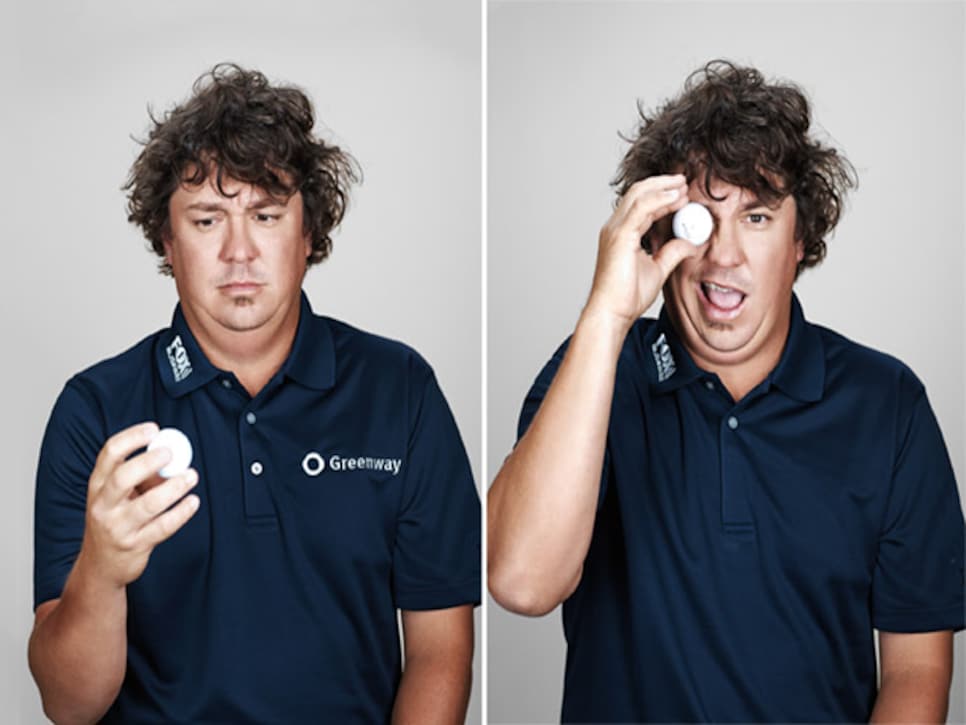 Photographed by Walter Iooss Jr., June 3, 2014, Auburn University Club.
GOLF FOR A LOT OF KIDS can be a lonely game, or at least a game for lonely people. Sometimes, the kids who turn to golf aren't the most popular kids in school. Let's face it, the best golfer on the high school team usually isn't as popular as the star quarterback. But it's a game you can play by yourself, and it gets cooler as it goes along. The really good golfer at age 35 has more swagger than the 35-year-old high-school quarterback who doesn't play football anymore. My 20th high school reunion at St. Thomas Aquinas in Fort Lauderdale is coming up, and I plan on attending. It'll be interesting to see how I stack up now as opposed to back then.
I'M A KID IN A LOT OF WAYS. I love getting a cool autograph. I have a picture of Bo Jackson with the football pads and baseball bat across his shoulder. I have a signed poster of Michael Jordan taking off from the foul line, which I got at the 2012 Ryder Cup. It's childlike, but not childish. In a way, I really owe those guys. If it weren't for the heroes I had as a kid, there's no way I would have become a pro athlete. It was because of them that I practiced hard. They helped me aspire to have a better life. Those autographed posters are like a tribute to them.
GROWING UP in South Florida, I'd hit Wiffle balls, imagining I was one of the tour players I saw at Weston Hills, where they played the Honda Classic in the early '90s. One time my dad brought home a Cayman ball, which would go no more than 100 yards. I'd adopt the swings of the players I saw. My John Daly swing was long and reckless. Fred Couples was smooth and rhythmic. When I wanted to be mechanical and precise, I'd be Nick Faldo. Of all the swings, Jason Dufner's worked the best.
I PLAYED THE MINI-TOURS in Florida for five or six years. It's one of those things you look back on with some fondness, but you wouldn't want to go back to it. Some crazy things happened. One time, a promoter announced a series of tournaments. I paid the entry fee of $7,500, showed up at the first event, and nobody was there. The promoter had run off. About a hundred of us stood around wondering what our recourse was, and there was none. The lifestyle was interesting. A pod of four of us, college buddies, would rent a house and head out to go play. It wasn't always desperate. I did make money. But you can't go on like that forever.
BEING IN THE PUBLIC EYE is tough for me. It's been an adjustment. My whole life, I've flown under the radar, and to suddenly put everything out there, I admit makes me uncomfortable. I guess I'm a shy person, at least to people I don't know well, or who don't know me. I tweet a lot [@JasonDufner
, with more than 388,000 followers], but mostly fun stuff about Auburn, the NBA, what I see on TV, or promotional things for sponsors or the Jason Dufner Foundation. It's not a close look into my daily activities or personal life. I have to hold some things back that only the people close to me can see. It's what keeps me sane.
LOVE ME ALL YOU WANT, and keep it coming. It's the best thing out there. In the movie "A Bronx Tale," the Chazz Palminteri character says it's better to be feared than loved. A productive attitude for mob guys, maybe, but a sick way to go through real life. It's love, not fear, that helps 800 kids a year through the foundation. It's love, not hate, that's behind all good relationships. When did hate or fear ever make anyone happy?
I'VE HAD LONGER HAIR for some time now, but I think every once in a while you have to change things up. I'll probably just ask the barber for a trim and see what happens. It's not like I've never had short hair before. I used to buzz it. When I won my first professional event, it was completely buzzed.
ON THE LAST HOLE of the Byron Nelson in 2012, I hit a sand wedge to 25 feet. When I got 60 yards from the green, I looked up and saw myself making the putt. Total déjà vu. When the putt went in, it was hard to act excited, because in my mind the sequence had already played out. I'm a strong believer in visualization and read a great book once that explained the techniques of Russian weightlifters, who are very good at it. But here's the thing: Can we get to the point where we can will the déjà vu moments to happen, instead of just hoping they will? Maybe. That's one of the mystical things about golf that keep us coming back.
WHEN THE MILWAUKEE OPEN was still going, I checked in to the Pfister Hotel downtown. When I got up to my room, I felt someone was watching me. Something wasn't right. Next, the lights started flickering. Then, in the middle of the night, the lights went on by themselves, which woke me up. I felt a strong presence, not evil but not good, either. It freaked me out. The next morning, I went to the front desk and asked about it. The guy said, "Sir, we're reputed to be haunted. Please try to ignore it. Nothing bad will happen." It wasn't the first haunted place I've been to. I'm a big believer in ghosts.
IF YOU LOOK BACK on the remarks of players after they've won tournaments, you'll notice they often mention someone looking down on them from heaven. I believe that. I've definitely felt my grandfather and my father—he passed away in 2001—looking down on me, experiencing what I'm experiencing. Sometimes I wonder what the old-timers think as they're looking down. Is Bobby Jones cringing about technology? What does Ben Hogan think about slow play? Something tells me they're bemused, but not losing sleep over any of it.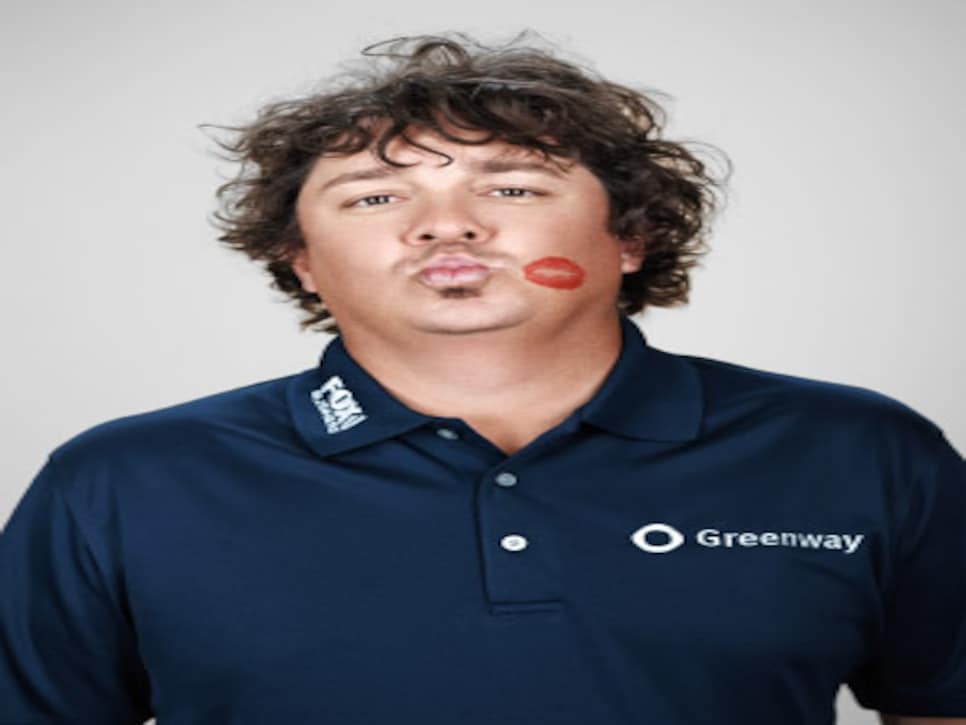 WHEN KEEGAN BRADLEY put the Dufnering thing out there, I just went with the flow. You can't hide from who you are. I really do sit like that, and it definitely was kind of funny. But I'll tell you something—and I hope kids who get teased at school are reading this—when somebody says or does something that bothers you, don't let them know it. Keep your cards close to your chest. Roll with it, and sooner rather than later it'll stop.
BEN HOGAN is the man. My hero. As a kid, I read his books and later watched every bit of video I could put my eyes on. What's cool is how he got to be a pretty good pro after coming from nothing, and then deciding he wanted more out of it, and he found another gear. Then, after the car crash, he found still another gear and became a legend. That kind of dedication to become successful about the thing in life he felt passionate about, and actually pulling it off, is amazing.
HOGAN HAS A MYSTIQUE, because he kept guarded about his personal life and how he figured out the golf swing and the game in general. There really isn't a lot of information. There's a sense there's more to it than what he put in those books. He let a few people inside, but not many, and even people who thought they were in, weren't in. He's pretty much a closed book to this generation of golfers.
HOGAN HAD AN EPIPHANY in the middle of the night. Just like that, the secret came to him. The whole idea that we'll wake up and suddenly have "it" is what keeps us going. My game and career turned a big corner when I found Chuck Cook in 2008. But nothing came to me in the middle of the night. I'm still waiting for that epiphany.
I HIGHLY RECOMMEND replaying rounds in your head. After every tournament, on the plane ride home, I review every hole of every round. It takes about 90 minutes. A lot of things come of this that ShotLink can't tell me. Trends of hitting shots a little thin. Leaving putts short. Not feeling comfortable with pins set left or right, front or back. I take notes, including the good things I did, so I keep doing them.
BETWEEN the Web.com Tour and PGA Tour, I've played close to 350 tournaments. I've won five times. The winning percentage in golf is incredibly low, even for great players. The game beats you up that way. You learn to be a good loser—so to speak—and learn that defeat does not necessarily mean failure. Mr. Nicklaus was the best at losing graciously. Ben Hogan, too. In the videos I've seen of his defeats to Jack Fleck and Sam Snead, he reacts to them in an unbelievably classy way.
I WAS BORN in Cleveland, was raised the first part of my life there, and have been a fan of Cleveland teams my whole life. What it's offered is a full education on losing. The last championship to come there was the Browns winning the NFL title in 1964, which was 13 years before I was born. Chicago Cubs fans can't compare their agony to ours, because at least they had the Bulls. The Indians haven't done much in my lifetime. The Cavs were looking good when they had LeBron James, but then he left, and that was that. It's been a lifetime of dashed hopes and pain. But I never give up on them.
WHICH TAKES US to our next subject, loyalty. To me, loyalty is the most important character trait. My favorite book of all time is The Count of Monte Cristo. Loyalty is a huge theme. If you're loyal to me, I'll be loyal to you forever. If you violate the trust, you're X'd out forever. There's no coming back.
I'M FRIENDS with Kevin Durant, and I'm a huge Oklahoma City Thunder fan. How do I justify that, given my loyalty to Cleveland? Well, the NBA is not so much about teams as individual players. It's different than college. So when I'm rooting for the Thunder, I'm really rooting for Kevin. That's my story, take it or leave it.
WHEN I LEAVE the course, the golf bag stays there. I'm not a take-your-putter-back-to-the-hotel kind of guy. You have to draw the line somewhere.
ON THE RANGE at Phoenix one year, two fans behind the ropes started talking loud at each other. Then they started throwing punches. What was interesting was how everybody stopped to watch. For some reason, fights are just irresistible to the human psyche. After security broke the fight up, everybody gathered around to talk about it. The trading-notes part is as irresistible as the fight itself.
I MAJORED in economics at Auburn because it was easy. I'm no financial whiz, but I'll tell you this: Save 15 to 20 percent of everything you make. Don't overspend, and live within your means. Until 2006, I drove a Honda Civic. It's hard not to carry a small balance on your credit card these days, but keep it very low.
WHEN I MADE that big putt at Colonial that wound up putting me in a playoff, I gave a little fist pump. I got pretty excited at the Ryder Cup in 2012, though I don't think I was all that demonstrative about it. It just isn't me. There have been situations that have made my heart rate increase, but only by two beats per minute.
I WEAR A SILVER CHAIN with a St. Christopher medal on it, which my father gave me for my 16th birthday. And there's my wedding band I got from Amanda, which I place on the chain when I play golf. I'm not superstitious about those items, but on the other hand, it would probably take an army for me not to wear them.
DURING THE PGA CHAMPIONSHIP last year at Oak Hill, Amanda gathered up acorns as she followed me around the course. After the tournament, the people at Oak Hill gave us some more. When we got back to Auburn, we had them planted. We live on 50 acres, and already some saplings have come up. We hope that one day they tower over our property, sort of a living reminder of that great week in our lives.
THE GOOD BOUNCES and bad ones in golf eventually even out. Bounces go beyond literal bad bounces. Lousy weather, a pairing you don't care for, a golf-course setup that doesn't suit you, those fall in the category of bad bounces. I'd say I'm behind in my career bounce-wise, and that golf owes me. It might not be true. Maybe I'm ahead in the bounce department. But it's important to play like good bounces are coming your way.