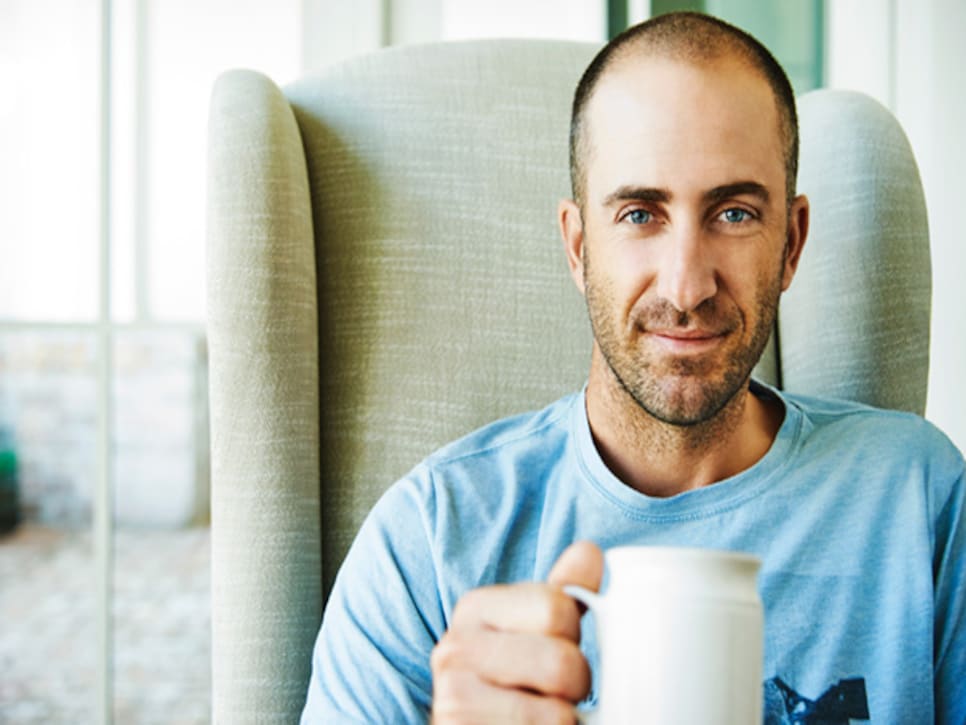 I'VE ALWAYS THOUGHT tall, dense grass is the least attractive hazard in golf. Slowly we seem to be moving toward shorter, lighter rough, even at the U.S. Open, which more than any championship was defined by penal setups that permitted little in the way of recoveries. Was the setup at Pinehurst for the U.S. Open not wonderful? Did not the best player that week [Martin Kaymer] win? To the last holdouts for deep rough, I'd ask this: If Bubba Watson were in tall, dense grass to the right of the 10th hole at the 2012 Masters and had to pitch out, would that have been a good thing? Wasn't the attempt at a bold recovery great to see? Would you have rather watched Phil Mickelson reflexively lay up on the 13th hole in 2010 instead of having a go from the pine straw? Case closed.
IT'S OBVIOUS that narrow driving zones, extreme length and dense grass don't suit me. I dislike them. So how did I win the 2006 U.S. Open at Winged Foot on one of the most penal setups in golf? Well, nobody hit a lot of fairways. On a course that is supposed to reward pure ball-striking and tremendous driving accuracy, the opposite happened, more or less. I wound up lumped in with everyone else. The penal setups are how Phil Mickelson, far from a precision player, has finished runner-up six times. In 2006, it came down to who was best from 100 yards and in. For that week, it was me.
SOMEONE ASKED the great Led Zeppelin guitarist Jimmy Page what he sought to do with his music. He answered that he wanted "light and shade," a blend of sounds and approaches. That's basically my view of course design. Contrast. A well-paced variety of short and long holes, easy ones and hard ones, tension and happiness. Different looks, surprises—and always, harmony. The worst thing is redundancy, especially when it leans toward being too difficult.
I PLAY GUITAR, by the way. I'm about a 12-handicapper, not very good. But every now and then, I hit these strides that are similar to getting in the zone in golf. I'll play something that passes for listenable, and I think, Hey, that was pretty good! And then the fantasy kicks in. I imagine myself sitting in a room with Jimmy Page, the two of us noodling around on our 1959 Gibson Les Pauls, improvising and sharing riffs on an equal level. These little fantasies are why millions of people play air-guitar in private.
THE MOST POWERFUL WORD in golf might well be "par." Can you imagine what would happen if the par-5 13th hole at Augusta National were downgraded to a par 4 on the scorecard? The psychological effect of "par"—an arbitrary number, when you think about it—would be enormous. And negative. Fewer players would go for the green in two; they'd lay up for fear of making double bogey. And then they'd complain. Fans, the less-knowledgeable ones especially, would hate that eagles were impossible and birdies rare. Mind you, the winning 72-hole score would still be the same. The 13th's stroke average of 4.79 since 1934 wouldn't change much. It's just a number on the card. But people would hate it.
THERE ARE FEATURES on old courses that are considered iconic and wonderful, which would never be imitated today. The bunker in the center of the green on the sixth at Riviera. The deep little pot bunker at the 10th at Pine Valley. These would be considered madness today, and I guess for good reason, as they'd seem contrived. There are actually entire holes that would not be attempted, including the par-5 15th at Augusta. The second shot there is insanely hard if you go for the green. If you lay up it's just too severe, even with a wedge. Because of where it is and its place in history, it's considered wonderful. But if you plopped that hole in any other setting, players would scream.
FROM THE BEGINNER TO RORY MCILROY, everyone loves super-short par 3s. Everyone loves the 106-yard seventh hole at Pebble Beach, or the par-3 Postage Stamp at Troon in Scotland. They're considered genius architecture. The question is, why aren't there more of them?
THE BEST SPOTS IN GOLF FOR ME, hands down, are the 12th green and 13th tee at Augusta National during the Masters. The reason is that very few humans get to go there. It's not a snob thing, it's an accomplishment thing. When I stand on the 12th green, the realization sinks in that I'm at a place few people have been or will ever get to their whole lives. A cool phenomenon happens there. When a putt falls in the hole, there's a delay before you hear the applause, because the gallery's 160 yards away.
SPEAKING OF GOLF SNOBS, I've identified four sub-species so far. The first is The Membership Collector. He belongs to several clubs, all of them expensive, exclusive and always on the tip of his tongue. The second is The Traditionalist. He raves about 6,000-yard seaside courses (preferably in Scotland), plays them with wooden woods and insists golf was better before they invented the bunker rake. Then there's Mr. Big & New. Buys a new driver every six months, has 40 Scotty Cameron putters, drives brand-new cars to courses that are 7,500 yards. Loves huge clubhouses with wine cellars. Then there's The History Guy. That's me. Always talking about old players, old courses, the history of majors and so on. Knows not only about architects, but when and where they were born.
WHEN MY 4-YEAR-OLD SON, Harvey, decides he doesn't want to eat his dinner, that's that. His stubbornness is such that we could sit him there for two days, and he won't eat it. My wife, Juli, and I think he gets that stubbornness from me. When I was 5, I decided to learn to ride a bike. It did not go well. All day I kept falling, blood and scrapes everywhere. Early the next morning I went back out, and by noon, I had it down. That stubbornness, combined with a bit of narcissism, really paid off when I took up golf. Golf is nothing if not frustrating, and the only way to fight through it is with stubbornness. Is Jack Nicklaus not stubborn above all else?
STUBBORNNESS AND DETERMINATION really come into play on the three-foot putt for par. But when you face 50 of them a week in competition for six straight weeks, they begin to erode you. Over the course of a 30-year career, they beat you up. I don't take them lightly, even in practice, because I don't want to form bad habits. So I grind over every one of them. I yearn for the day when I retire and play friendly games with my mates, and when I don't like the look of a certain three-footer, just raking it away and walking to the next tee. That is true freedom.
SEVE BALLESTEROS, more than any other player, looked "right" over the ball. On short shots especially, there was something about him as he settled in and waggled that immediately conveyed perfection to the human eye. It's strange, because if you examined Seve for too long, all kinds of unconventional things would emerge, and the perfection would go away. But that first glance of a golfer is the most accurate, the one you should trust. It's rather like looking at a picture frame and knowing instantly if it's a millimeter off center. Tiger Woods in 2002 had that "right" look, especially with the longer clubs. One player today has it, at least to my eye: Louis Oosthuizen.
IF YOU WANT TO SEE a lot of players who look "right" over the ball, come over to Whisper Rock in Scottsdale. I'm a member there, and on any given day of the week there are so many good players hanging around, it's a joke. I don't just mean the 30 or so tour players. I'm talking amateurs, guys with regular jobs, who I will not give strokes to. The club championship is 36 holes of stroke play, and I've never won it. The year I came closest, I got beat by an amateur named Jim Strickland. Turned out, Stricky had gone to Arizona State with Phil Mickelson. There are a lot of guys like Jim out there.
I JUST THOUGHT of another type of golf snob. It's The Harder Is Better guy. The club member who comes up to me at a tour event and says, "Bet you guys thought it would be easy, eh? Nice to see it beat you up the way it beats us up." Oakmont members are like that. The faster, more impossible they can get the greens, the better they like it. Nice people, but I don't understand the mind-set.
GOLF WRITING on the whole isn't as enjoyable as it once was. I love reading Bobby Jones' books, and it's a shame there's nothing like them being put out today. There are few masters of the craft left. Literary geniuses like Tom Callahan are disappearing because there are fewer platforms for them. Golf books, save for instruction titles, don't sell well, so writers are less motivated to develop that literary ability. It's all very fast. And let's face it, there are fewer golf legends to write about. The Internet has made it impossible for a mysterious person like Ben Hogan to exist.
EARLY IN THE WEEK of the 2013 British Open at Muirfield, a few guys who were in the know drove up the road and played North Berwick. Word got around, and by the end of the week, 30 guys had played there. By consensus, it was the most fun they had ever had playing golf. The quirkiness of the design—the original Redan hole is there, one green is flush against a stone wall, and the green on another hole is 70 yards long—is spectacular. The greatest feature is the nine-hole children's course, which adults cannot play unless accompanied by a kid. When you see that children's course, you realize the secret to growing golf has been sitting under our noses since 1888, when that course was built.
TWO MORE EXAMPLES of what golf needs more of: the pitch-and-putt course at Turnberry in Scotland and the par-3 Horse Course at the Prairie Club in Nebraska. The pitch-and-putt requires a wedge and putter, it's free, and you can play it in jeans and a T-shirt. The Horse Course, you tee up anywhere, and the winner picks which green you play to, like H-O-R-S-E in basketball. The courses are free adjuncts to the regular golf and are almost always very busy because people love them so much. They're magnets for interest. If every new course devoted five acres to short courses, far more people would be attracted to golf.
THE SHORT SHOT from a tight lie—the type I played from in front of Winged Foot's 18th in 2006—is causing all kinds of havoc. There are more cases of pitching yips, brought on by that very type of shot, than ever before. There's a very good player on tour, whom I don't care to identify, who has as bad a case of the pitching yips as I've ever seen. He's in a very dark place mentally and has become a master of disguising this weakness. He'll hit his ball to some extraordinarily difficult places to avoid hitting the 30-yard pitch from a tight lie. He's making a very good living, but sooner or later he'll face a 30-yard shot over a bunker on national TV when it really counts. He'll lay the sod over it three times in a row. And then you'll know who it is I'm talking about.
ALMOST EVERY TOUR PLAYER has a certain amount of "hang on" in their swing. I'm talking about a little bit of restraint in their release through impact, to prevent the ball from curving too much one way or the other. There are only two exceptions: Rory McIlroy and Angel Caberera. Rory holds absolutely nothing back, and his natural draw is a wonder. Angel, when he's on song, hits the most beautiful fade I've ever seen.
TEMPER TANTRUMS in golf are a strange thing. Nobody beats their 4-iron on their bag when they're playing alone. They only do it when other people are around. Throwing a club is a way of saying, "I'm too good to have hit such a terrible shot." They're embarrassed and prideful. The truth, of course, is that they're not that good. That's why we in turn feel embarrassed for them.
SERGIO GARCIA has gone from being merely a superb ball-striker to being the best in the game. Sergio has always been a "flusher," someone who hits it solid. But today he plays golf utterly the way it was meant to be played, drawing or fading the ball at will, probably the way Hogan did it. The strange thing is, his putting evolved at inverse proportion to his ball-striking. At age 17, Sergio was the best putter I'd ever seen. From 15 feet he was practically automatic. But as his ball-striking got better, his putting got worse.
PETER FOWLER, an outstanding Australian golfer who now plays the European Senior Tour, phoned the great Peter Thomson for advice in the early 1980s. Fowler was struggling to break through, and he asked Thomson, a five-time British Open champion, if he had any insight on what to do to get better. With barely a pause, Thomson said, "Shoot lower scores," and hung up. Fowler was crestfallen at first, but then he started to see the genius in the great Thomson's words. It was as if Thomson were saying, "There's a ball and a hole. Stop getting in your own way. Stop making it so hard. Get on with it. Just do better."
PICTURE A RYDER CUP AT AUGUSTA NATIONAL. The way the back nine would provoke heroics and collapses when it mattered most? It's impossible, of course. The timing of the event, the condition of the course in the fall, the fact the club would never consent. But we can dream, can't we?