News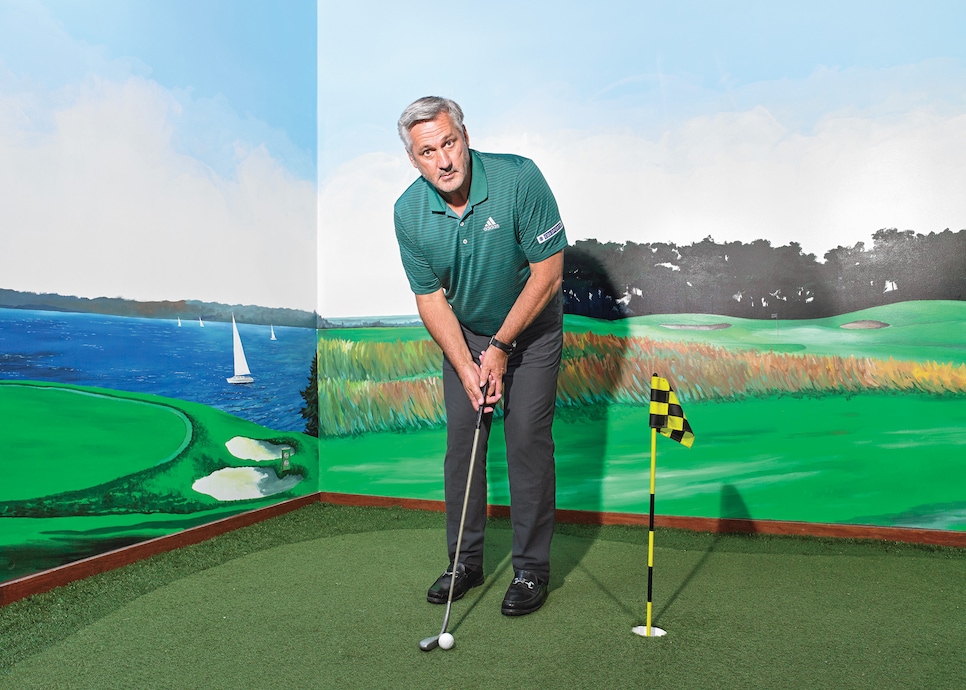 I go through these little Twitter boycotts. Someone will troll that I'm the worst broadcaster on TV. I'll go silent, brood and swear to never go on Twitter again. Then one night I'll get bored in my hotel room. I'll peek at Twitter and see a compelling thread. I'll jump back in, the discussion goes great, and suddenly my faith in humanity is restored. Then here it comes, trolls again. "You need to shave—you look like a transient," someone will say. Or, "Your accent is annoying. ... Go back to where you came from." I'll get mad and leave again. I know me. This cycle will probably never end.
IT'S HARD TO IMAGINE the safest environment being one where thousands of people are within feet of you and millions more are watching your every move. But that was the case with Tiger Woods. Inside the ropes, the boundaries were defined, the environment very tightly controlled, the scrutiny directed at his incredible golf game. When he played, he was wrapped in a blanket of admiration, adulation and respect. There was security in that. Now he's not safe there. The nature of the scrutiny has changed. His game has declined, but now the personal stuff is brought up even when he's playing. Tiger no longer controls the conversation, and the golf course is no longer a sanctuary. For the lonely, introverted person—Tiger always seemed lonely to me—scrutiny only makes them withdraw further. Choosing to remain isolated has always been Tiger's way, but with his sanctuary gone, I don't see how it can be healthy. I'm sure there's a way for him to go forward. But he hasn't discovered yet what it is. It would be wonderful to watch him grow old gracefully.
WHEN TIGER PLAYED POORLY at the 2014 PGA Championship, Brandel Chamblee and I got into a debate over the reason for his struggles that some would call epic. Arguments certainly make for good TV, but being contentious for the sake of being contentious wears thin. Brandel cited Tiger's swing as the reason for his back problems, and I felt that he couldn't swing well because he was riddled with injuries. Departing from prepared topics makes for spontaneity in TV, but this was more than a departure. It got contentious; he had obviously prepared to go down this street, citing the amount of Tiger's shaft lean with a wedge in 2000 as opposed to 2014. If you were to ask someone in the studio about the mood between Brandel and I when we went to break, they would tell you it was less than cordial.
AT ONE POINT, Brandel pressed home his argument, something along the lines of, "I'll bet you everything on this set and everything I own." We were hardly dinner companions, but I think it's then that we crossed that line. But apparently it was good TV, and I'm asked about that episode more than any other show we've done, so what do I know? We both joined Golf Channel in 2004, the first year of the "Live From" series, and one thing we would both agree on is that it's a show we're proud of. The blend of personalities works. If Brandel had a clone of himself sitting next to him, heaven forbid. ... Conversely, with a pair of more reserved Frank Nobilos, we would more than likely have to wake people up. Studio shows might offer more face time, as they say in TV land, but live golf is where my heart and soul lies. Part of that probably comes from feeling shortchanged in my playing career, but there is nothing premeditated about live golf: do your homework, keep your eyes open and listen. In the process I've had the pleasure of working with the best in the business.
WHEN YOU MOVE from being a player to a TV announcer, a strange thing takes place: The players in general don't treat you the same anymore. Essentially you become "gamekeeper-turned-poacher." I get it; I did it, too. Fewer things are said in confidence. The vibe totally changes. The most outstanding exception is Vijay Singh. I've known him for 30-plus years, and I've read what everybody else has read about him. Once you get past that facade, there is a consistency with him that I've always admired. The change in my job hasn't meant one little thing to him. You are what you are to Vijay, until proven otherwise. In today's world, that's rare. He's not my best friend, but I know if I really needed something, I could call, and he would be there. That's big in my book.
REALLY GOOD GOLFERS know how hard the game is, but at the same time, they forget. When I played in Europe years ago, I was briefly into fast cars. I owned a Ferrari and went over 100 miles per hour on a deserted, straight road. Then I got to know a top Formula One driver named Peter Gethin, and occasionally we played golf together. One day he took me out to the Goodwood racing track and put me in the passenger seat of an F40 to go for "a little spin." The acceleration put me back in my seat, and he took the first curve at 120 miles per hour, steering with one hand, making small talk and looking at me as he drove. I didn't hear a word of what he said because I honestly thought I might die at any moment. On the straightaway, we flew past a Testarossa, and my thoughts escalated from a simple accident to a deliberate murder-suicide. I didn't know Peter that well. When I glanced at the speedometer, it read 180 miles per hour. After he pulled into the pit, I got out and very nearly vomited. He walked around the car, put his arm on my shoulder and whispered in my ear, "Now you know how I feel when you take me to those bloody back tees."
I CLOSE MY EYES and see these snapshots of players who at certain moments were brilliant, a match for anybody in history. They aren't always the legendary players. After I won the New Zealand Amateur on my 18th birthday in 1978, I got invited to play for New Zealand in the Eisenhower Trophy, held that year in Fiji. The course, Pacific Harbour, was extremely difficult with internal out-of-bounds bordering these narrow fairway alleys. Nobody dared hit driver on them. The most renowned amateur in the world at that time was Gary Cowan, a Canadian and a magnificent ball-striker. After my round one day I went out to follow Gary's group, hoping I could learn by watching him. But in Gary's group was a skinny American named Bobby Clampett. What I saw quickly made me forget about Gary. On the narrowest holes, Bobby would pound driver into the center of those alleys with utter confidence and a ball flight you dream about. On the 18th hole he finally missed a shot, but from behind a tall stand of bamboo proceeded to hole a wedge. At that moment—it was only a moment—he was as good as anybody I've seen.
BUT IT WASN'T THE BEST EXHIBITION of driving I've ever seen. That honor goes to Greg Norman at the 1981 Australian Masters. The course, Huntingdale Golf Club, had a very short range. At the end of the range was a fence, and beyond that was the course's 13th hole. Once the last group went through, players were permitted to land practice drives into the distant fairway. Bizarre. Anyway, the fence had a small gate about four feet wide. As I left the range one morning, I spotted Greg hitting drivers in the direction of the gate. Someone had left it open, and a few spectators noticed that Greg was using it as a target, the two ends of the gate behaving sort of like goal posts. Greg was launching one full-blooded driver after another through the four-foot window above that gate. The crowd got larger. Steve Williams, who caddied for Greg at the time, wasn't moving. Out in that distant 13th fairway, he was catching the balls on one bounce like he was fielding short wedges. Greg must have hit 20 consecutive drives within that four-foot window. The crowd was mesmerized. So was I. He won the tournament, but that display on the range was something else. I haven't seen anything like it since.
AT THE 1996 U.S. OPEN at Oakland Hills, I was on the range watching Tiger hit his driver. Unlike other pros, his ball didn't take off low, soar to a high point and then fall abruptly. It was more parabolic and arching. It was fantastic, but how he did it was a bit of a mystery. Tiger's consultant at Titleist, a man named Rick Nelson, sidled up to me, and as another incredible drive took off, he whispered, "Perfect spin rate." I didn't know what he was talking about; no one did, really. But Tiger's team had figured out that high launch and low spin off the driver was what you wanted, and they did everything they could, equipment-wise, to make that happen. His technique had something to do with it, of course. When Tiger switched to Nike and played the solid ball [2000] and had that incredible stretch, within 12 months everybody on tour switched to the solid ball. It's one of many ways that Tiger changed the game.
I HAD JUST WATCHED the great British teacher Pete Cowen go through a session with Matthew Fitzpatrick shortly after Fitzpatrick won the U.S. Amateur in 2013. Wanting to stir up conversation, I said, "So, are you going to change his grip?" Fitzpatrick had a very strong left-hand grip, and his right hand was weak. Pete said, "Now why would I do that? Do you see where he puts the club?" Pete explained that Fitzpatrick's grip matched his other positions and his motion beautifully. Changing his grip to the model everyone has had in mind forever would demand a lot of other changes that would probably make Fitzpatrick go backward, with no guarantee that he'd get better down the road. If you look where Fitzpatrick is today, it obviously was the right decision.
PETE'S WILLINGNESS to get away from conformity is something we're seeing more of, and it's a big leap forward. If a young Dustin Johnson came to a teacher 25 years ago with that bowed left wrist at the top, or if Jordan Spieth came with his unusual grip, most teachers would probably change it. And by so doing, we might never have heard of Dustin and Jordan. The acceptance of unusual positions and moves is allowing a lot of people to play golf who otherwise would have quit due to the conventional way being uncomfortable. Who's to say that an unusual swing like Lee Trevino's isn't actually the best way, especially with advances in equipment? Can you imagine how good Lee would have been if there were hybrids in his day?
IN 1977, I was invited to caddie for Al Geiberger in a tournament at Titirangi, my home course. He'd shot his 59 at Memphis earlier in the year, so it was a big deal for a 17-year-old kid. The day started with a range session, me shagging balls as he warmed up. I didn't have to move much at first, but as the shots got longer the dispersion naturally got wider, and I ran to get the balls back into the bag quickly. When he got to what I judged to be a 5-iron, he waved me in. He whispered very pointedly, "Son, please stop running when you pick up my balls. It makes me look bad."
ON THE LAST DAY OF THE TOURNAMENT, Al was paired with a blond-haired, surfer-looking Australian. A complete unknown named Greg Norman. Greg was much longer than Al, and straighter, too. I was so knocked out by it I said things to Al like, "Boy, that guy sure is good, isn't he? ... It must be incredible to drive the ball like that." Exactly the kinds of things a caddie should never say to his player. Poor Al was very nice about it, but I did notice he increasingly kept me at a distance. Many years later I apologized to Al. Hey, I was young.
IN 1997, I was just entering the prime of my career. In 1996, I finished fourth at the Masters, tied for eighth at the PGA Championship and was inside the top 15 at the U.S. Open. I'd played through incredible pain from a shoulder condition, forcing me to go to the Mayo Clinic in Rochester, Minn. Three days later, I was diagnosed with inflammatory polyarthritis in my elbows and wrists, which back then was a death sentence for an athlete. Medications like the one Phil Mickelson takes today weren't invented. Other drugs helped, and in 1997, I won at Greensboro and had all kinds of expectation of getting better physically. But the arthritis got much worse. The next five years of playing were hell. Few people are as unhappy as the injured athlete. You feel cursed and unlucky. There's a lot of "Why me?"
ANOTHER TOUGH MOMENT: In the summer of 1998, I was driving a cart from my house at Lake Nona across the course over to the practice range. A group of ladies were teeing off on one hole, and I thought, I better not go that way; I could get hit. I'd never been hit by a ball in my life. I take another route and see a fellow on another tee, playing alone. I watched him swing and walk toward his cart, an indication he'd just hit. So I drove on in his direction. In actuality, he'd gone to the cart to retrieve a second driver.
Suddenly I see what appeared to be a flurry of red mosquitoes. When I get to the tee where this man is, he stops me. I vaguely notice there's blood all over. He'd nailed me flush above my left eye, and I was knocked silly. I'd kept driving, conscious but unconscious. It turns out he was a doctor. He takes me to the clubhouse. The wound took 30 stitches, and I couldn't play much the next few months. I plummeted down the Presidents Cup points list and was very fortunate when Peter Thomson made me a captain's pick. The tension of waiting to see if I'd be chosen was frightful. Golfers can be the most insecure people in the world.
THAT EXPERIENCE came in handy in 2009, when I was Greg Norman's assistant for the Presidents Cup at Harding Park. Adam Scott had experienced a terrible year in which he missed 10 cuts and was outside the top 100 on the PGA Tour money list. When Greg had made him a captain's pick, Adam's confidence was at low ebb. In the hotel, I took him aside and assured him that he was not a sympathy choice, that he was a great player, deserving and on the verge of breaking out. Adam didn't have a great Presidents Cup, but several months later he won the Texas Open.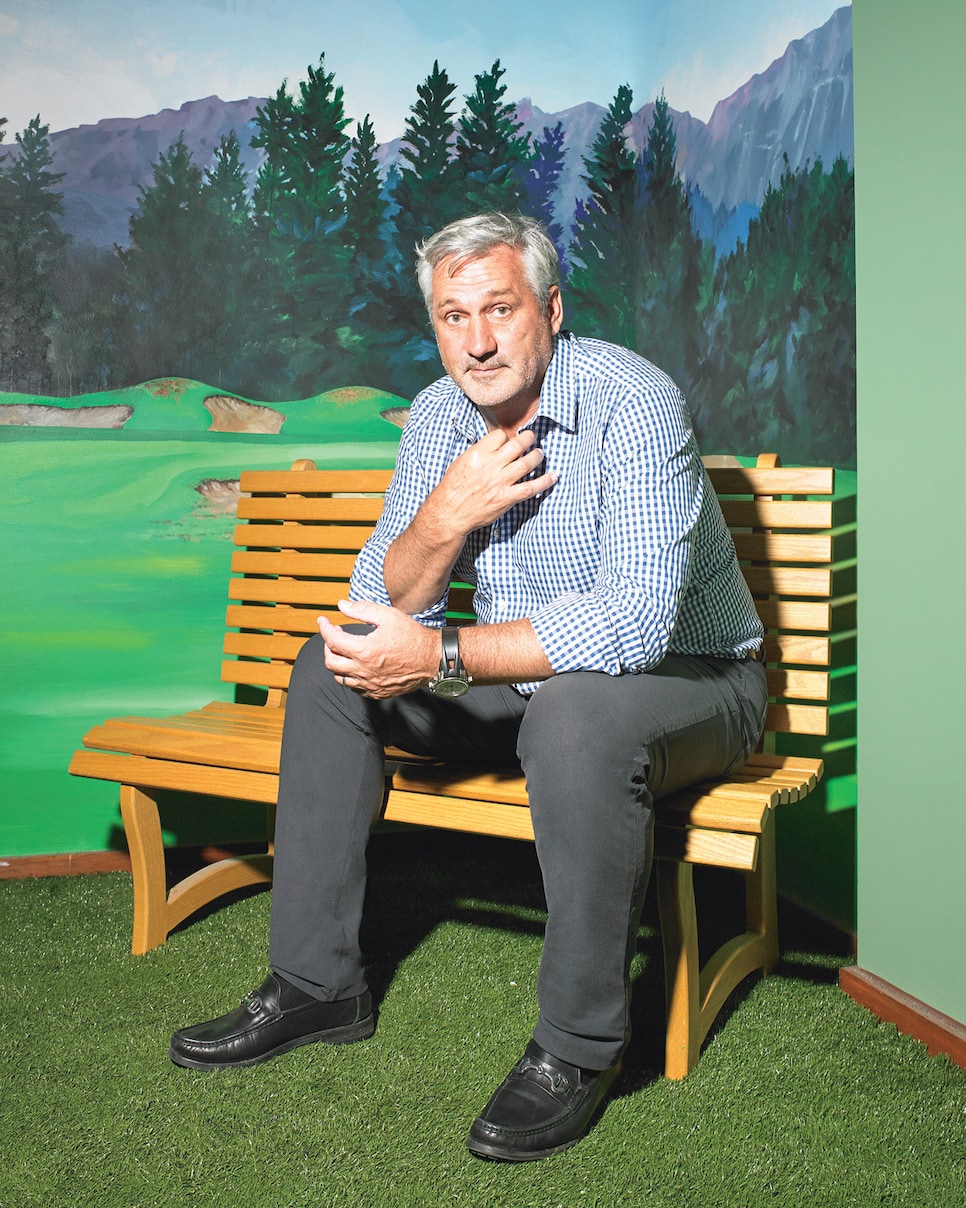 I PLAYED ON THREE PRESIDENTS CUP TEAMS, in 1994, '96 and '98, and was assistant captain in 2009 and '11. I'm a proud Internationalist, but having said that, I've always wished for a scenario that brought every segment—Americans, Europeans and Internationals—into a true worldwide competition. Here's how it would work. Say the Americans won the 2018 Ryder Cup. In 2019, the Presidents Cup would pit Europe versus the Internationals, the winner earning the right to go up against America to decide the Ryder Cup in 2020. If the Internationals advanced and beat America in that 2020 Ryder Cup, the Americans then would have to defeat Europe in the 2021 Presidents Cup to gain a shot at regaining the Ryder Cup in 2022. It's a great solution. For a multitude of reasons, it will never happen. But I believe Samuel Ryder would have liked the idea.
THAT FIRST YEAR of the Presidents Cup, in 1994, we Internationals assumed we would immediately come together as a mighty team. We all had grown up playing team competitions. But it didn't quite happen. There were so many adjustments to make, so many little shocks. For example, rather than report to a central organization in the way Americans did through the PGA Tour, our team was represented by a loose confederation of officials from the Australasian, South African, Japan and American tours. We'd never seen a team room, gone through an interpreter to communicate with a teammate—Tsukasa Watanabe was from Japan and didn't speak English—or done things like visit the White House. For me, a New Zealander who had viewed Australia as a lifelong rival, embracing the Aussies as brothers needed more time. And always, there's the specter of competing against America, which then as now was seen as a monolithic leader in sports worldwide. We did a good job but lost, 20-12. It was closer than the score indicated, and by the end of the last day, we were very much a team. We couldn't wait for 1996.
OVER THE NEXT YEAR AND A HALF, things unraveled for us. As the 1996 team came more into focus, our team felt somewhat used and betrayed by our representatives. David Graham had been named captain again through the PGA Tour with no consultation with us. It seemed like our players had no control. The leaders of the various associations did not keep us informed, and David wasn't particularly good at it, either. It bred suspicion and discontent. Right or wrong, the circumstances led us to think we needed to assert ourselves and force some kind of shake-up. With the Presidents Cup only two months away, we called a meeting at St. Annes the week of the Open. No one held back on their opinions that a completely new look was necessary. The most direct way of asserting ourselves was to consider replacing David. I actually was the one who called for a vote on David, and the result was unanimous [with one abstention]: David had to go. The aftermath of relieving him was not pretty. Although the Presidents Cup experiences are the best of my playing career, the episode with David stands as among the worst. David, needless to say, was outraged and hurt. What began as a legitimate indictment of the system ended with the perception of it being a direct attack on him, our players looking petty and vindictive. We did come together, losing that second Presidents Cup by a much closer 16½-15½ margin. If I had it to do over, would I vote to have David removed? I'll say this: In hindsight, I wish we all had insisted that David be at the meeting at St. Annes.
PETER THOMSON agreed to be David's replacement. The first morning was four-balls, and we got smoked, losing three of four matches. We players were in a foul mood as we gathered behind the 18th green. It was our lowest moment. I still remember Peter sitting on a hill above us, looking down with a wry expression as we bickered and complained. Finally, Peter walked down and gathered us together. He said, "Over the years, I found that when I played poorly in the morning, I always played better in the afternoon." It was a message of optimism, simple wisdom with no dramatics. It took all the poison out of the air, made the sniping seem unnecessary and unproductive. We still trailed at the end of the day, but Peter really righted the ship. We mounted a big comeback and fell just short at the end.
YOU KNOW WHO WOULD HAVE BEEN PERFECT for social media? Gene Sarazen. The neatest thing about my winning the Sarazen World Open twice was the friendship I developed with Gene. In conversation he had a way of being edgy while maintaining an old-world respectfulness that is sorely needed in society in general and Twitter specifically. Any golf subject—equipment, history, technique, players—he could expound on in very few words. He would have been perfect for the 140-character word count, his tweets as original as the sand wedge he invented.
ONE NIGHT DURING THE 1997 SARAZEN WORLD OPEN, a group of maybe 15 of us had gathered at a table inside the Chateau Elan clubhouse, drinking and telling stories. Sam Torrance, Payne Stewart, Nick Price and the raconteurs were bringing down the house with all kinds of tales from their careers. Then, someone noticed Gene Sarazen, 95 years old and somewhat frail, sitting in the corner of the room, a little overwhelmed by the noise. We ushered Gene to the table and asked him to tell us a story. His voice wasn't strong, and we ordered quietly so everyone could hear him.
"After I won the U.S. Open at Fresh Meadow in 1932, I decided to stay in New York for another week to celebrate and visit friends," he began. "One morning, I went to Grand Central Station to catch a local train. As I waited on a bench there, I noticed a young woman sitting across from me. She was the most beautiful girl I had ever seen. She looked up, and when our eyes met, we held the gaze for a long time. Something told me she felt that way, too."
Gene said, "I was so overwhelmed, I did not have the courage to approach her. It just wasn't done in those days. A minute later, the final call for my train came, and I left. For the rest of the day this girl was all I thought about. I knew I must find her. Every morning for the next week, I went to Grand Central around the same time as before, desperately hoping the train was part of her routine. But it wasn't to be. She didn't return. The girl at Grand Central became a footnote to a long and happy life.
"About 30 years later, I was playing in a tournament in Palm Springs," he continued. "I had finished my round and was in the room relaxing when the attendant approached to inform me that there was a woman at the clubhouse bar asking to see me. 'Did she leave her name?' I asked. 'She wouldn't say, except that you'll remember her from Grand Central Station,' replied the attendant. I finished cleaning up and traveled over to the bar. There she was, the woman I had encountered at the train station," he said. "She was radiant. With this warm smile, she said, 'I want you to know I've never forgotten that day in the train station. My name is Dolores Hope. You may know my husband, Bob. I'm so glad we can meet at last."
We all applauded The Squire. How can you beat a story like that?
YOU MIGHT NOT HAVE HEARD OF BILLY DUNK. He's one of the great Australian players of all time, winner of five Australian PGAs and 29 tournaments on the Australasian Tour. My first pro tournament in Australia was the Victorian Open. I was 20, unknown and as such was assigned the first tee time of the day.
I was on edge about it because I was staying at a cheap motel well outside of town, didn't have a car and would have to depend on a cab picking me up before sunrise. The evening prior, I ran into Billy, whom I idolized. After a little small talk he asked, "What time you going off tomorrow?" I told him and expressed my concern. "No worries; you can ride with me," he said. The next morning at 5 a.m., here came the knock at the door from Billy. "Rise and shine," he said. "We leave in 30 minutes." Still squinting, I noticed Billy was still in his pajamas. "Why aren't you dressed?" I asked. "Aren't you playing?" He said, "Of course I'm playing, but I don't go off until this afternoon." I said, "Why are you giving me a ride in?" He said, "Because you needed one." I'll tell you, they don't make them like Billy Dunk anymore.