The Loop
My daily golf calendar was oddly prescient in 2014
It started with a Justin Bieber quote of all things -- and not even a good one. The exact words escape me now, but the entertainer basically said he's friends with Bubba Watson and likes playing golf with him.
How that nothing quote made it into a daily golf quote calendar that sits on my desk is puzzling and I would have just ripped it off and thrown it in the garbage immediately if not for the timing. As I had driven to work that day, Jan. 24, 2014, I heard on the radio Bieber had been arrested for DUI and resisting arrest earlier THAT morning in Miami.
What are the odds? I thought. After all, this wasn't a TMZ Hollywood Teen Heartthrobs one-a-day calendar. It was a daily golf calendar. You know, one of those silly things you get for Christmas, bring into your office and dutifully keep up with for about two weeks before forgetting all about it? But little did I know this was just the start of a series of prescient entries in 2014, and I kept turning the pages for all 12 months. Here are some others -- granted, a few are a bit of a stretch -- I came across:
Monday, Jan. 27: "I see no reason why a golf course cannot be played in 18 birdies. Just because no one has ever done that doesn't mean it can't be done." -- Ben Hogan
Patrick Reed didn't quite accomplish Mr. Hogan's dream, but he did do something no PGA Tour player had ever done before that weekend, firing three consecutive 63s in his first three rounds at the Humana Challenge on his way to a win.
Tuesday, April 1: "There isn't a flaw in his golf or his makeup. He will win more majors than Arnold Palmer and me combined. Somebody is going to dust my records. It might as well be Tiger, because he's such a great kid." -- Jack Nicklaus
That very day, Tiger Woods announced he had undergone back surgery and would miss the Masters for the first time as a pro. Jack's prediction seems like a real long shot at this point -- not that he probably minds too much.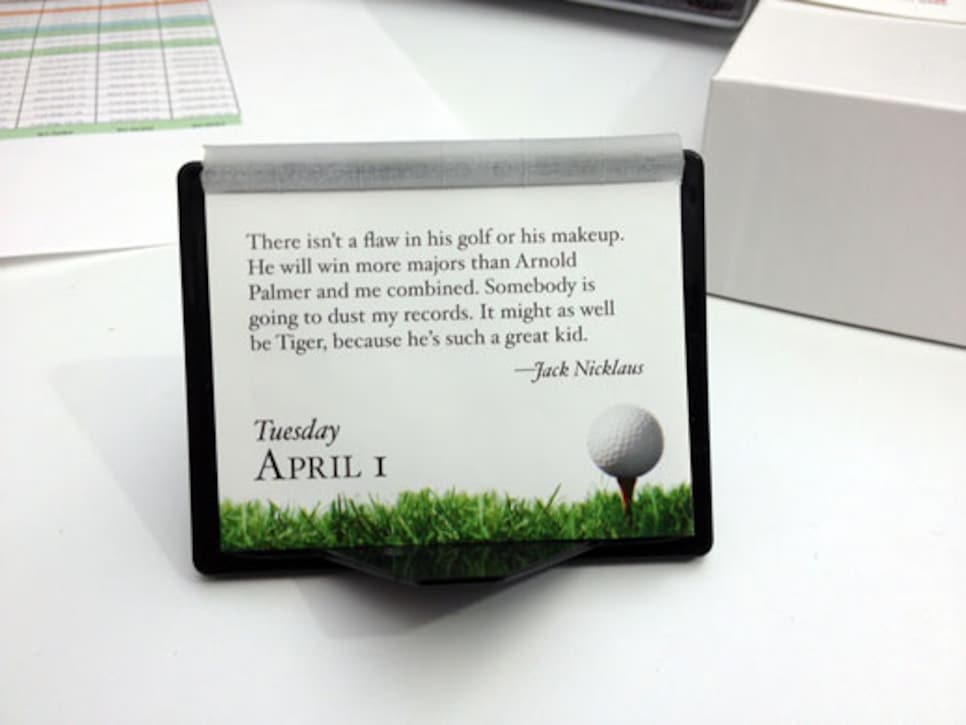 Monday, June 23: "Jimmy Fallon and I play regularly at the Bayonne Golf Club in Jersey. He's 18 holes of fun. Any time we play he has moments of brilliance, but also moments of utter catastrophe." -- Mario Batali
And who was June's Golf Digest cover boy? That's right, Jimmy Fallon! Again, like the Bieber quote, how did this one even make the cut?!
Thursday, Aug. 7: "Sport is a wonderful metaphor for life. Of all the sports that I played -- skiing, baseball, fishing -- there's not greater example than golf, because you're playing against yourself and nature." -- Robert Redford
The following day, heavy rains hit Valhalla at the PGA Championship and caused a meltdown by Bubba Watson -- Bieber's golf bud -- that included cursing and having his caddie tee up a ball for him. We'll chalk that up as a victory for nature.
Friday, Aug. 8: "There are so many great players on the men's side -- and women's side. Hopefully, I can keep improving and eventually play in the Masters." -- Michelle Wie
That dream Wie had as a teen probably won't come true, but three weeks later, she became the first female pro golfer to appear on the cover of Golf Digest in six years. That's just as good!
Saturday/Sunday, Aug. 23-24: "Golf teaches success and failure. Neither lasts long." -- Glenn Kummer
I have absolutely no idea who Glenn Kummer is. Regardless, his words especially rang true on the day Camilo Villegas won the Wyndham Championship. Once a rising superstar on tour, Villegas had lost his tour card before an unlikely victory put him back on track.
Thursday, Sept. 11: "Each golfer has to understand his temperament before he can learn to manage it." -- Richard Coop
This quote appeared on the day of the Tour Championship's first round. Why was the timing so appropriate? Because a calmer and more mature Billy Horschel, who many believed had been held back by a bad temper early in his career, would go onto win for a second week in a row to claim the FedEx Cup and a $10 million bonus. Billy should be all smiles on the course in 2015.
Wednesday, Oct. 1: "You can talk strategy all you want, but what really matters is resiliency." -- Hale Irwin
This amid all the reactions to Tom Watson's failed Ryder Cup captaincy the previous week. Something tells us Hale would have placed most of the blame on the U.S. players not getting the job done at Gleneagles.
Wednesday, Oct. 8: "Ty Tryon made a lot of money after turning pro, but he might not have been ready. I don't want to make a lot of money for a couple months, and then not be ready." -- Michelle Wie
Despite that statement made as a youth, Wie suffered a similar fate after turning pro at 16 and taking eight more years to have the breakout season in 2014 we had been waiting for. On the other hand, Lydia Ko remained an amateur past the point of proving she could win on the LPGA Tour. A year later -- and six weeks after this Wie quote popped up on my desk -- Ko won the CME Group Tour Championship to earned the biggest payday ($1.5 million) in LPGA history. OK, so now we're really stretching. . .
So, there you have it. This tiny present from 2013 was truly a gift that kept on giving in 2014. Unfortunately, though, I didn't find one in my stocking this year. Looks like I'm not done with my Christmas shopping, after all.