The Loop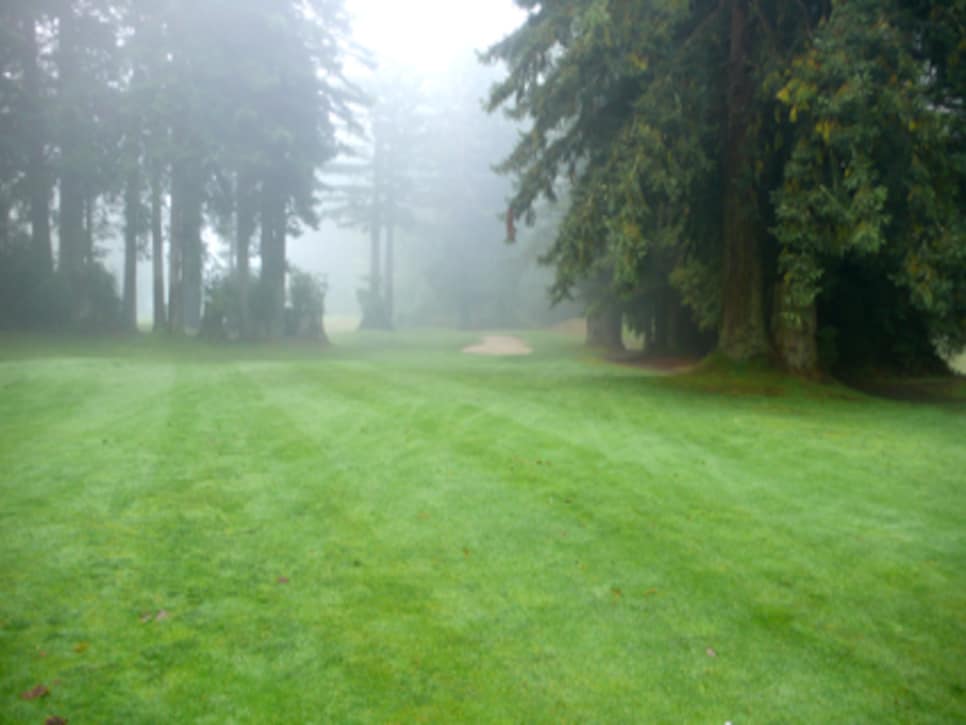 After day one we were in a tie for sixth place, 15-under par and four strokes off the leaders. I figured if we could put up another 15-under we had a chance of finishing in the top five, but for a win we'd need to get it to 20-under on Tuesday. This team had a 20-under in us, but we'd have to be supermodel flawless.
For more background on my buddies trip to Baywood, read the three previous posts below.
We started our Tuesday round on the 17th hole (pictured above). This is the 276-yard par 4, dogleg right with a tiny peanut shell shaped green. "It's the toughest short par four I've ever seen," according to my pro, Glen Stubblefield, who has played in a Senior U.S. Open and two Senior PGA Championships. It's the only hole where we gave a stroke back on Monday. On Tuesday we picked up a stroke--which is the start we wanted. We picked one up on 18 and one on the first hole. We were rolling. After we flatted the next four holes we stood on the sixth tee knowing it was time to paddle. And we did. We picked up one stroke on the next three holes before we went flat again at the ninth hole. And then we came to the start of the back nine.
The back nine at Baywood is lean, mean and intimidating. It's like climbing into a Ultimate Fighting Championship cage with Brock Lesnar. You might be able to run and hide for a few minutes, but eventually Baywood will land a punch, wrap you up and wrestle you into submission. Off the tenth tee we were all in great shape and yet, after five poor approach shots, we scrambled to flat the hole. On the eleventh hole I made one of my only Tuesday contributions to the squad with a birdie on the hardest hole of the course and we picked up a stroke. I was feeling good and almost relaxed. Then I shanked my tee shot at 12 trying to muscle a six-iron over the front bunker of an uphill par 3. The rest of the round, where it really gets tight at Baywood, I never sniffed a par. We all struggled. Bello barely broke 100. He got 17 strokes and his only par of the day came on the 18th handicap hole, where he didn't get a stroke. Hetrick, our 16-handicap, managed six pars but didn't make a birdie in two days. Clark, with seven strokes, is always a steady ball-striker but struggles on the greens. Stubby, our pro, was a stud. He shot 75 the first day and 73 the second day and made a total of seven birdies, which was great for the gross ball. Our second day score was 8-under for a two day total of 23-under, not good enough to cash a check.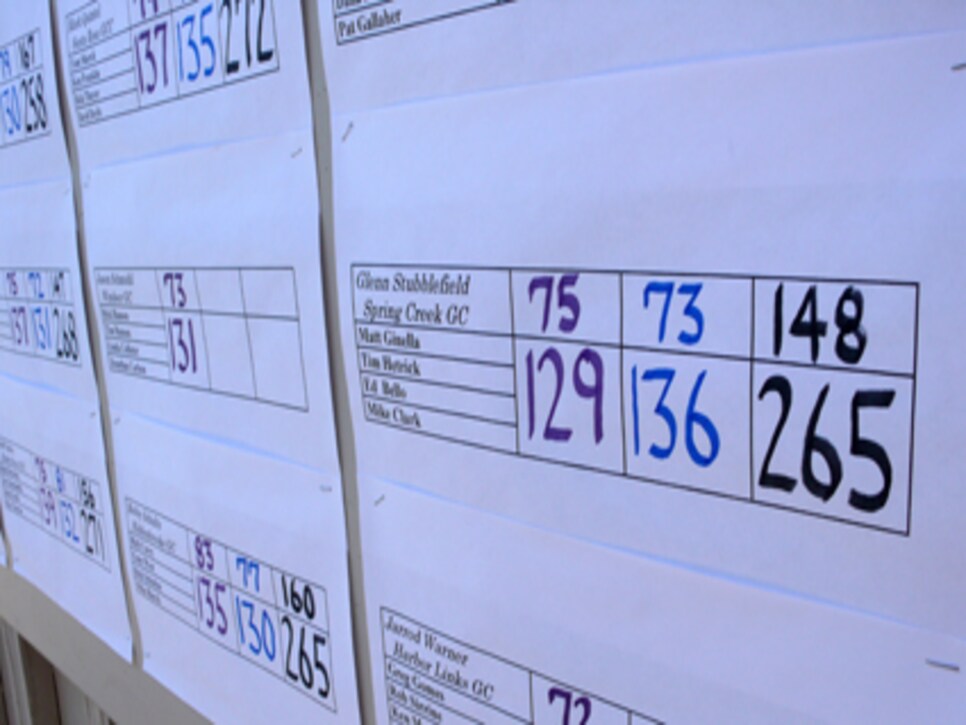 The real winner is Baywood. For the 20th consecutive year I leave Arcata, Calif. humbled and psychologically hobbled. It's going to take at least three large buckets of balls before I start releasing the club again. I shot 84-88, made eight pars, three birdies, and hit shots I haven't hit since last year at Baywood. Over the course of two competitive rounds there were pros who never broke 80. One pro didn't manage to break 90, who's life in golf may need to switch to swimming. One amateur shot 81 the first day but on the second day he had 12 double bogeys and shot 94. A legit 3-Index from Sonoma Golf Club, the host of the Schwab Cup every year, shot 88. And the horror stories and head shaking don't stop there.
How can this short course be so hard? It's all about the trees. I know the saying goes: trees are 90 percent air. That's not true at Baywood. Not even close. These trees are 145 percent hard wood, with branches that could catch the best of Tim Wakefield's knuckle balls. In an amazing display of optical illusions, the longer you're on property, the more the trees creep closer to the fairways. Admittedly, I'm mentally weak. In the case of Isackson and Hosley, the course clearly can be conquered, just not by me. Regardless, as I told Greg Henderson, the pro at Baywood, "Death, taxes and I'll be back next year." A common denominator in the equation of the best buddies trips--I was so ready for it to be over--can't wait to get back.
Some of my trip report details: All in this trip costs me less than $500, not including my flight to San Francisco. That gets me two practice rounds, two tournament rounds, a few nights of pizza and beer with the boys, lunches, breakfasts, a big steak dinner on Monday night at Baywood and forever in terms of memories shared by family and friends. I lost a little playing gin, a little more on the course in side bets, but I deserved to lose for the way that I played both cards and golf.
In the second blog post about Baywood (see below) I wrote about Nick "Kookaloo" Christensen, our trip mascot. I said he speaks like Berra, swings like Barkley. Here's a quick video of Nick's tee shot on the ninth hole during the Monday round. The video says it's the "18th tee," but that's wrong, it's the ninth tee box. Nick tops it but focuses on the positive, "At least I'm in the middle."