News
The Most Interesting Men In The World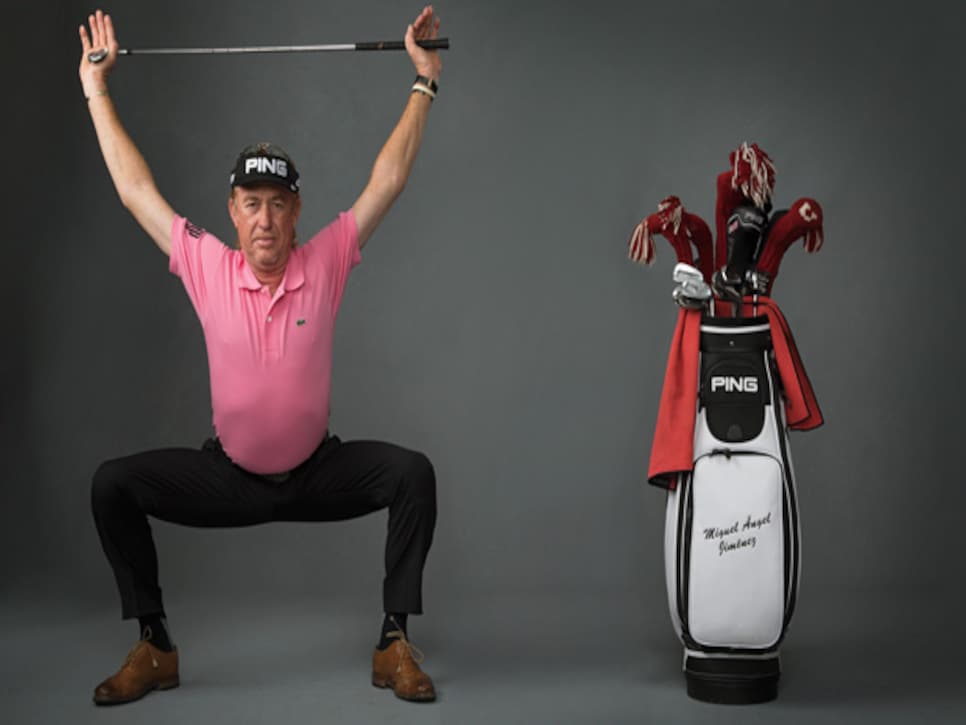 "If you ask why I'm a comfortable-looking man, maybe it's because I come from a nice family. Poor, but always happy. Money helps you live better, but happiness is from the soul. Playing golf has been my job and my joy. Is there a luckier way to make a living?"—Miguel Angel Jimenez
'HAPPINESS IS FROM THE SOUL'
Looking at both of them from the rear, Miguel Angel Jimenez is a dead ringer for Secretariat, whose chestnut ponytail was all that poor Sham ever got to see of the Kentucky Derby, Preakness and Belmont Stakes.
Alternately called The Mechanic and The Most Interesting Man in the World, Miguel is one of the few golfers in history known to exercise, and he's the only one famous for his calisthenics.
Other things he enjoys: red wine, cigars and Ferraris.
A diminutive man with a diminutive potbelly, Miguel isn't what you would call handsome. In fact, the players say he has a face like a half-chewed caramel. But he is attractive in the ways that matter. In those ways, he is beautiful.
Born in Malaga on Spain's southern coast (in the vicinity of Gibraltar and the shimmering golf course Valderrama), Jimenez doesn't remember ever seeing the George Segal-Glenda Jackson movie "A Touch of Class," which was shot there. But he could have been the boy caddie who plays along with Segal, giving him two a side and bringing an army of brothers to bet against the boss. Miguel is the fifth of seven brothers. The first few taught him golf.
"My parents taught me the rest," he says. "If you ask why I'm a comfortable-looking man, maybe it's because I come from a nice family. Poor, but always happy. Money helps you live better, but happiness is from the soul. Playing golf has been my job and my joy. Is there a luckier way to make a living?"
His territory is marked by a plaque at Valderrama commemorating the albatross he scored in the 1994 Volvo Masters on the signature 17th hole, just one of many modest monuments to The Mechanic's career. Besides being a steady winner in Europe, he has been top 10 in all four of the majors.
Tied with Ernie Els at the Pebble Beach U.S. Open in 2000, Jimenez shared second in the greatest golf tournament anyone ever played. But Els is better known for it. "That brings no stress to me at all," Miguel says. "There were two tournaments, you know. Ernie and I were first in the earthly one. [Tiger Woods was first in the galactic one.] And, when you are 15 shots back in second place, maybe it's just as well that only you know it. Still, I'm proud of Pebble. I feel proud of everything that has happened in my life."
He is hitting balls on the Ping practice range in Phoenix, trying to return to a swing speed of 110 miles per hour. A gizmo set up at his back is clocking him.
"These half-a-century-old bones of mine."
"Except I swung too hard," he says with a groan. "My ball is probably out-of-bounds. I'm dying to smoke a cigar."
Then he putts for a while in the Ping factory on an elevated rug that calculates impact angles (slight arc, strong arc, straight arc) on a screen.
"I don't care about any of that," he says. "All I want to do is make more putts. Is there a machine that can stop you from missing them on the low side? Wait a minute, the hole just moved. Am I centered right?"
He is the Most Centered Man in the World.
What would he have done had he not been such a marvelous golfer?
"If I had my wish, I would have driven race cars," he says. "I wouldn't mind. I like fast cars. But, of course, I wouldn't have had my wish. My father worked construction. He worked with bricks. Bricks would have been OK, I guess."
But bricks would not have delivered him to Switzerland.
"In 26 years, that's the only tournament I've never missed," he says. "For the wine, and the cigars, and the wine again, and all the people especially, all the friends." Miguel is a connoisseur of friendship.
His best friend in golf has been Jose Maria Olazabal.
"Big heart. Strong character. Heart, heart, heart. To play a practice round with Ollie every week for more than 20 years. Very nice."
And, of course, Seve Ballesteros was their godfather.
"I've stopped telling young players about Seve," Miguel says, "because I think they don't believe me."
It's his turn to ask a question:
"Do you know what is better than winning a golf tournament? Anyway, what is more important to me than any tournament I've won?"
"To have played a few practice holes with Arnold Palmer. To have competed with Jack Nicklaus, the greatest golfer of all time. To have played golf with Gary Player and Tom Watson and Seve and Ollie and Langer and Els and Phil and Faldo and Tiger and Vijay and Norman -- don't let me forget anyone -- and Woosnam and Lyle and Price and Colin Montgomerie and Darren Clarke and Padraig Harrington and Sergio and Couples and Crenshaw and Kite and Love and Rose and Scott -- please fill in the ones I'm leaving out -- and now the next generation, Rory McIlroy, Matteo Manassero. All the generations of my 50 years. I am so lucky."
He is the Most Perspicacious Man in the World.
In 2012, Jimenez crashed on a ski slope and had a tough rehabilitation. "I have only two or three years of golf left, I don't know. So I have to be prudent. But I love to ski. I love life.
Nicklaus skied in the middle of his career. He wanted to live life, too. Anything Jack did is OK for me to copy, yes?"
CHICKEN AND NOODLES TONIGHT
The night before he won his green jacket in 2009, Angel Cabrera was pushing a grocery cart around the Kroger store in Augusta and could hear his fellow shoppers murmuring, "There's that guy who's leading the Masters." Of course, he was more than just a guy. He was a U.S. Open champion. But, if they couldn't immediately place him, Angel didn't mind.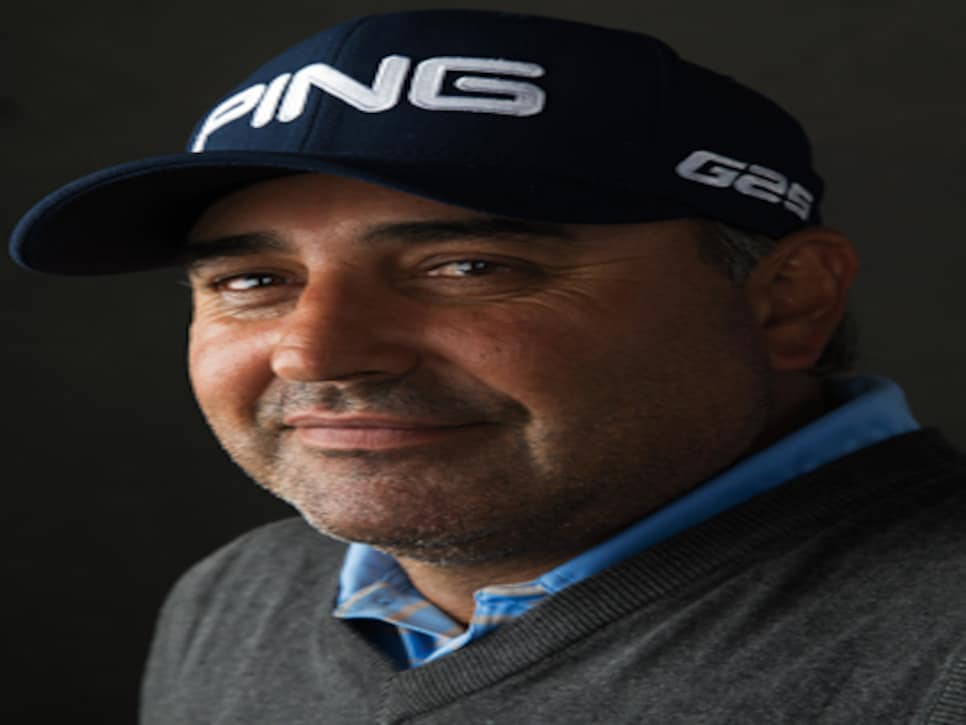 He smiled and told them something in Spanish that he knew they wouldn't understand, even if they spoke the language.
"When you grow up poorer than poor in Argentina," he said, "you don't own a refrigerator. So you have to shop for food every day. And, if your parents didn't want you, and your grandmother doesn't love you, you have to learn to cook for yourself."
Their befuddled looks pleased him. They didn't get it, and he was just as glad. Starting over in English, he said, "Birdies and pars tomorrow. Chicken and noodles tonight."
And they all laughed together, Cabrera most of all.
The broad-backed strongman with the accumulating paunch and the silver in his hair and the glitter in his eyes isn't nearly as well-known as he should be. He has read that he is an accomplished horseman ("I sat on a horse once. He kicked me off. I've never been on one since") and an enthusiastic dancer ("I prefer to listen to music than to move to it"), but the two-fisted boyhood is true enough (though the scars on his face, regularly described as battle wounds, actually came from soccer).
"Everybody has to have a base," he says, "and mine was the street. You learn how to defend yourself on the street. You learn things you don't learn in school, which is good. Because I didn't finish grade school."
On the flip side of his rough-and-readiness and the now fading flashes of temper was an exaggerated politeness, almost a courtliness, for which Cabrera was renowned during his caddie days in Cordoba. He was a yardage savant, but his clients put an even greater value on a calmness he somehow was able to transmit to them during rounds. Lee Trevino wasn't the last great golfer to come out of the caddie yards after all. Maybe Angel is.
In 2007, just weeks before he won the U.S. Open, Cabrera connected with Charlie Epps, the putting guru. On two counts, Charlie despises that title.
"Coach is the word," he says. "I hate that term 'guru.' And I don't think of putting as my specialty. I hope my specialty is being able to relate to my guys."
For a career teacher, Epps was an unusually fine player, just a couple of grains short of tour quality. He qualified for U.S. Opens and PGA Championships, but something was missing.
"Discipline," he says. "I've tried to do for my players what somebody didn't do for me."
Cabrera sought Charlie out, which made sense. As Epps' father had worked for Kaiser cars in Argentina, Charlie did some of his growing up there and knew the language and the terrain. Teacher and student came together at the Players Championship in Ponte Vedra just as Angel dropped in the World Golf Ranking from 50th to 51st and out of the field.
"We went across the street to Sawgrass," Charlie says, "and hit some balls. I thought, I've got a virtuoso on my hands here. But he didn't understand how to putt."
Charlie asked Angel, "Have you ever seen Trevino stalking a putt? Eyes on the ground? Trying to get the lay of the land? Trying to feel the grass in his feet and his legs like a soccer player? Did you ever play soccer in your bare feet, Angel? Did you ever play golf in your bare feet [like Sam Snead]?"
Cabrera began making five-footers 100 at a time. If he missed at 79, he started over. He putted into the night.
"What do you think of when you play golf?" Epps asked softly.
"Nothing," Angel replied without looking up. "I like to think of absolutely nothing."
"That's good," Charlie said. "Don't change that."
And they won the Open in June.
In 2013, Cabrera nearly repeated at the Masters. The embrace he gave Adam Scott after their playoff was more memorable than his own victory four years before.
What made him comfortable enough in his skin to do that?
"When you win almost 40 tournaments worldwide," Angel says, "you think you must be pretty good. But with a major victory -- no, the second major victory -- comes a feeling sort of like relief. You were good. You are good. You understand, finally."
Ah, that's when he graduated.
"I was sorry for myself last year, I won't deny it, but I was happy for him, because I understood."
He inspires understanding in others, too. Tiger Woods has never looked more attractive in defeat than he did as a runner-up standing behind Cabrera and clapping for him at Oakmont.
"Tiger would much rather have won against me just as I would much rather have won against Adam. But it's not war. It's sport. And we know something, Tiger and I, that most people don't." Angel is closing in on 45, but he still has dreams.
"Yeah, obviously. Why not?" he says. "Even if he has already accomplished some great thing, a man with no dreams might as well just stay in his house."
He will always be the first Argentine and South American to win a green jacket. Nobody can take that away from him. In a manner of speaking, 41 years later, he corrected countryman Roberto De Vicenzo's scorecard mistake. The great Señor. Winner of 230 golf tournaments.
"Two-hundred-and-thirty-one," Cabrera says.
(Wake us up, Tiger, when you get to 200.)
Being 91, though, De Vicenzo was too distant a model for Angel. Like Jimenez, his truer antecedent was Ballesteros. "You knew Seve as a great champion, the one who revolutionized golf in Europe," Cabrera says. "We knew him as a man who played golf with his heart."
The last question, meant as a joke, was what did Angel really think of this fellow Epps sitting beside him doing the translating? But Angel's long reply didn't have to be translated. The tears filling Charlie's eyes were the answer.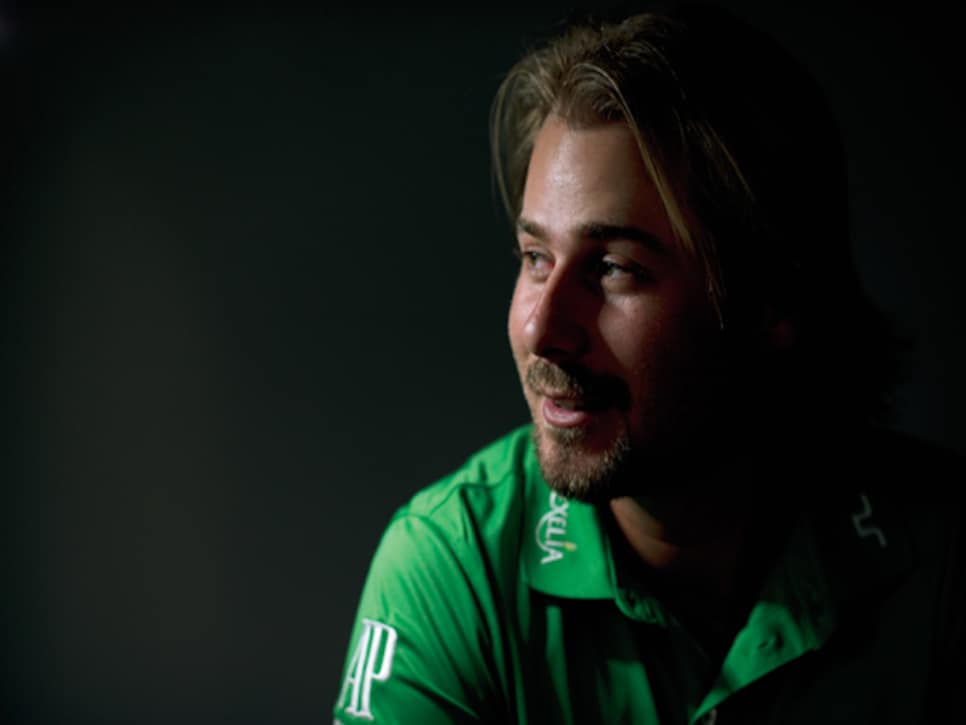 With two detonations of desert dirt, rocks, yellow flowers and cactus needles, Frenchman Victor Dubuisson (translation: Conqueror of the Bush) made the loudest entrance in the history of golf at the Accenture Match Play outside Tucson.
"Can you believe this?" Arnold Palmer called CBS to exclaim.
Gary Player said, "I'm not sure I can recall anything like this in 60 years as a pro." "Two of the greatest up-and-downs I've ever seen," said Tom Watson.
"How many shots have we seen over the years on television?" Nick Faldo wondered. "It must be millions. And here are two that stand alone."
Dubuisson, whose pedigree is by Alexandre Dumas out of Greta Garbo, was more restrained. "Those two chips I managed to do, you know, it could have just stayed in the rocks and the bush. It was great but it was like 50-50. It was not really my control. ... The bunker shot at 18, that's the shot I will more remember." He had to have that one to get to the extra holes and the exploding buissons.
Victor's attitude about half-lucky shots is reminiscent of his feeling about the game of basketball, though his uncle, Hervé Dubuisson, is Mr. Basketball of France.
"I didn't really like basketball," he says. "I liked to play basketball, but I prefer to be on my own, to be in control of what I do. ... I'm very individualistic. I don't mind to be alone for five, six weeks. Golf is a sport where you play alone. I just like to play for myself. ... Basketball, it was great, but I don't really like to depend on other people." He laughs nervously.
"We'll break him of that at the Ryder Cup," says Graeme McDowell, one of Dubuisson's victims on his march to the 23rd-hole loss to Jason Day in the final. "I'll take him as a partner in the foursomes right now. Our match turned at 17, where I had the better lie but he made the better shot. Then his touch at 18 was exquisite. At the end of the day, that's what beat me."
They say you know a man a little after you play a round of golf with him, but the 24-year-old Frenchman isn't easy to know.
"He speaks English," Day says, "but there's still a little bit of a language barrier. After that first up-and-down, he came over to me and apologized, which tells you something about his character. 'No, don't say you're sorry,' I told him. 'We're both trying to win.' Then he hit the second impossible shot, and I made that face on television that I didn't even know I was making until I saw it on replay. Meeting Victor for the first time, playing golf with him, it's hard to explain, but I'll tell you what it's like: It's like he's the nicest guy you've ever met." If you ask why Victor is an uncomfortable-looking man in a pressroom, maybe it's because he comes from a mysterious family.
Did he really leave school at 10?
"Yeah, I was like, yeah 12 -- 10 to 12. I was doing some work at home, but I was more going to the golf every day, yeah."
"Well, my parents, they -- well, I was more by myself, yeah."
"No. Just no personal family question. I don't like to think about that, sorry."
"Ten or 12?" repeats Ernie Els, who also lost to Dubuisson on the 18th hole. "That's sadder than being a 19-year-old pro," Ernie says from experience.
"I can remember the first time Tiger and I talked about this. I think it was in Phuket [Thailand], on the practice putting green. He was 18. I was just 24. He asked if he should turn pro, and I said 18 was too young for reasons that had nothing to do with golf. Nineteen might be all right, and 20 was fine."
At 20, Tiger asked him again.
"Mate, I've never seen anybody readier than you are. You still have to learn a lot, but you can probably win right now without knowing too much. Sometimes it's better not to know too much." "Tiger told me, 'I'm worried about how people are going to look at me. I haven't finished college.' "
Ernie laughed, then and now. " 'Tiger, please. I haven't started college.' "
But to leave school at fifth or seventh grade and go straight to the golf course ...
"That's a little heartbreaking, isn't it?" Els says. "He seems like a really great kid. Very friendly. I met him at the Nedbank [South Africa] last year, but only for about two minutes. I'm impressed by him, very much so, not just his length and his short game, but the way he handles himself on the course. He's a little one-dimensional at the moment, left to right. But now that he's secured his card, he'll be out here growing."
Or "blooming," as Thomas Levet puts it. Once, Levet was the face of French golf. (Jean Van de Velde, with his pants legs rolled up, was the knees of French golf.) "Jean and I lost the Open Championship in playoffs," Levet says. "Gregory Havret lost the U.S. Open by a stroke." This guy could get them to the finish line.
By Levet's calculations, France has some 420,000 golfers. "Only 4,000 are added every year," he says. "It's not much. I honestly believe Victor could do for France what Seve did for Spain. As a player, he has big room for improvement, but he's already one of the best drivers on tour. And he's on his way. Big time."
For tax reasons, Dubuisson has shifted from Cannes to Andorra, Charlemagne's Camp David in the Pyrenees Mountains between France and Spain, where nobody knows Victor or golf, and he can be alone.