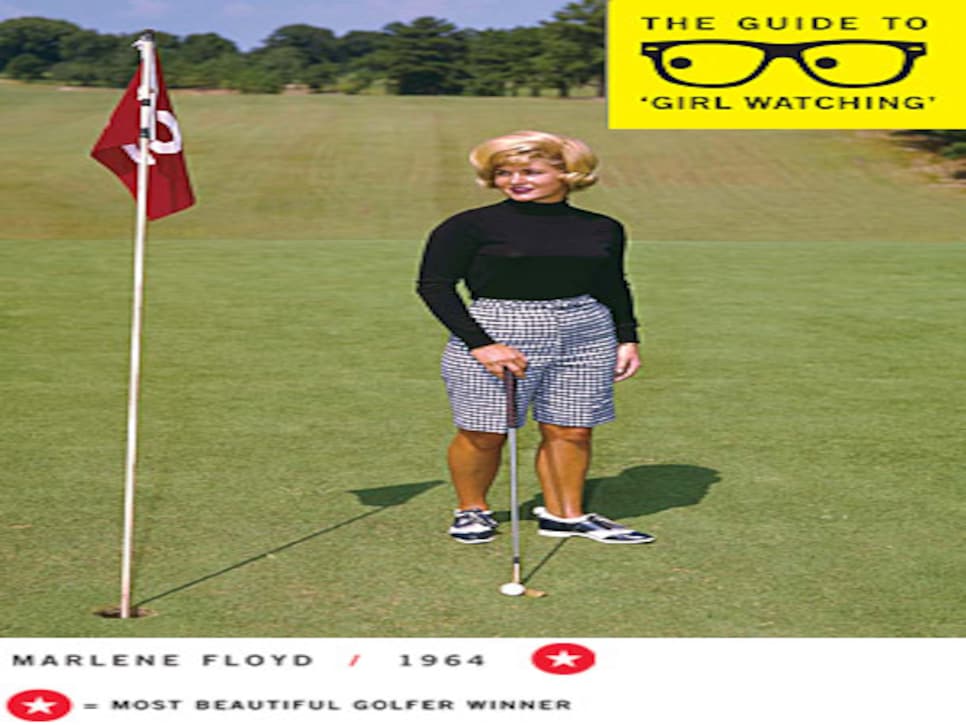 Maybe this will start an argument," ran a letter to Golf Digest, "but I think we here in Atlanta have one of the most beautiful golfers in the nation." The letter writer, Ed Miles, included photographs of the lady in question, Carol Thomas, as evidence. The letter and one of the photos were published in the May 1954 edition of the magazine with a solicitation from the editor for any and all challengers to Mr. Miles' claim. Soon envelopes of photos, accompanied by impassioned letters, were flooding the magazine's office. The photos were published in the magazine, and five finalists were shown in the final issue of 1954, with an invitation to readers to vote for The Golf Beauty of the Year. So was born an annual contest.
For almost half its life, Golf Digest, so well known for identifying the nation's best courses, was also in the business of rating females.
The eventual 1954 winner wasn't Thomas but "smashing blonde" Dimmie Thompson of Greenville, S.C., who was nominated by Jim Anderson, sports editor of the Greenville News. ("We here in Greenville are thankful there's no rule against lady golfers wearing shorts, not with Dimmie around," Anderson wrote in his letter to the magazine.) With 634 votes, Thompson became Golf Digest's inaugural Most Beautiful Golfer.
Today, Thompson, 81, still lives in Greenville, and remembers the accolade well. "It was wonderful," she says. "I was just elated. I had pictures in the newspaper and friends and family congratulated me for a very long time."
Dimmie has a large golf family consisting of five sons, eight grandchildren and six great-grandchildren. But she no longer plays the game. "I have a bad back and a condition called O-L-D," she explains. "But I still love golf and watch it on TV. I still read Golf Digest, and I still have copies of that issue I was in, which I cherish. Golf helped my family grow together. We made a little block for a blanket in my church of a golf ball on a tee. It says on it: 'A family that plays together stays together.' "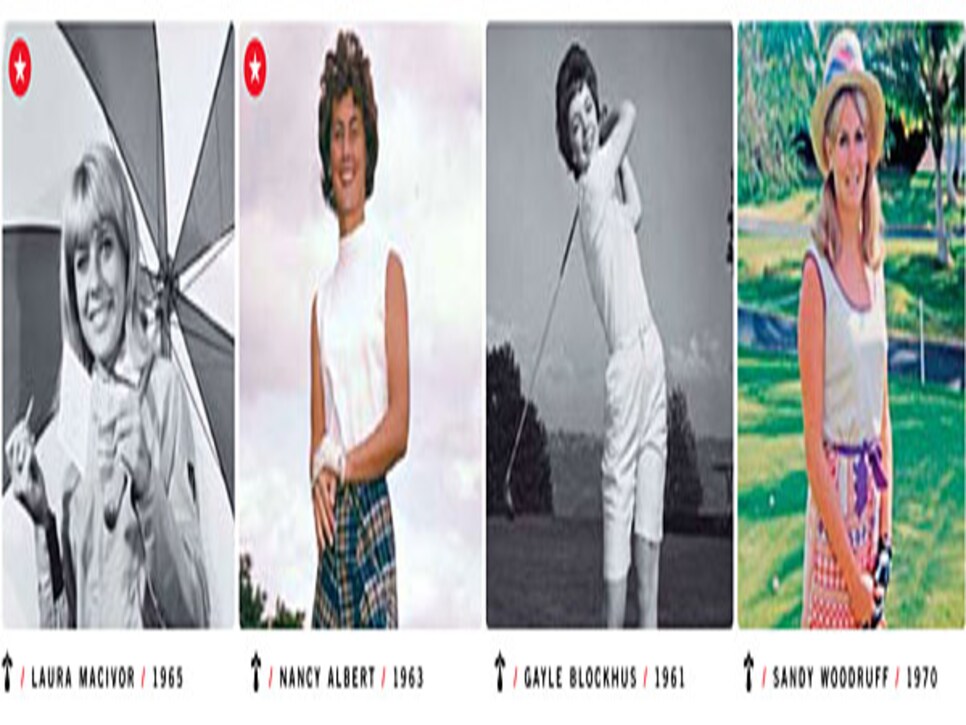 The contest quickly became a fixture in the magazine. In year two, 1955, Betty Jean Martinez (now Betty Jean Carmack) and Paula Ann West were declared co-winners. The former went on to become a licensed mortician, the latter worked for AAA. Other future careers of Most Beautiful winners included chemist, dental assistant, flight attendant (Marlene Floyd, winner in 1964 and sister of Ray), computer programmer, teacher, horse breeder, golf pro, model and lots of full-time moms. But the only achievement that mattered was being photogenic, preferably with the assistance of a tight golf shirt and a pointy bra. By 1960, the voting was being done not by the magazine's readers, but by America's golf writers and sports announcers--"all good girl-watchers," according to one ballot--conjuring images of middle-aged men with bad comb-overs and lurid sportcoats breathlessly poring over photos of pouting, nubile golfers. The winner that year was Florence Zupnik, 18, of Washington, D.C.: "A petite young lady, she stands just 5-2½, and her 112 pounds are prettily distributed in a 32-21-31 pattern."
The write-ups tended toward the cringe-worthy and patronizing. Winner in 1965 Laura MacIvor was "a head-turner of the first order." In 1970, the magazine rhapsodized over winner Janey Fassinger's "waist-length blonde hair, worn glamorously loose in a style not often adopted by lady golfers. When Janey putts, she tucks her hair under her right elbow." The magazine stressed that "candidates must possess golfing prowess as well as pulchritude"--a handicap maximum of 10 was imposed--but in reality, golf achievement was irrelevant. When golf star Beth Daniel was a finalist in 1978, the 21-year-old was already a two-time U.S. Women's Amateur champion who'd played in two Curtis Cups. She was overlooked by the judges, however, in favor of "lissome blue-eyed blonde" and 2-handicap public-relations major Lisa Baxter, who as a high school senior was voted "cutest girl" in her class.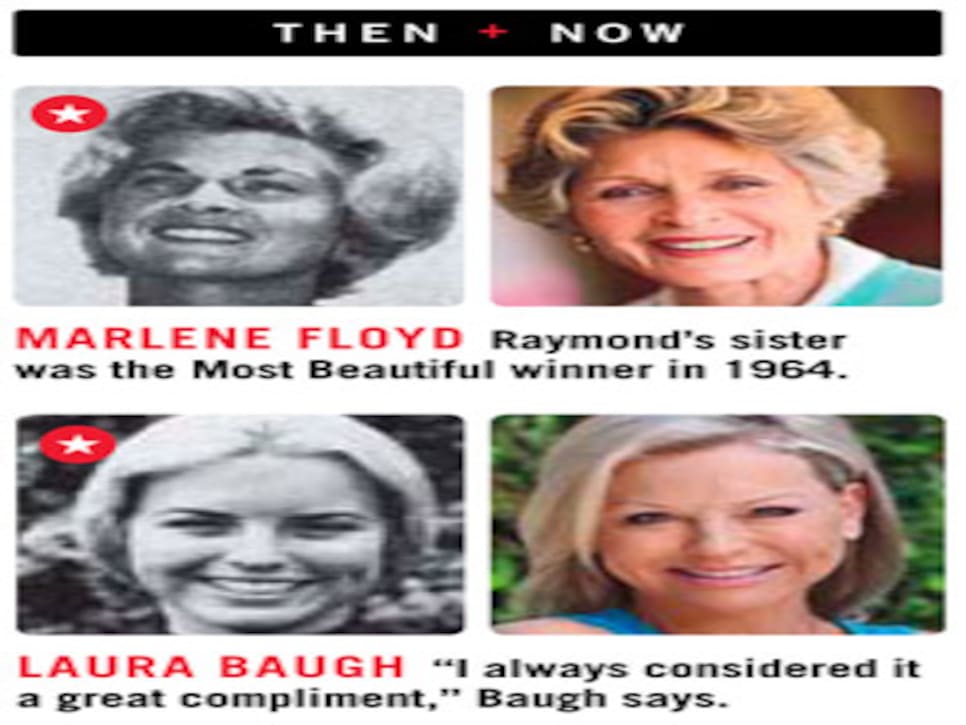 The most famous Most Beautiful Golfer was 1971 winner Laura Baugh, who earlier that year turned 16 and won the U.S. Women's Amateur. "I remember it well," Baugh says today. "I considered it very flattering. Nowadays it can be seen as a put-down, as though it makes you less of an athlete or less of a person, but I never thought it was degrading. I always considered it a great compliment."
In the 1971 article, Baugh spoke of how much she loved golf but added, "I also like school, and I do pretty well, so I might want to go to college and do something in science." In 1973, she earned a full scholarship to Stanford University but turned it down when the International Management Group offered her $1,000 to turn pro and play in a series of events in Japan. "I was 17," she recalls, "and $1,000 was an awful lot of money to me back then."
Baugh went on to have a successful career as an LPGA Tour pro, thanks to a series of lucrative endorsements that were, however, more to do with appearance than performance. Though she came close--10 runner-up finishes--Baugh never did win a tournament, despite all her early promise. Off the course, she was battling not just the demands of a large family but domestic abuse, broken marriages and alcoholism. Now sober for 14 years, Baugh does volunteer work with adolescents, abused women and people struggling with addiction, plays a little golf at Bay Hill, occasionally pinch-hits at Golf Channel, and most of all devotes herself to her seven children. "I have great kids," she says. "They're so cool. They're miracles."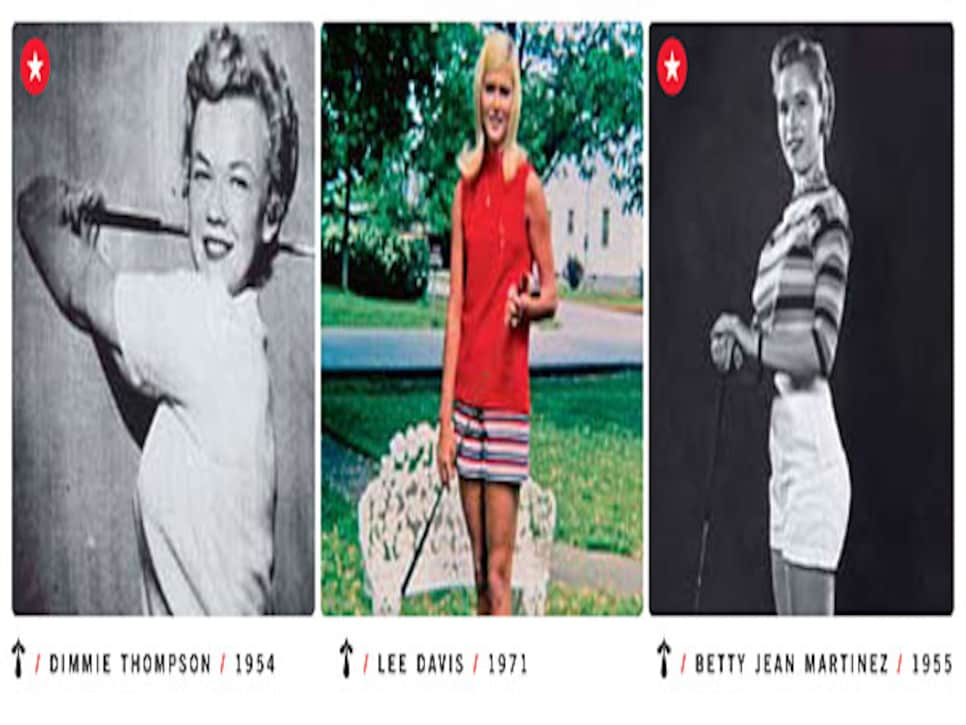 The contest lumbered on. It wasn't exactly "Girls Gone Wild," but for a magazine that historically had so little coverage of women's golf, to feature women only for being beautiful became seen as chauvinistic and unenlightened. And it was a decidedly narrow conception of beauty: All the winners, and all the finalists, were young, female, slim, white--and preferably blond. As these concerns began to dawn, the name of the contest was changed, in 1976, to Ms. Golf. By 1982, the contest winner only warranted a few paragraphs and a small photo in the magazine.
"It was an honor," recalls that year's winner, Michelle Jordan. "I remember being flown to Hawaii to do a photo shoot for a Japanese golf calendar. I was still in college. Those were fantastic days."
Jordan graduated the next year and turned pro but struggled, abandoning dreams of golf glory after a "horrifying, terrible, mortifying" experience at LPGA Q school. The theater major became an actress, married actor David Carpenter, and the couple had two children who are also actresses.
(Their elder daughter, 18, has appeared in "The Bold and the Beautiful.") Jordan is surprised to learn that she was the last Ms. Golf. After almost 30 years, the contest was shelved. "We tried to make the contest more obviously based on golf ability as well as physical attractiveness," says former Golf Digest Editor Nick Seitz, "but the political-correctness wave rolled over us. Maybe dropping it was premature, considering the success Sports Illustrated enjoys with its swimsuit issue."
Baugh isn't convinced. "Society has changed so much," she says. "I'm sure no one would consider a contest like that acceptable now. Beauty is so subjective anyway. And people don't want to be judged by the way they look. They want to be judged for what they do with what they've been given, what they've overcome, who they are. In golf, the ball doesn't care what you look like. I've always really loved that."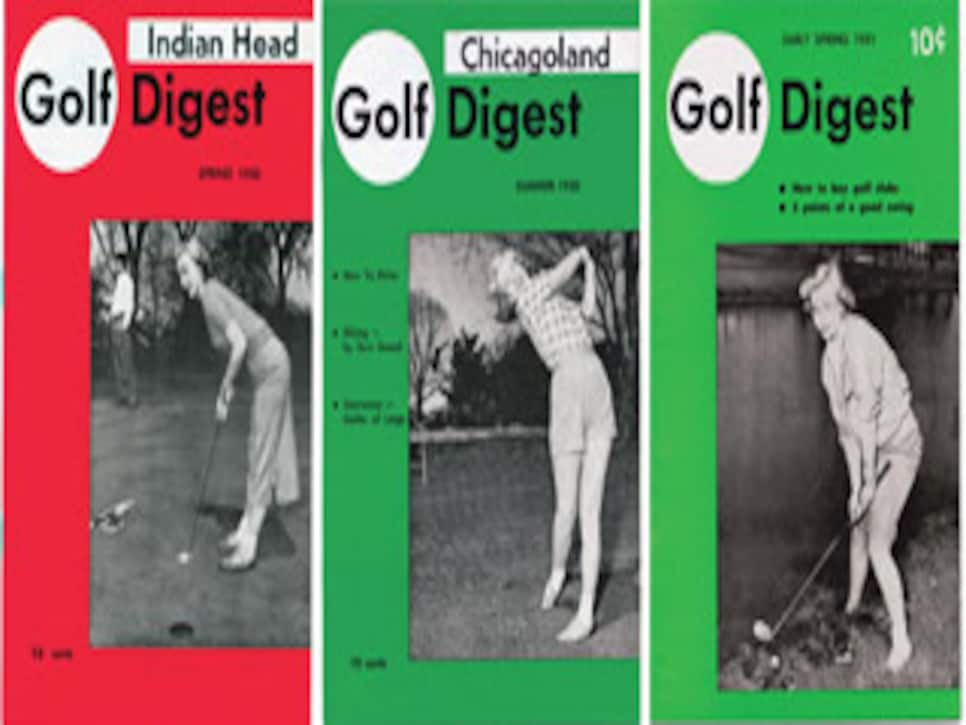 The first three covers of Golf Digest--Spring 1950, Summer 1950 and Early Spring 1951--all featured the same cover girl. In the intervening 60 years, no one else has managed such a three-peat. So who is the woman who did something that Arnold Palmer, Jack Nicklaus and Tiger Woods have never achieved?
She wasn't some golf superstar but 23-year-old professional model Helen Olson, from Oak Park, Ill., a 4-handicap golfer in her teens. When Golf Digest's creators planned their first cover, the philosophy seemed fairly simple: pretty girl in a golf pose. They contacted a local agency, saying they needed someone who looked like she knew how to play golf. "I was the only golfer the agency had," says Olson, now 83.
That inaugural cover shows Olson over a short putt, with a playful yet hopeful look that she'll knock the putt in. In the background, making a Hitchcockian cameo, is the magazine's founder, William H. Davis, with a golf bag slung over his shoulder. The photo was staged at her parents' home club, Ridgemoor Country Club, not far from Golf Digest's birthplace in Evanston, Ill. She was brought back for the next two covers "by popular demand." She reckons she was paid the then-regular modeling fee of $8 an hour.
Olson got married in 1950 to Don Moone, an advertising executive. Helen continued modeling, working in locales such as Canada, the Bahamas, Colorado and Florida, before tiring of the routine. She suspects having Golf Digest on her résumé helped her career, which included work for clients like Colgate toothpaste. It certainly helped that she could play golf.
After Don's death, Helen resettled in Hilton Head Island, in 1998. A three-time club champion at the Country Club at Boca Raton in Florida, she no longer plays golf because of a broken right leg three years ago that mended 1¼ inches shorter than the left. Living on a golf course is a constant reminder of her lifelong relationship with the game. "I did love golf," she says. "It's something I had been doing since I was 7. It can be torturous living on a golf course when you can't play."