Olympics
Collin Morikawa, Xander Schauffele say they will play in Olympics if selected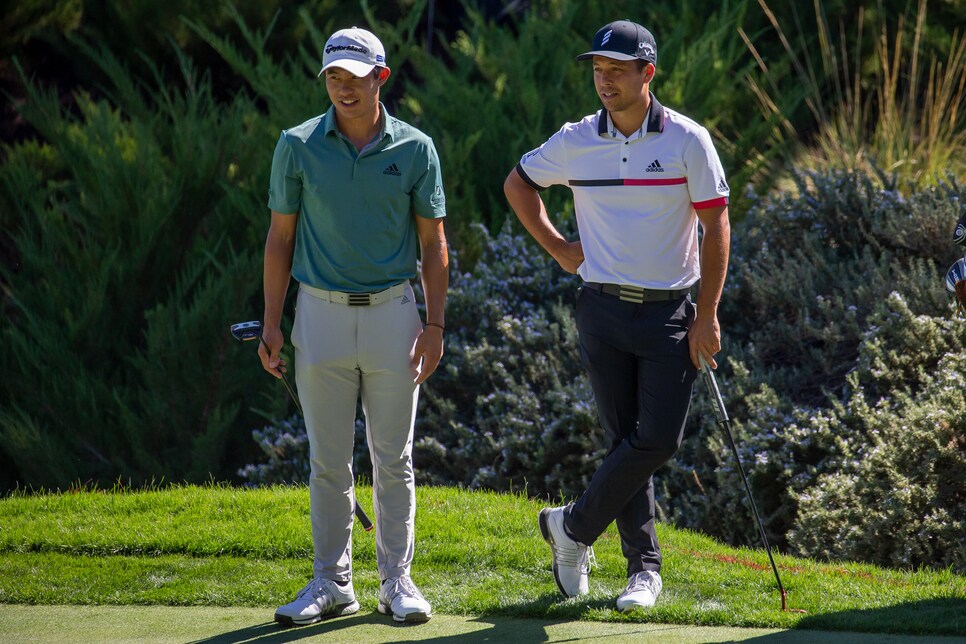 Much like golf's last go-around with the Olympics, the 2021 Summer Games lead-up has been marked by withdrawals and issues with the competition rather than the competition itself. However, with three weeks remaining before the men's field is set, the sport received two strong endorsements Tuesday morning.
Speaking at Muirfield Village ahead of this week's Memorial, Xander Schauffele and Collin Morikawa—Nos. 4 and 5, respectively, in the Olympic Golf Ranking—affirmed their participation in the Tokyo Games if selected.
"Yeah, if I get in, I will definitely go," Schauffele said. Added Morikawa: "Yeah, definitely we're on that cusp of making the team right now and there's a few weeks with some really big events. But I would go, I absolutely would go. I would never take a second thought on that. It's the Olympics."
Their commitments are much-needed positive news for the International Golf Federation. After most of the game's stars passed on golf's return to the 2016 Summer Olympics, this year's competition in Tokyo was believed to draw a bit more firepower. But World No. 1 Dustin Johnson and Adam Scott have already pulled out of Olympic consideration, with Webb Simpson expressing hesitation at traveling to Japan for the competition. Not helping matters was Jon Rahm, currently No. 2 in the Olympic ranking, expressing displeasure with the Tokyo Olympic Committee earlier this month regarding restrictions in place due to the ongoing COVID-19 pandemic.
Though Schauffele and Morikawa have not solidified their spots on the United States team, they are in good positions to do so over the next three tournaments, especially since the first alternate, Brooks Koepka, has downplayed the importance of competing in the Olympics.
For Schauffele, the games are personal, as his grandparents live in Japan.
"I love Tokyo, I love going there, I've been there probably 10 times now in my life, so I just like the culture and everything," Schauffele said. "So in terms of representing my country, it's obviously a true honor. I had a little taste of it at the Presidents Cup just not too long ago and that's probably more of a team sort of environment than this would be at the Olympics, but, yeah, it's something new, something I've never accomplished, and never done and as a kid I, or once the Olympics were announced for golf, something my dad and I discussed, and so it would be a true honor to compete."
As for Morikawa, the 2020 PGA champ is intrigued by playing in something that "I never thought I would even have a chance to play in."
"But to have that opportunity to represent your country, there's really nothing like it," Morikawa continued. "I've had that honor to do it a couple times as an amateur and it's the best feeling in the world because you're not just playing four yourself but you're playing for your country, you're playing for everyone around you."
The top 15 players in the Olympic Golf Rankings (which essentially mirror the Official World Golf Ranking for men and the Rolex Rankings for women) will be eligible for the Olympics up to a maximum of four golfers per country. After the top 15, the field will be filled until getting to 60 golfers by going down the Olympic Golf Ranking, with the top two ranked players qualifying from any country that does not have two or more players from the top 15. The host country, Japan, is also guaranteed at least two golfers in the field. Men's qualifying ends on June 21, the day after the U.S. Open; women's qualifying ends June 28.
The men's competition at the 2021 Summer Olympics begins July 29 at Kasumigaseki C.C., just outside Tokyo, Japan. Justin Rose is the defending gold medal winner.