News
Breast cancer has been a part of my life since I was 11 years old. That's when my parents sat the three of us down at the kitchen table--my sister was three years younger than me and my brother five years younger--and Dad told us our mother was sick. They were trying to explain to three little kids that their mother has a life-threatening illness, and we just didn't understand. My mom, Kathy Krickstein Pressel, was 39 that day. Four years later breast cancer took her from us.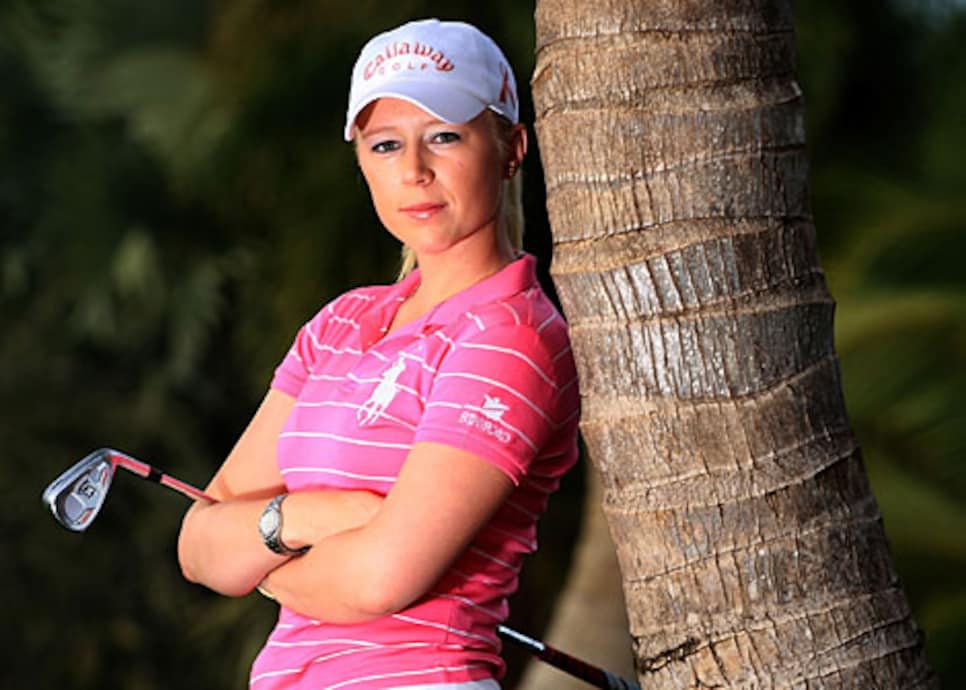 As a kid you think those you care about have a magical protection. When bad news comes, you tell yourself everything will be OK, even if you don't believe it. You just keep saying, "She'll be fine, she'll be fine, she'll be fine." The thing about cancer patients is that until they lose their hair they don't really look sick. When you live with someone with cancer, it is easy to lose sight of the fact she is sick. When Mom started to lose a little bit of energy, that was the first thing I noticed.
When Mom lost her hair that was hard for her, and for us to see her with a wig, or a hat. We all had to stay positive for her. She had a mastectomy and then chemotherapy. Then she was in remission for two and a half years and we all thought everything was fine. But it came back as stage IV cancer.
Maybe it was because I was older or because it affected her differently, but I noticed it more this time. She only lived a year and a half after the cancer returned, and it was much different than the first bout. When she watched me play in the 2001 U.S. Women's Open when I was 13, people had no idea she was sick. Two years later at the Doherty Championship, the year she died, she was visibly sick. It was 30 degrees and she was all wrapped up in blankets, but she was still out there to watch me.
Even before I became a professional golfer I knew I wanted to help raise money for research and early detection. Two years ago, I started the Morgan & Friends Fight Cancer Tournament, which will be played Jan. 4-5, 2010 at St. Andrews CC in Boca Raton, Fla. With the help of Polo Ralph Lauren, we have also raised funds selling the Pink Pony "Morgan shirt." These efforts have raised nearly $1 million for the Lynn Cancer Institute's Breast Cancer Center at Boca Raton Community Hospital and the Sylvester Cancer Center at the University of Miami. Recent efforts through Boca Raton Hospital Foundation's Go Pink Challenge resulted in the purchase of the Kathryn Krickstein Pressel MonnoVan which will provide traveling state-of-the-art digital mammography to the residents of Palm Beach County.
Just as important as the money is the need to increase awareness. That's why campaigns like this Golf World Pink Issue are important. We must tell the stories of women such as Missy Farr-Kaye, who you will read about in this issue.
We need to bring the message of early detection to everyone. Medical equipment is better; doctors now have so much experience with the disease, they're getting better at pinpointing and combating it. But when you are diagnosed at stage IV, it doesn't matter who your doctor is because the cancer has probably already spread too far.
You can't sit there and think this won't happen to me. Women need to get mammograms and do self-examinations. The men in their lives need to support and encourage them. The earlier you find it, the better off you are, there is no question about that. Think about the women on our tour and how many will be diagnosed with breast cancer. Maybe it will be me. And if that day comes, hopefully I'll have the best care possible and maybe there will even be a cure.
That's what we are all working toward--a cure. We want to end those tearful kitchen-table conversations where Daddy tells three young children that Mommy is sick.
We can do this. We must do this. We will do this.