LPGA TOUR
Morgan Pressel doesn't believe LPGA can 'survive what the PGA Tour is going through'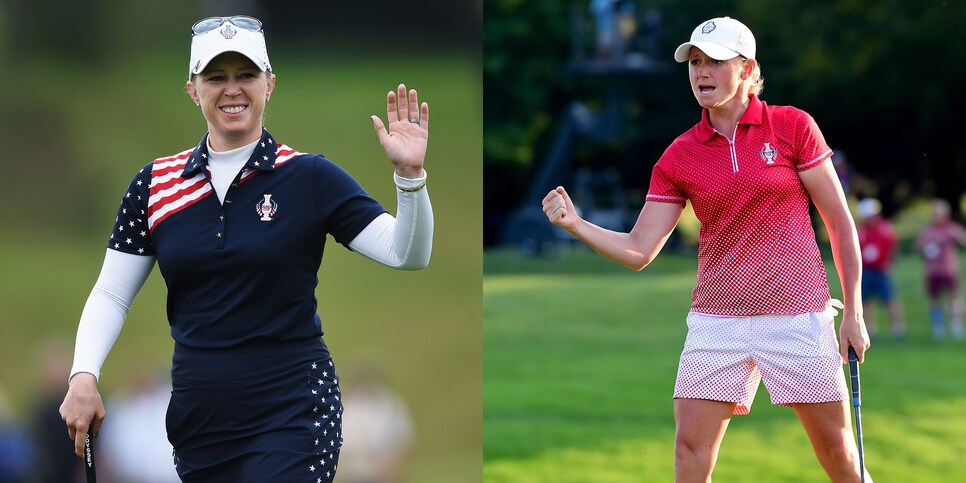 Stacy Lewis will captain the U.S. Solheim Cup team in 2023 with Morgan Pressel by her side. But the two were asked about the hottest topic in golf Wednesady at the LPGA's event in Ohio.
Stacy Lewis and Morgan Pressel addressed the media Wednesday in Sylvania, Ohio to talk about the Solheim Cup. Lewis will captain the U.S. squad in 2023 and Pressel will be one of her trusted vice captains. The two have combined to play in 10 Solheim Cups for the red, white and blue.
However, as is the case with most news conferences in golf these days, a question came up about rival professional tours. As the PGA Tour continues to tighten its defense against the Saudi-backed LIV Golf series, rumors continue to exist regarding something similar happening in women's professional golf. That, coupled with the reemergence of the Ladies Asian Tour, prompted a question as to what the LPGA Tour should do during these strange times.
"I think the players have to stick together right now probably more than ever," Lewis said. "They have to realize how far this tour has come over the last—especially the last five years how far we've come. And we have done that by working together. We've done that by players making sacrifices and doing things that they maybe wouldn't want to do. But it's important for this tour. Helping get sponsors, doing extra things at tournaments. We still have to work hard as a tour."
Both Lewis and Pressel were open and clear in saying that they didn't have a plan for what the tour should do if a potential threat ever developed, but whatever it does, it's going to have to be different than what the PGA Tour has been doing.
"I don't know what the right answer is," Pressel said. "I don't know that the LPGA Tour can survive what the PGA Tour is going through right now."
LPGA commissioner Molly Marcoux Samaan appears to have the same mentality. Earlier this summer she said that she would "engage in a conversation if it would achieve our aim of promoting women's golf."
Whatever does happen in the future, Pressel desperately hopes to see the principles that founded the LPGA remain intact.
"I think all the players really need to embrace that at this moment," she said, "truly acting like a founder and think of all the women who came before us and what they did to build this incredible organization and how far we have come."