News
Morgan Hoffmann didn't ask for this, but he's ready to become a role model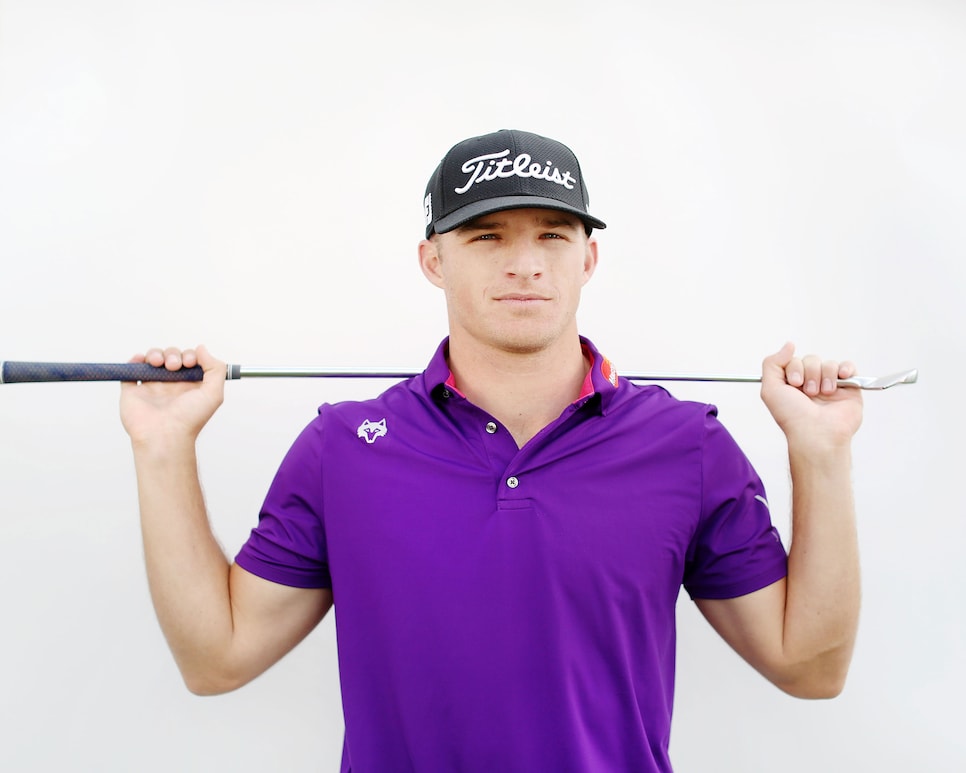 Photo By: Marianna Massey/Getty Images
On the day his story came out in The Players' Tribune, Morgan Hoffmann played golf at the Dye Preserve in Jupiter with his former Oklahoma State teammates, Peter Uihlein, Kevin Tway and Drew Page. Now all in their late 20s, they needed to get away and go back to the carefree days they shared in Stillwater, when they were playing college golf and diseases like Muscular Dystrophy were hard to imagine.
A small circle knew. Hoffmann clued in Uihlein 10 months ago when they were playing Medalist. Uihlein went home and got on his computer. He found that MD was not common in athletes. He didn't believe it until reading Hoffmann's story entitled "So Damn Lucky."
Hoffmann's coming out on Monday detailed his own personal discovery of how this lean and chiseled uberfit golfer—a guy who always ate clean, worked out hard and shook off broken bones to win college tournaments—had contracted MD. But to those that know him, Morgan Hoffmann would be the last to contact MD.
"My perception of Hoff in college is that he was like Ironman," said Uihlein, recalling the time Hoffmann broke his ankle in a pickup basketball game, hit practice balls in a boot and won a college match in Las Vegas heavily taped. "In my mind that's the kind of kid he is."
"I hope I can show the world I can do it, so others can, too." —Morgan Hoffmann of playing with the illness while on tour.
Now 28, Hoffmann is exhibiting the same kind of mental strength in facing his current ailment. The course that his MD will take is hard to predict. Thankfully, it's not necessarily a death sentence. Chris Stroud, who won his first PGA Tour event this summer at age 35, told me that he's been quietly playing golf with MD since his college days at Lamar. His father is 67 and has been living with MD, too. But when muscles atrophy, even the fittest are susceptible.
"I was completely shocked," Hoffmann told me Tuesday, explaining how the disease was ultimately diagnosed through a blood test. "I couldn't believe it for the longest time. It's unbelievable what life hands you at times. I've been playing with it the last year and nobody's known. It's just how you take it, really."

Hoffmann is taking it by remaining resilient and trying to stay competitive. Last March, he finished T-2 behind college teammate Rickie Fowler in the Honda Classic at one of the toughest tests on the tour schedule, the Champion course at PGA National. Even though his clubhead speed has gone down a few clicks, Hoffmann played well enough to make it through the first two FedEx Cup playoff events and is planning on a full schedule in 2018—with softer shafts and high hopes.
"It's really hard to tell," he says being asked if the MD had affected his golf game. "Sometimes you hit shots [shorter] and think, 'It could be this condition doing that.' Maybe it's the lack of firing a muscle, but I don't know for sure."
Hoffmann called Tuesday the most emotional and amazing day of his life. Emotional because he is usually a private person. Amazing in the outpouring of love he received on social media and his mobile phone. T. Boone Pickens, an influential OSU grad, Tweeted out, "Some great men and women pass through #okstate to inspire others. Touched by @Morgan_Hoffmann for his strength, courage and grit."
Hoffmann's interests beyond golf are unique among tour players. Whether he's surfing, scuba diving, flying (he's a licensed pilot), working on a clothing line or meditating, this Ironman has a transcendental side that could only help at a time like this. "I've never been a complete golf nerd," he says. "I live life to the fullest. Sometimes it might be my downfall where I have too many hobbies. My biggest is flying."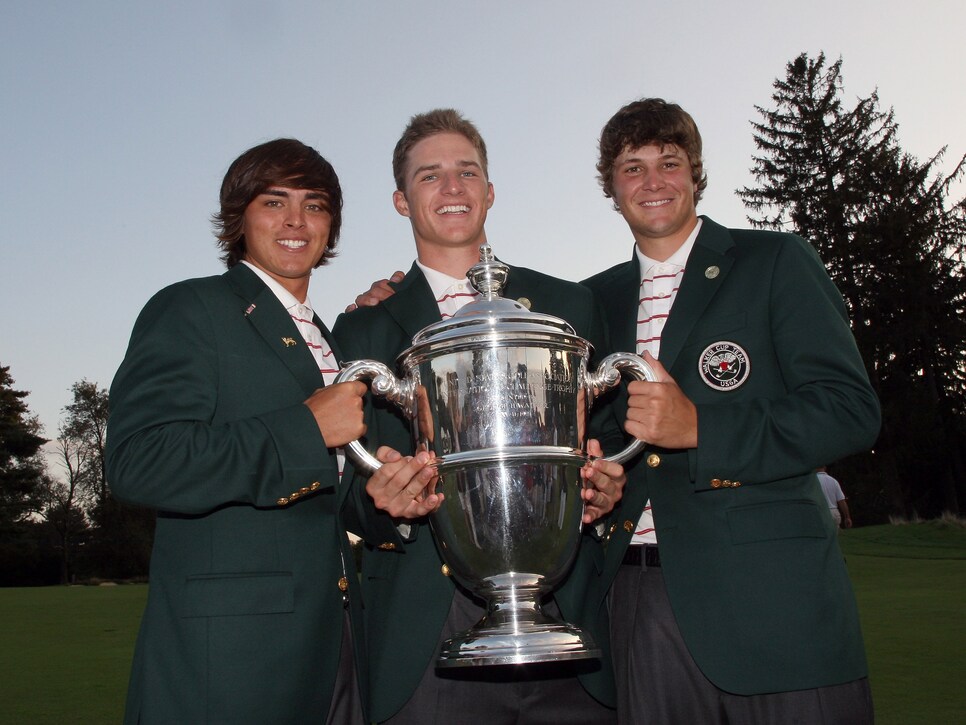 Before the news of his Muscular Dystrophy broke, Hoffmann flew his Piper Mirage to Michigan with his girlfriend, Chelsea, for a hockey game to see his best friend, David Booth, who plays forward for the Detroit Red Wings. Hoffmann played hockey himself for six years in his native New Jersey before enrolling in high school at the International Junior Golf Academy outside of Hilton Head, S.C. Coincidentally, Booth sold Hoffmann his first plane.
There's also a philanthropic side to Hoffmann. In college, he played 108 holes in one day to help raise funds to build a school and buy laptops for a teammate's family living in Kathmandu, about as far away as you can get for the kid who found his identity on the hockey rinks and baseball fields of Wyckoff, N.J. Through that experience comes meditation to "get my mind right" and the naming of his doberman, "Yama," an anachronism for "protector" in Buddhism.
The chance he'll have to help as many children or people struggling with MD is part of why he feels so lucky. "I hope I can show the world I can do it, so others can, too," he says of playing with the illness while on tour.
To do that, Hoffmann has taken on a holistic approach, mixing meditation with daily infrared sauna treatments that heat up his insides and bake the toxins out of his body. Before bed, he spends time in a hyperbaric chamber recently installed in his house. His diet now includes high doses of Vitamin E, Amino Acids, garlic pills and Oregano oil.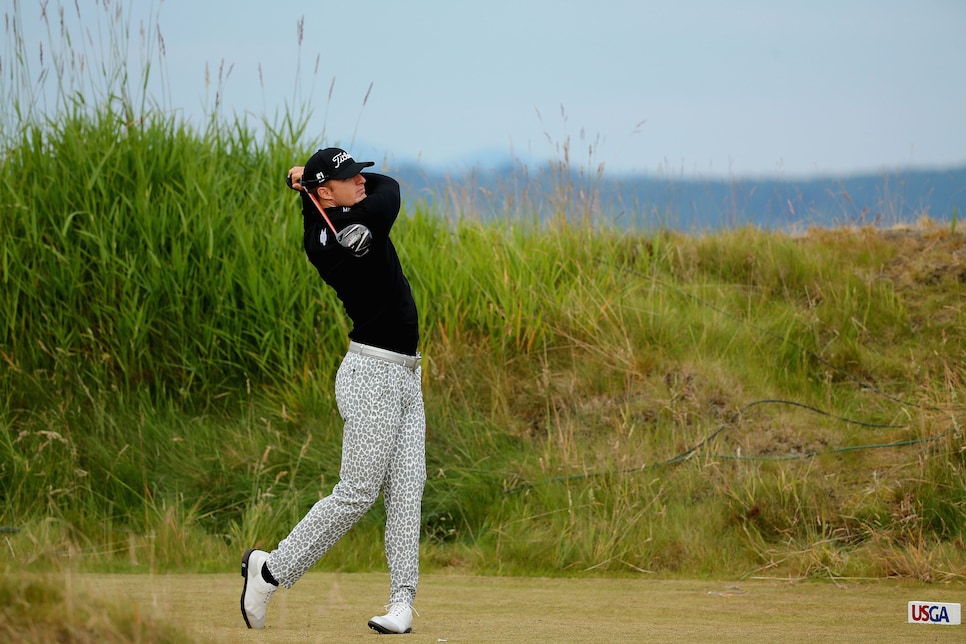 Mike Ehrmann/Getty Images
Staying positive also helps. He and Chelsea have recently experienced some perspective changes with the passing of her close friend. He gets letters from a gymnast with MD who ended up in a wheelchair and people who have had 20 years living their dream.
"I'm sitting at my house right now, looking at my dog, who just has a smile on his face and looking out over the pool," Hoffmann said. "It's beautiful and sunny out. I have all five of my senses. It can't get much better. I'm still on the right side of the grass."
On Tuesday night, I reached out to Hoffmann's father, Gregory, who works in commercial real estate back in New Jersey. Wanting to get away the way his son did at The Dye, Gregory had been out to the movies with three golf buddies. His emotions were raw. "This comes under the heading that life isn't fair," he tearfully said.
One thing they decided is that on Sunday, Morgan and his father will be in Key West, spending three days fly-fishing on the flats with a guideboat. If there was one day left on earth, Gregory said that's where he'd want to be. "We haven't been together for three days in 10 years," he said. "It's perfect timing to get away from all this."
Morgan already feels like there is hope. He is embracing the day to day. As desperate as it may seem, he feels like he's living his dream.