The Loop
After two weeks on the road I'm back in my office space in Wilton, Conn. ripping through large piles of mail and catching up with curious colleagues. They're all golfers too. They want to know where I've been, where I played, my favorite course, how I got there and my low round of the trip. (They don't really ask about my low round, but golfers know how to discreetly work the important details into any watercooler trip report.)
*"Hey G, how was your trip?"
"Good, Mike. I shot 77 at Tetherow and Arcadia Bluffs."
I've now played and stayed, ate and drank, drove and duffed my way through Central Oregon and Northern Michigan. I played 13 rounds on 12 courses in 11 days. One colleague asked me, "Do you really need to play that much golf?"
I look at it like this: if I don't travel and play golf, I don't have anything to write about. "The secret is in the dirt," Ben Hogan once said. I agree. My answers are in the dirt of the courses you're curious about. And on this trip I unearthed a lot of dirt. In 13 rounds I played 234 holes and I covered 85,022 yards of golf (which is equivalent to 48 miles with a 542 yard par 5 left over).
Here's the list of the courses I played (in order of how I played them): Tetherow (Ore.); Crosswater (Ore.); Pronghorn-Fazio (Ore.); Pronghorn-Nicklaus (Ore.); Black Butte Ranch-Big Meadow (Ore.); Grand Traverse Resort-The Bear (Mich.); Arcadia Bluffs (Mich.) twice; Bay Harbor-Links/Quarry (Mich.); Black Forest (Mich.); Treetops-Fazio Premier (Mich.); Treetops-Smith Signature (Mich.); Forest Dunes (Mich).
The first and last rounds of my two weeks turned out to be my two favorites. Public relations disclaimer: They're all good golf courses for different reasons. The gap between the first and the worst could fit in the space between two Fred Funk tee shots. Remember, I'm the one who says Spyglass Hill is a better golf course than Pebble Beach. I like Pacific Dunes more than Bandon Dunes and Bandon Trails; Pinehurst No. 8 more than No. 4. And I consistently say that Bethpage Black, Pasatiempo and Caledonia are three of my favorite public courses in the country.
So, here's where I'll rank the 11 courses I just played. I'm throwing out Pronghorn-Fazio because it's private. If I've done anything during the past 20 months as the travel editor I hope I've established myself as a set of eyes, ears and a worn-down travel bag for the public golfer. Through the Ambush articles, an occasional Frugal Golfer column and the domestic-heavy Away Games, I'm looking for golf and reporting on courses we can all play (with an occasional exception extended to Cypress Point, Pine Valley and Augusta National).
11) Bay Harbor-Links/Quarry--Arthur Hills designed three distinct nines at Bay Harbor. I was bothered by no continuity between the two nines I played. I preferred the Links to the Quarry. The fourth hole (151 yards) gives great views of Lake Michigan and the Bay Harbor Resort, which is right on the water. You're probably not going to like some of the forced carries from the blue tees. If you can't hit it 180 yards in the air and into the wind off the tee (be very honest with yourself), play from the white tees.
10) Black Butte Ranch-Big Meadow--Robert Muir Graves designed an incredibly scenic and substantial resort course. It's cut through the trees, the staff and the views of the Cascade Mountains make it worth the trip to get there. They had a problem with geese on the course until they set out stuffed coyotes to patrol their ponds. (Pictured below)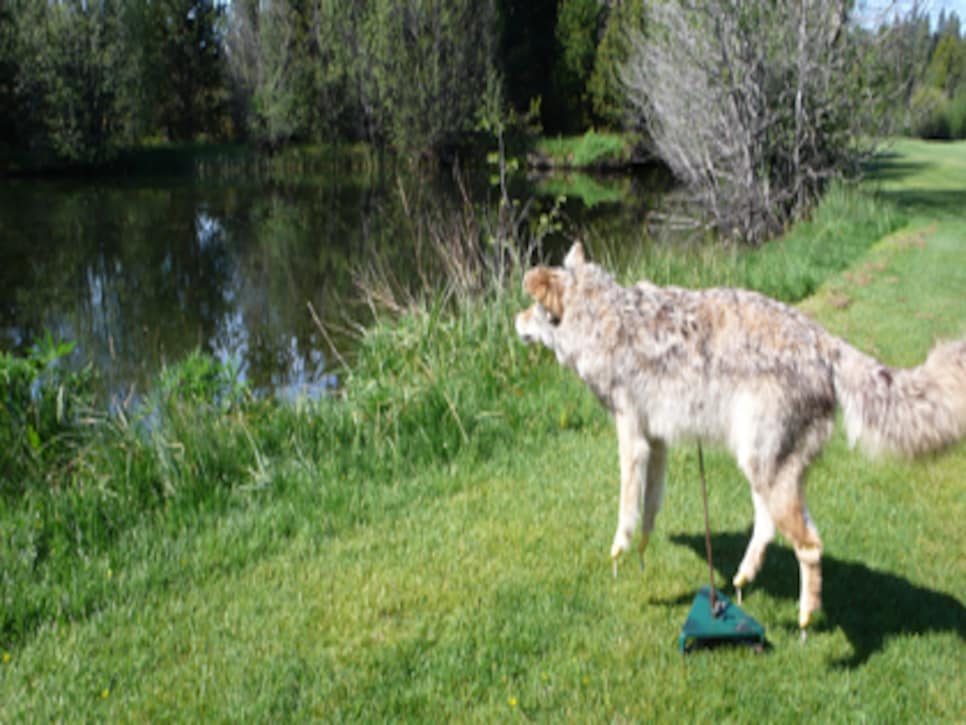 8) Treetops Fazio Premier--Tom Fazio's only course in Michigan is everything you expect from an amateur's architect. It's inviting off the tees, more room to miss right than left and you can finish with a good score as long as you can get the ball in the air. None of the par 5s are longer than 500 yards from the blue tees and only one of the par 3s is longer than 170 yards.
7) Crosswater--Most Central Oregonians will tell you this Bob Cupp design is their favorite course in one of the hubs of great golf. It's flat and fun and I couldn't get enough of the kayakers and tubers working their way down the Deschutes and Little Deschutes Rivers. I also made one of the more satisfying pars of my trip on the 608-yard 12th hole. There's water left from tee to green and it bends left like a banana (which was the complete opposite shape of my ball flight as I faded my way down the fairway).
6) Treetops Smith Signature--No need for "Quiet Please" signs out there. It's almost too quiet on the back nine of this course. I could hear all my negative thoughts loud and clear as I navigated the 523-yard 10th hole (I made a 7). The 11th hole is a narrow swing shortening 163-yard piece of perfection. (Pictured below)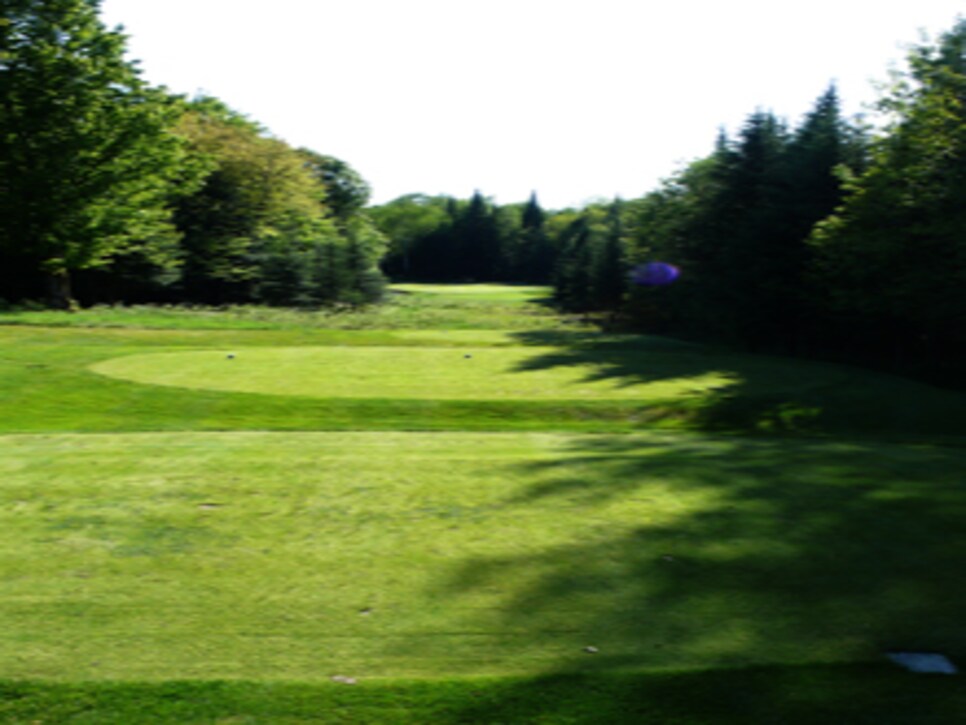 4) Black Forest--Here's a huge win for the little guy. Black Forest is one of Tom Doak's first designs. It's cheap ($45), it's a little rough around the edges (dirt cart paths) but it's big and beautiful and builds from start to finish. With five par 5s and four par 3s, it's a par 73. Doak admitted at dinner the night before I played it that if he had to do it all over again he probably wouldn't have made it so hard, but that just means you shouldn't hesitate to move up a set of tees. I played a combination of the blue tees (6,688 yards) and the white tees (6,097 yards) for 6,529 yards of great golf course. You can't believe you paid so little to get so much. I'd say the 10th hole is like playing in a tight tunnel, but you'd have more room to miss a shot in the tunnel.
3) Arcadia Bluffs--I'm still not sure who designed it. I had some people tell me Rick Smith. Others said Warren Henderson. The scorecard I'm looking at gives credit to both. If they were standing in front of me right now I'd do the same. I caught Arcadia Bluffs on a day with no wind, the rough was cut down and there wasn't a lot of play out there. It's so good and I had so much fun I went around twice. From the staff to the sandwiches, Arcadia Bluffs is in the top 10 public courses in the country for a reason. (The 431-yard 12th hole is pictured below.)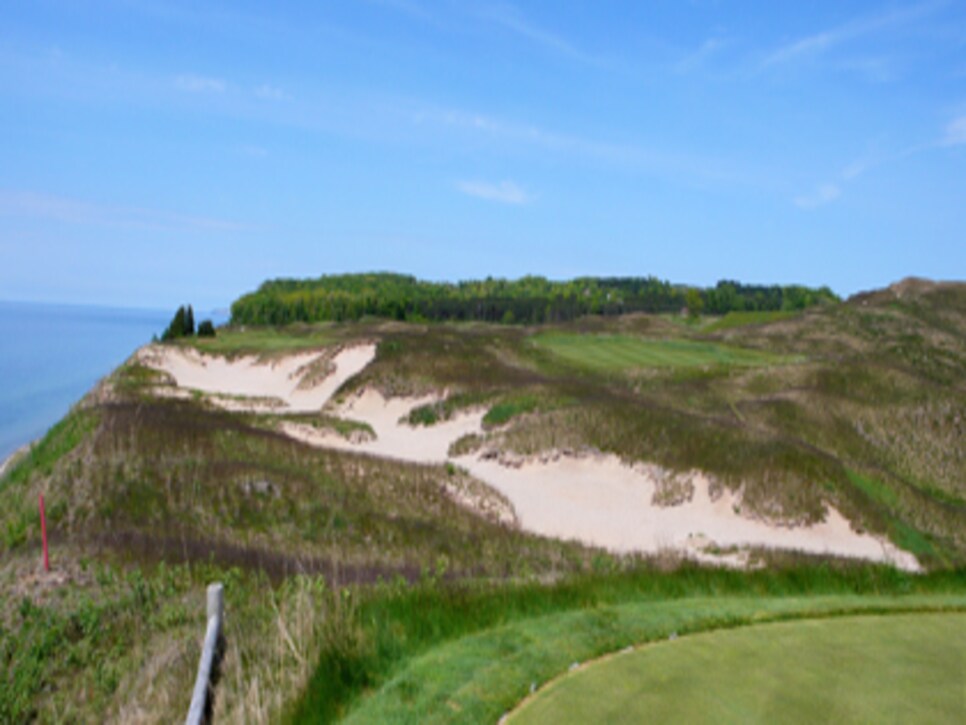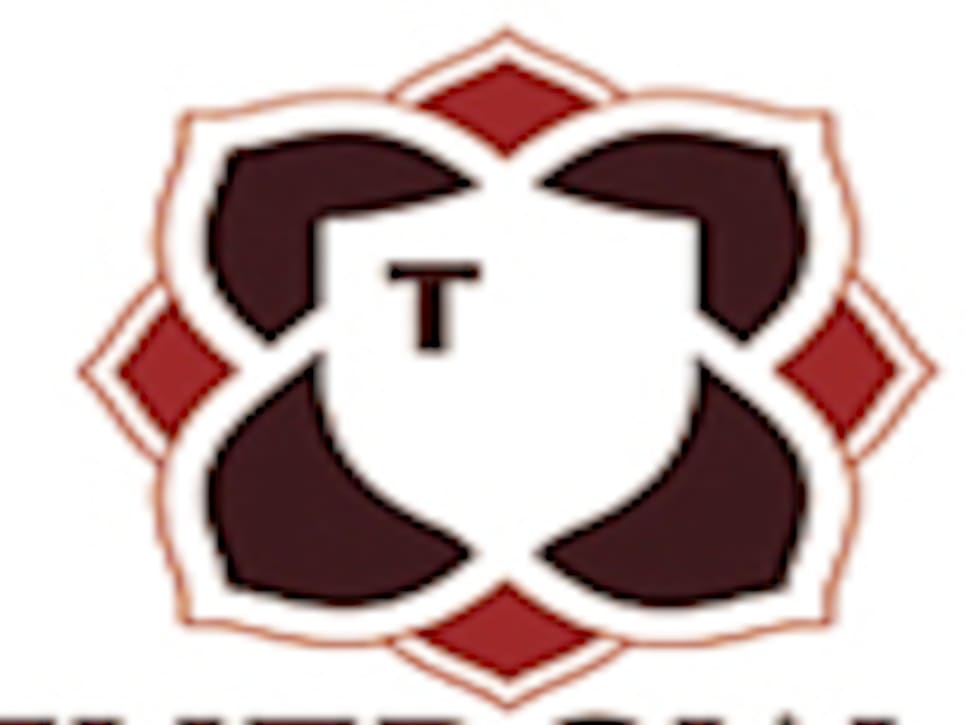 1) Forest Dunes--I've only played a few Tom Weiskopf courses in my life. I can't say I know much about his design other than he loves a drivable par 4. Of all the courses I've listed here, Forest Dunes made me want to extend my trip, even if it meant that I'd be on my own dime. Not only is it walkable, they encourage it by giving you a discount if you carry your own bag. The backdrop to the 9th hole is one of the cooler clubhouses I've seen (pictured below) since I was at the Ocean Course at Kiawah. My colleague, Ron Whitten, once wrote that it's a cross between Augusta National and Pine Valley. I'd be more specific. I'd say the look of the course is like Pine Valley with a lot of long and scruffy waste areas running along the fairways, and the greens roll as true and as fast as Augusta National. Of all the superintendants on this trip, and there were plenty of good ones, if I started a course tomorrow I'd hire Jim Bluck and his staff.
My five favorite holes would be:
Of all the cover stories we've done over the years telling you how you can get an extra 15 yards, all you have to do is play in Central Oregon. At sea level I hit a seven-iron between155 and 165 yards. Playing in Central Oregon between 3,500 and 4,200 feet of elevation, I flew the 17th green at Tetherow and it's listed at 174 yards.
So there you have it. That's my notebook dump. Look for a better presentation and more information in the upcoming issues of the magazine. What did I miss? Why am I crazy? Feel free to let me have it in the comments box. That's what it's there for.
(Here's my recent GHIN update with my scores at each course listed above . . .)
*[#image: /photos/55ad7159b01eefe207f67e81]|||Ginella_Handicap.jpg|||