News
More motivation for Brooks Koepka: he wasn't asked to meet the media at East Lake (and he noticed)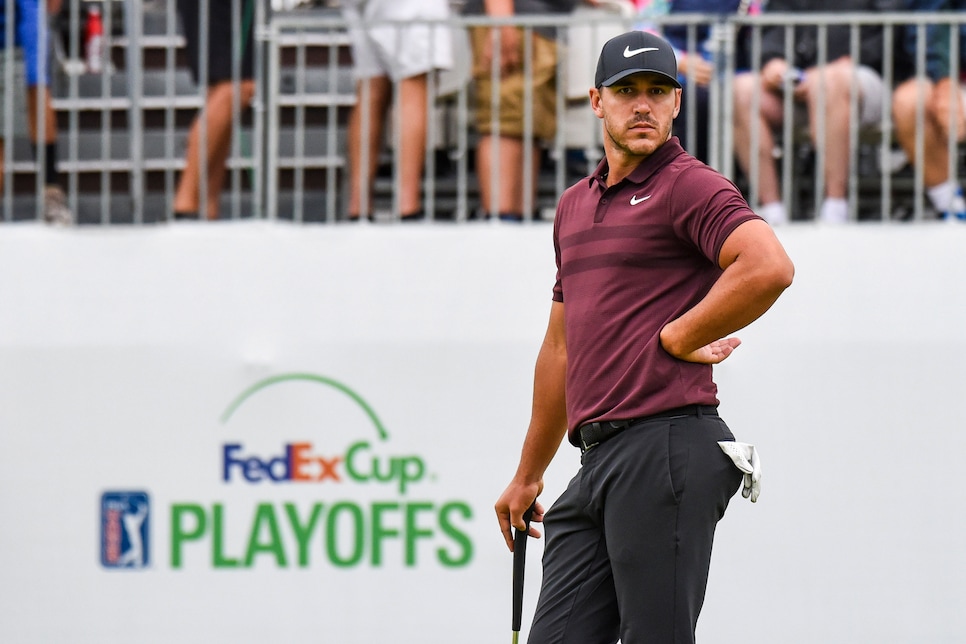 ATLANTA—Tiger Woods, Justin Rose, Justin Thomas, Xander Schauffele, Dustin Johnson, Bryson DeChambeau, Tony Finau and Keegan Bradley were all on the pre-tournament interview schedule Tuesday and Wednesday in advance of this week's Tour Championship, most for good reason.
Bradley won for the first time in six years in his last start, the BMW Championship, to make it to East Lake. Finau was just picked to be on his first Ryder Cup team. DeChambeau won the first two Playoffs events and is No. 1 in the points standings. Johnson is the now former No. 1 in the world and fourth in the FedEx. Schauffele is the tournament's defending champ, Thomas the reigning FedEx Cup champ. Rose is No. 1 in the world for the first time in his career. Tiger is Tiger, and he's back at the Tour Championship for the first time since 2013.
Conspicuously absent from the list, however, was the man most believe will be the PGA Tour's Player of the Year. Instead, Brooks Koepka was out practicing in the heat of an abnormally warm Wednesday afternoon, having never been asked to come in.
"Are you surprised?" Koepka's coach, Claude Harmon, said with more than a tinge of bemusement. "You can say he and DJ [another player Harmon works with] don't talk that much, but we continue to find it surprising. We'll make jokes about it. [Brooks is] the most under-the-radar three-time major winner of all time."
Two of those majors came this year, at the U.S. Open at Shinnecock Hills, where the 28-year-old became the first player in three decades to successfully defend that title, and at the PGA Championship at Bellerive, where he shot a pair of 66s on the weekend to set a 72-hole PGA scoring record on his way to holding off Woods by two strokes. Koepka also had four other top-10s and missed just two cuts in 15 starts, despite having sat out three months early in the year, including the Masters, with a wrist injury. All of which explains why Thomas tweeted, "Give BK the trophy! #majorstrumpall" in response to a PGA Tour video last week that inanely suggested the POY race was far from over.
What doesn't appear to be ending anytime soon are Koepka's feelings of being overlooked and underappreciated.
"[The media] has their guys they wanna talk to," Koepka said when tracked down on the course. "I'm not one of them and that's fine."
Interview sessions with the broader media in golf basically work two ways: Someone is widely requested, or the PGA Tour communications staff is tasked with putting together a logical lineup of candidates that will fit the media's needs and/or pedal the organization's own agenda.
When Jordan Spieth won his first of three career majors at the 2015 Masters, he did 75 scheduled interviews the rest of that year, according to ASAP, the transcription service the tour uses most weeks [there were a few more handled by other services]. Koepka has done 37, according to ASAP numbers, since his major breakthrough at the 2017 U.S. Open at Erin Hills, a smaller time period compared to Spieth but still a disproportionate representation.
As for this week's Tour Championship (of which Spieth did not qualify), Koepka was somewhat amused that he was neither requested by the media nor asked by the tour to come in to the media center for a pre-tourney rap session. So the second-ranked player in the world went about his business inside the ropes at East Lake, where he has a chance to move to No. 1 for the first time in his career with a good finish in the 30-man field. At seventh in the FedEx Cup points standings, he also has a very good chance to win the year-long title for the first time this week.
The lack of attention came as little surprise to Koepka. "We don't get asked to do many interviews, so I'm not gonna go out of my way to do one," he said. "I don't really care."
The latter is debatable—why else would Koepka keep mentioning how "dissed" he feels—but the sizable chip on his broad shoulders is not.
"You've got guys who will kiss up, and I'm not gonna kiss up," Koepka said. "I don't need to kiss anyone's butt. I'm here to play golf. I'm not here to do anything else. A lot of guys are known for the stuff they do off the golf course and who they like to hang around. It's pretty obvious who's doing that and who isn't. I don't need to bend over backwards to be friends with anyone [in the media], but certain guys do that because they want their names written. I'd rather be written about because of my play.
"Sometimes it does suck, but I've started to care less. Come Sunday, I won't forget it when everyone wants to talk to me because I just won. I don't forget things."