The Loop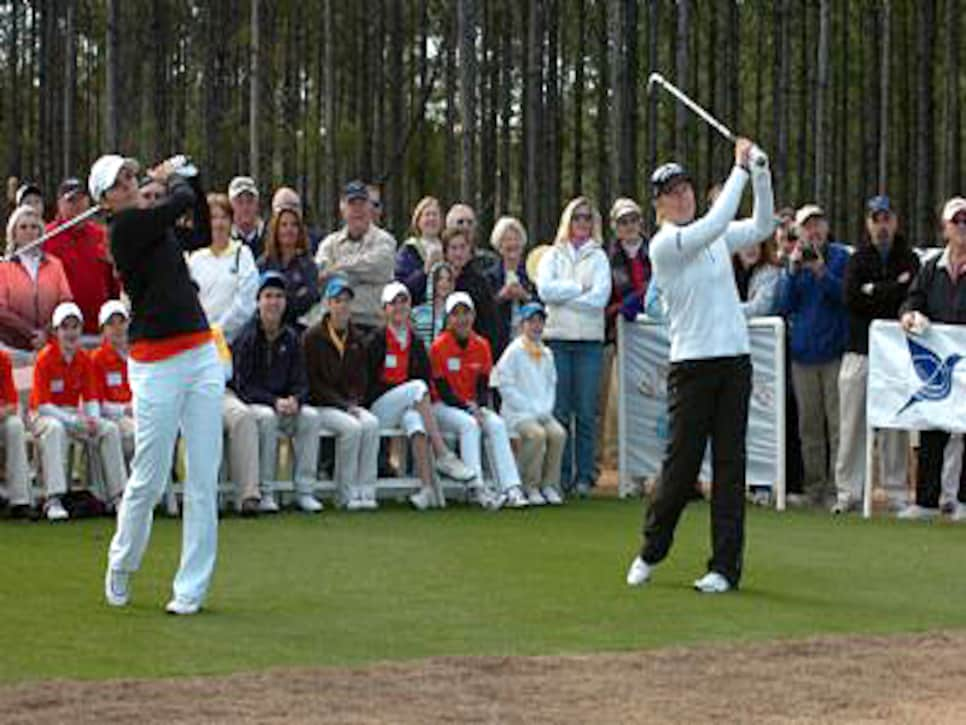 I spoke to Mia in January for the Q&A that appears in the July issue of Golf Digest and she told me at that time that she thought she was playing with Annika, not against her.
"Well that's not fair," said Hamm. "I thought I was going to have to just show up and not even swing a club." And so Hamm, the consummate competitor, went out and started practicing.
Here's the start to the recap of the charity event, which appeared in the The Walton Sun:
Ivey Kelly's shot on the 10th hole was so good that not even Annika Sorenstam could top it.__
__Ivey was among 20 local junior golfers who teed it up Friday with the LGPA Tour icon and soccer legend Mia Hamm in a 10-hole match at Origins Golf Club at Watersound. The tourney helped kick off the ANNIKA Experience, a two-day charity event that celebrates active lifestyles and wellness education.
Here's what Hamm thinks of the U.S. national team's chances in the upcoming World Cup (June 11 -- July 11):
I think we have a great opportunity. I know Bob (Bradley) the coach, and I know he's going to do everything he can to prepare those guys. Every team is going to be playing right up to the World Cup and at a very competitive level so injuries are always a part of it. But I'm excited. I think everyone is excited after the draw. But the draw is just the first part, that's the easy part. Now we have to go out there and play. The U.S. has gotten better after every competition and so no one is going to take them for granted.
I'll be in Wales for a week of the World Cup, which should be a good spot to tap into some pints of beer and a rabid "football" atmosphere.
And while on the subject of rabid, here's the video of Elizabeth Lambert, which Mia commented on in the Q&A: