The Loop
Monday Swing Analysis: Scott Stallings' anti-hook swing
Editor's note: Every Monday, PGA professional Kevin Hinton examines the game of a recent tour winner and tells you what you can learn. A Golf Digest Best Young Teacher, Kevin is the Director of Instruction at Piping Rock Golf Club, Locust Valley, N.Y., and is a Lead Master Instructor for the Jim McLean Golf School at Doral Resort & Spa. He also teaches at Drive 495 in New York. He has seen thousands of swings and has helped golfers of all abilities, from rank beginners to tour players. This week, he examines the 9-iron swing of The Greenbrier Classic champion Scott Stallings, who won his first PGA Tour event, over Bob Estes and Bill Haas, by hitting it to five feet on the 18th hole to get into a sudden-death playoff, then virtually repeating the shot to win on the first extra hole.
__Kevin Hinton:__Take a look at the pictures below of the shot PGA Tour rookie Scott Stallings hit on the first extra hole to seven feet. He later said he hit a "cut 9-iron," and it was nearly identical to the shot he hit on the 72nd hole, which got him into the playoff with Haas and Estes. Stallings even noted that he used the same ball, teed it in the identical spot, and the ball landed in almost the same pitch mark! There are a couple of interesting things in his swing to take note of ...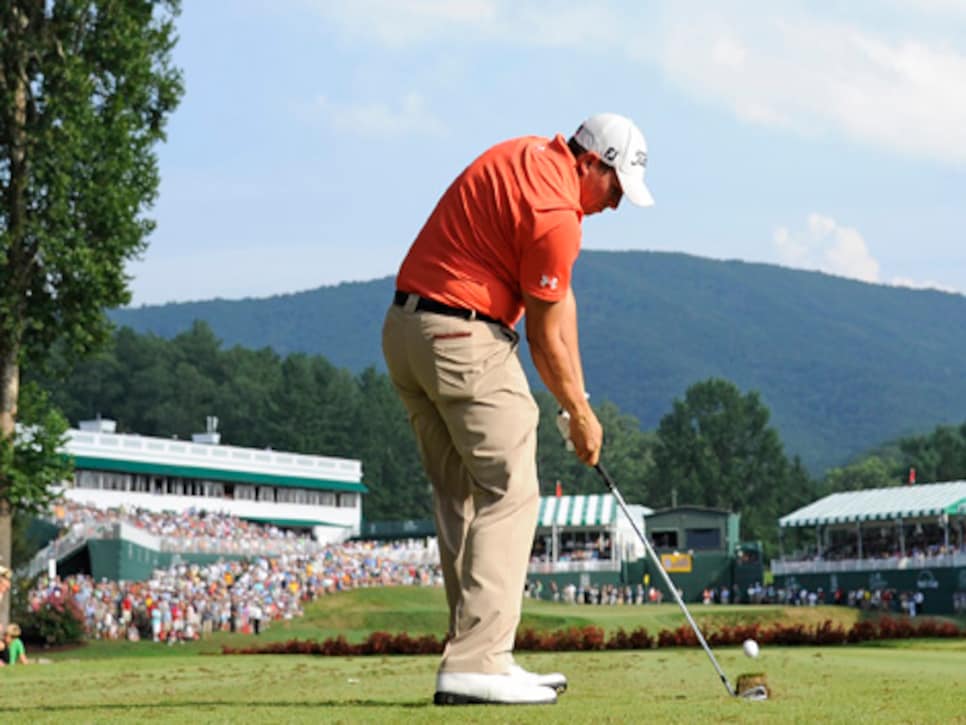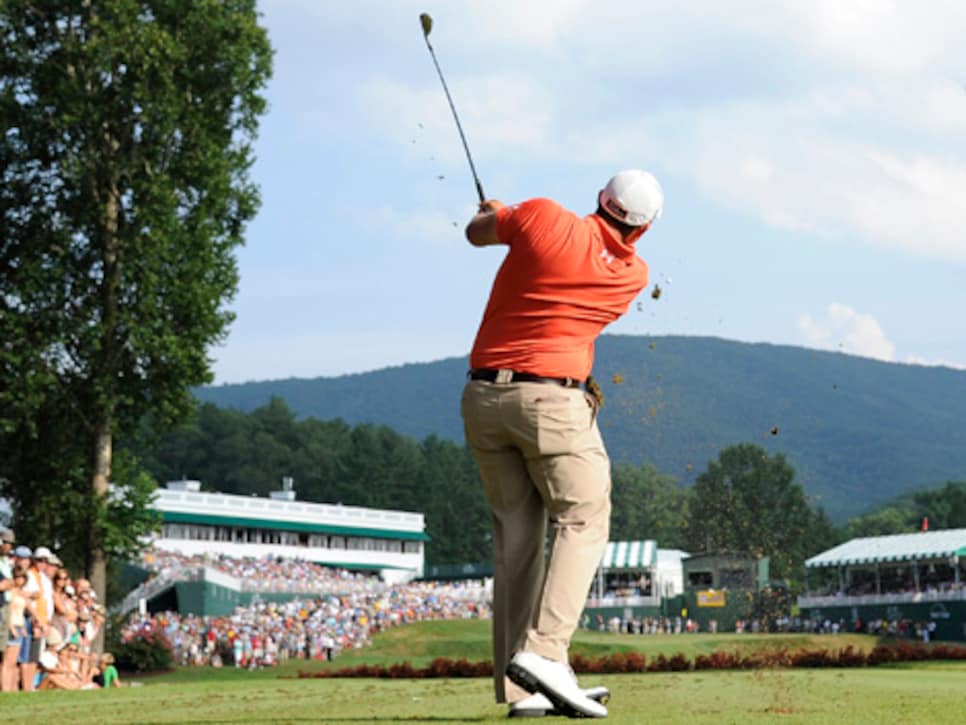 (1) Look at his perfect impact position. At the moment of contact, his hips are open, his shoulders square, and the angle of the shaft has nearly returned to its original starting position. While "keep your head down" is probably your golfing buddy's favorite advice (a close second to "keep your left arm straight"), and there are a bunch of great ball-strikers who are not even close to looking at the ball at impact (Annika Sorenstam, David Duval, Dustin Johnson), I do like in this picture how Stallings seems to be staring at the ball. Sometimes "watching" the ball being hit with the center of the clubface is the best way to ensure that it actually happens.
(2) Also, note that Stallings' right foot is fully grounded when he strikes the ball. This is far from being a fundamental of good ball-striking, but a "quieter" right foot with high irons could add some consistency. Simply put, Scott's impact position looks to be extremely stable and will produce a lot of solid iron shots.
(3) Post impact as his club passes his body, notice how his left elbow is not pointing toward the ground as it would in a tour player's typical release position. Rather, it is running more parallel to the ground in a bit of a "chicken wing" fashion. Scott is doing this to make sure he
fades the ball. When your elbow works this way, the left wrist stays more "cupped" and the clubface won't turn over until well after impact. The typical result is a ball that curves to the right. You can see the clubface has no signs of flipping over.
So what should you take from this? It depends if your miss is a slice or a hook. If you are a better player who often overhooks the ball, copying Scott's action through impact might be just what you need to stop it. Having a feel that eliminates the left side of the golf course is an infinitely valuable thing, especially in tournament golf.
Opposite that, if you are a slicer you should learn from Scott's release position; just don't try to copy it. Making sure that your left elbow points downward at this position will make it much easier to release the clubface. Make a few rehearsals without the club and you'll easily see how the left-elbow position dramatically affects your ability to release the clubface.
The most important lesson here might be that not everything a tour player does is good for you to copy, just like all swing tips shouldn't apply to everyone. Try to have a basic understanding of your strengths and weaknesses before you start to apply every tip you hear or article you read. As a doctor would say, don't take someone else's prescription.
*(Photos by Getty Images)  *