The Loop
Monday Swing Analysis: How Keegan won the PGA
*Editor's note: Every Monday, PGA professional Kevin Hinton examines the game of a recent tour winner and tells you what you can learn. A Golf Digest Best Young Teacher, Kevin is the Director of Instruction at Piping Rock Golf Club, Locust Valley, N.Y., and is a Lead Master Instructor for the Jim McLean Golf School at Doral Resort & Spa. He also teaches at Drive 495 in New York. He has seen thousands of swings and has helped golfers of all abilities, from rank beginners to tour players. This week, in a two-parter, Kevin analyzes how the new PGA Champion, Keegan Bradley, hits it long and true and then rolls it dead with his belly putter.
__I spoke with Jim McLean last night to get some insight into what he and Keegan Bradley have been working on. They first started working together three years ago while Keegan was playing on the Hooters Tour, and they began to make some major changes then. Keegan's tendency was to take the club too far around his body and then lift the club across the line. His hips would also "twist" or "reverse" in his backswing, meaning his left hip would get closer to the target while his upper body moved too far off the ball. Essentially, Keegan's left hip and left shoulder would get too far from each other at the top of his swing.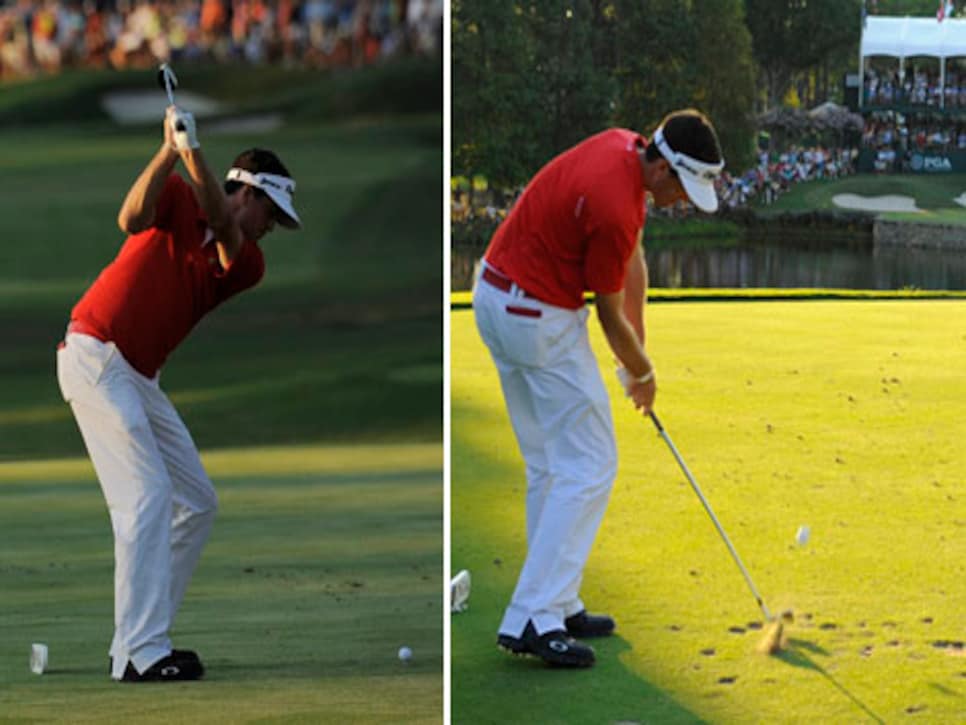 Keegan Bradley now is stacked at the top of his swing, so he can better time his release. (Photos by Dom Furore (left) and J.D. Cuban)
Jim said he wanted Keegan to get his lower half and upper half more "stacked" on top of each other, essentially the opposite of what Stack and Tilt promotes. They got Keegan to get his hips to turn less and move more laterally in the backswing, actually loading more weight onto the right side, while managing to get his lower center and upper center more on top of each other. This also encouraged the club to go back on a more neutral path. With better backswing body movements, timing in the downswing became far easier. Jim said he thought it was one year's worth of changes, but Keegan won three weeks later. As evidenced by Sunday's final round, Keegan sets his own timeline to success, and it is on a much faster pace than any of us thought.
Since then, Jim says he has taught more "golf thinking" and how to play golf and taught less about the golf swing. Lots of chipping, pitching, and all the scoring shots. Early last year on the Nationwide Tour, Keegan came to Jim and stated he really felt he was a better player than the results showed. Jim felt Keegan was playing to make cuts and challenged him by saying, "You have to show me something, get a lead, I don't care if it's the first nine holes of the tournament, if you're that good it shouldn't be that hard to do." Keegan went on to to shoot a low score of 61 and secured his card with a 14th place finish on the Nationwide Tour money list.
This year, McLean was with Keegan when he won the Byron Nelson in Dallas, as well as this week in Atlanta, where they had two good days of preparation on Tuesday and Wednesday. Jim had a conversation with Keegan's caddie, Steven Hale, that proved to be well timed. He
told him that if Keegan has a chance to win, he's got to go for it. Finishing second, third, fourth means nothing in comparison to winning... the tour is not fair in this way.
McLean recalled the experience of another student of his, Len Mattiace, who lost to Mike Weir in a playoff in the Masters. Len is now grinding his way on the Nationwide Tour. Winning a major is everything.
2. Using the belly putter:
A fictitious dispatch from the future: "In 1968, the USGA and R&A teamed up to outlaw "croquet style" putting in response to Sam Snead's recent success with this method. In 2013, the two committees met again to ban the use of any putter over the length of 36 inches, and restricted a player from anchoring the putter against another part of the body. This action was a response to six consecutive major championships being won by players using nonconventional-length putters."
Is this how the golf history books will read? Don't bet against it. The Rules of Golf attempt to prevent a player's equipment from giving an unfair advantage....a nonissue until players start to have success. Until yesterday, no player had ever won a major using a long putter. (Well, Angel Cabrera won the U.S. Open at Oakmont using a long putter, but he didn't anchor it in his belly.) Keegan Bradley's win might have opened a serious can of worms. It should really have come as no surprise. The trend has long since been under way. Tim Clark won the 2010 Players Championship with the long putter, Adam Scott finished second in this year's Masters with the broomstick-style putter, and won the WGC Bridgestone Invitational with it. And with overnight co-leader Brendan Steele using a belly putter, as well as Keegan, the chances were quite high of the champion using a long putter.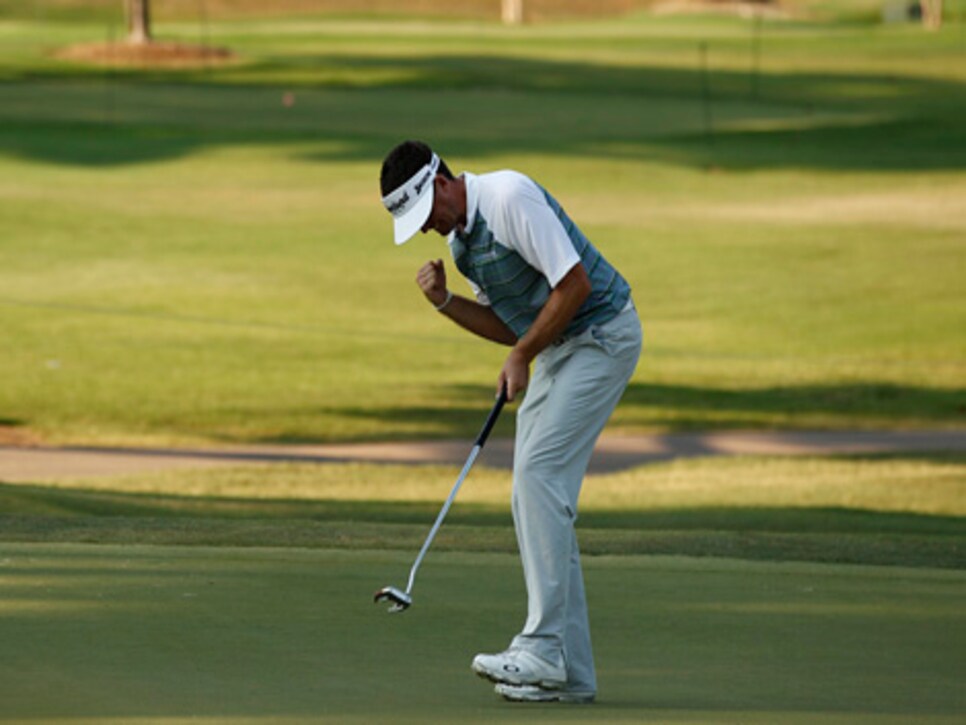 Bradley at the PGA Championship. (Photo by Allan Henry)
The good news for the average golfer who might be shaky on the greens is that the USGA is similar to Congress....nothing happens quickly and many times nothing happens at all. So if you're in the market for a new putting style, you likely have plenty of time. Here are some of the pros and cons.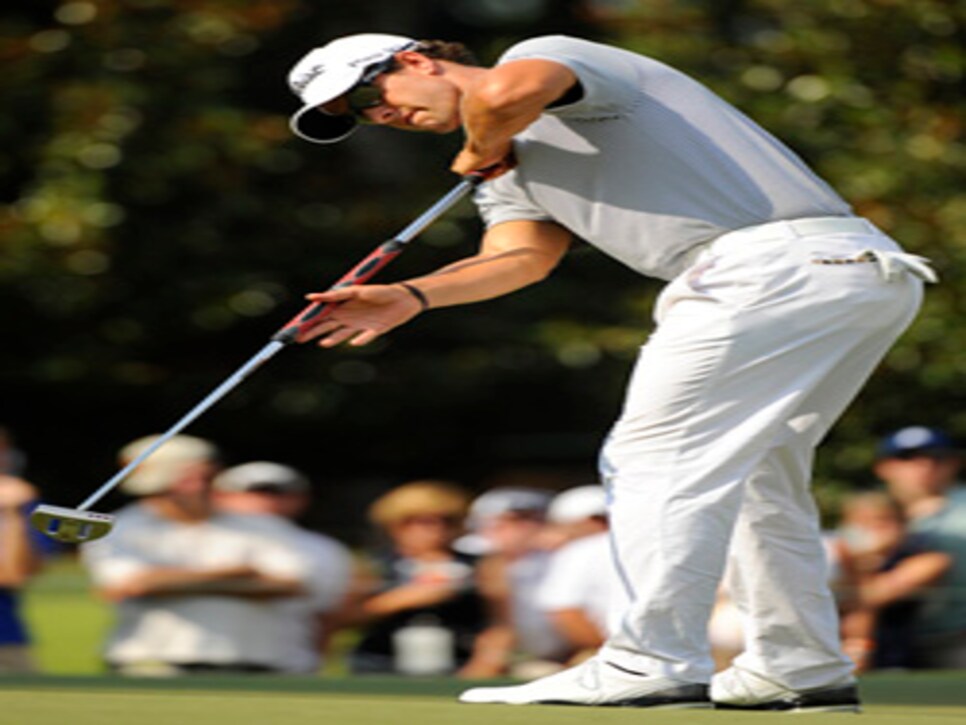 --The perfect pendulum stroke: With the proper setup and length, a long putter gives a player the best chance to make a pure pendulum stroke. Since the putter is anchored, simply allowing the putter to swing should accomplish this.
--Short Putts: This is where players typically gain the most benefit. It can be a potential cure to the yips or just add serious confidence on those crucial four-footers. I've never heard of a player who is rock solid from inside five feet switching to a long putter.
--Mental Advantage: Theoretically, physics say the long putter is a superior method. If you believe that, that can be extremely helpful, regardless of what the truth is. Belief is everything in putting.
--They are difficult to fit properly, and the setup is crucial. Tour players have the benefit of trying several different lengths and lie angles, as well as having access to the technology that assures the most efficient stroke. A poorly fit long putter is useless.
--Distance Control: This is normally the biggest complaint with the long putter. While short putts can instantly improve, it can take a long time to get the feel for the proper speed.
--Abnormal putting conditions: Personally, I find this to be a downside to the belly or long putter. Conditions like strong winds, uneven stances, putting from the fringe or from off the green, extremely fast or slow greens. Essentially, when the conditions stray from normal the long putter can be difficult to use. A straight putt from a level lie will feel very easy. However, we rarely get that on the golf course. That's why many people feel putting is an art, not a science. To me, the long putter is more of a science.
Finally, many tour players practice with a belly putter, but never use it in competition. It becomes a training aid to ensure the pendulum stroke, but when push comes to shove (so to speak), they'd rather have the feel that comes from a shorter putter. Try practicing with a belly putter: It could be a good way to find out the best putting method for you.
Inset: Adam Scott at the PGA Championship. (Photo by J.D. Cuban)