The Loop
Monday Swing Analysis: Darren Clarke, the Knockdown Guy
*Editor's note: Every Monday, PGA professional Kevin Hinton examines the game of a recent tour winner and tells you what you can learn. A Golf Digest Best Young Teacher, Kevin is the Director of Instruction at Piping Rock Golf Club, Locust Valley, N.Y., and is a Lead Master Instructor for the Jim McLean Golf School at Doral Resort & Spa. He also teaches at Drive 495 in New York. He has seen thousands of swings and has helped golfers of all abilities, from rank beginners to tour players. This week, he examines the way Darren Clarke**, who won the Open Championship on Sunday by three shots, keenly keeps the ball under the wind for ultimate control and power.  *
__Kevin Hinton:__There's a lot to be learned from Darren Clarke's masterful performance at Royal St. George's last week: the value in letting go of technical thoughts so your artistic and imaginative side can take over to play ultimate links golf; how a great attitude can be more valuable than a great swing; and the fact that you can never predict who might win the British Open. Clarke was the No. 162-ranked player in the world entering the tournament. Last year's winner, Louis Oosthuizen, was ranked 54th and had made only one cut in his prior eight major championship appearances. Ben Curtis won at Royal St. George's in 2003 when he entered the tournament at 396th in the world. And Paul Lawrie came from 10 shots back in the final round to win at Carnoustie.
Does good fortune play a role in winning a British Open? Definitely....and probably more so than any other major. Does the best player that week win...usually, but there is a fair amount of luck involved. But one thing I do know...to successfully navigate your ball over four days of links golf, you better be able to control the trajectory. Darren Clarke hit shot after shot of beautifully controlled low knockdowns with every club in his bag. I can barely remember a swing in which his hands and club finished above shoulder high. Take a look at the pictures below to see what you can learn from Darren Clarke's controlled follow-through.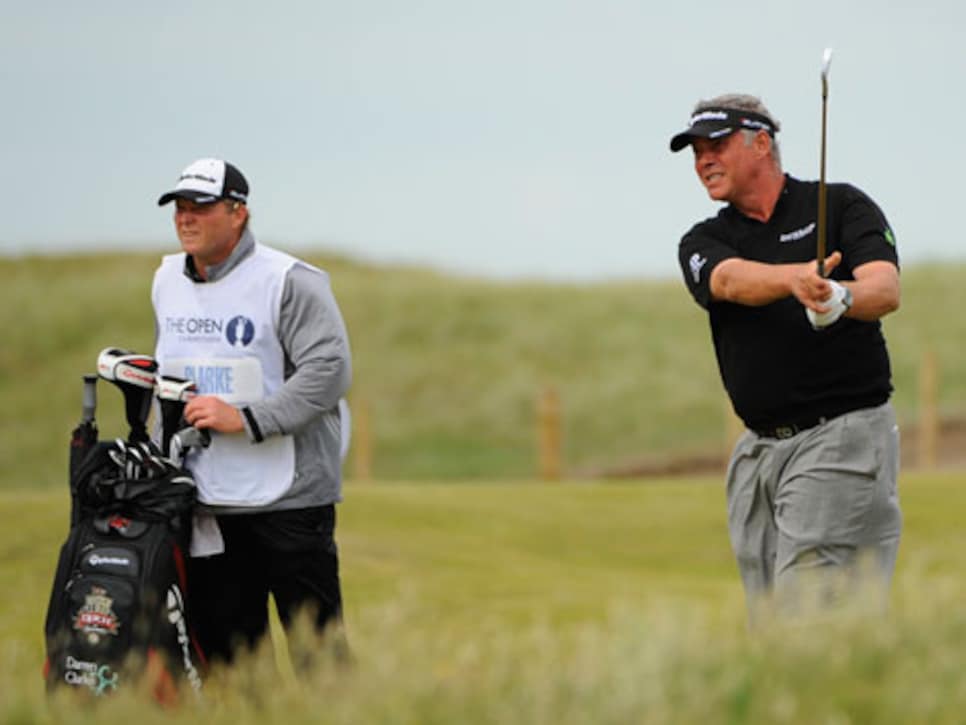 __Above:__Darren Clarke's arms and club stay almost level with his shoulders, and his right shoulder has stayed even with his left, showing he has "covered" the ball at impact. This low finish results in a low ball flight. (Photo: J.D. Cuban/Golf Digest)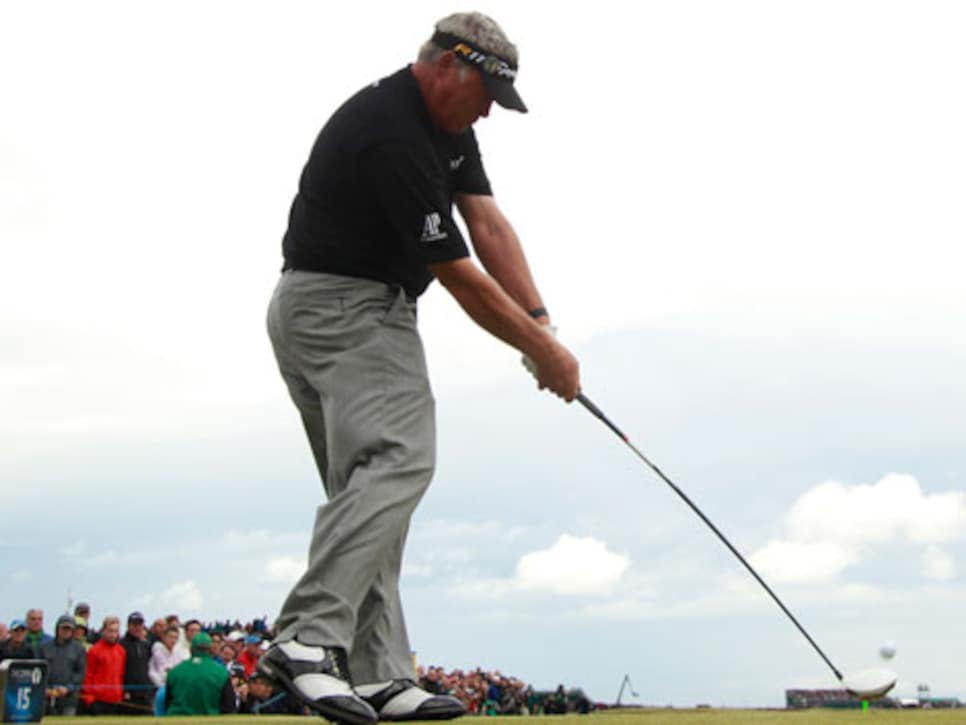 __Above:__Wonder why Darren drove the ball so well throughout the championship? Look at this picture-perfect position just past impact: His arms are well extended, the clubface is perfectly square, he clearly made solid contact, he's in tremendous balance, his right arm is just under his left. This ball can only go straight! (Photo: Darren Carroll/Golf Digest)
*[#image: /photos/55ad73cab01eefe207f6a4b9]|||Clarke2.jpg|||
Above: Again, Darren's tremendous strength allows him to square the clubface through impact while holding off his finish so the ball stays low, even hitting a fairway wood or hybrid from the rough. That's talent! (Photo: J.D. Cuban/Golf Digest)
YOU CAN COPY CLARKE'S KNOCKDOWN TECHNIQUE
Darren's swing was built to hit the ball low. His compact backswing, simple body motion and ability to abbreviate his finish are no doubt the result of growing up playing links golf at
Northern Ireland's Royal Portrush and then professionally throughout Europe. Here are the basics the average player should use to hit a successful knockdown shot like Darren does.
--Play the ball back of it's normal position
--Set more weight on your front leg
--Lean the shaft more forward
Make about a 3/4 swing, and try to keep from shifting too much weight onto your right side. While it's OK to allow your head to move to the right on other shots, the less movement off the ball the better when hitting a knockdown.
You must produce an impact position in which you are de-lofting the club. To do that, the shaft must be leaning forward with your hands in front of the ball. Think Level. This is my favorite part of Darren's swing. Through impact his shoulders are more level than most top players', especially when he's hitting it low. A lot of teachers and top players describe this as "covering" the ball. It's a great image to help keep your ball flight down.
Fairly simple here: The lower you finish, the lower the ball will go. This is definitely a key to Darren's knockdown shots. The amazing thing to me is how he executed this finish from driver to wedge....lots of skill in that, and it sure helps to be as strong as he is!
"When it's breezy...swing easy." The faster you swing, the more spin you impart onto the ball. This will cause the ball to rise and only go higher. Take plenty of club and swing at 75 percent maximum.
THOUGHTS FOR BETTER PLAYERS
Above are the tips I'd give to most golfers, say 10-handicappers and up. For the low-handicapper and advanced player, I'd make some adjustments. Since accomplished players are already good at having their hands forward at impact and hitting down on the ball, if they do that too much they might produce too steep an angle of attack, causing excess backspin and in turn a ball flight that goes higher.
Tom Kite first brought this to my attention. I was walking with Tom one year at Doral, and we were talking about how he hits it low in the wind. Because he grew up in Texas and won the U.S Open in '92 at Pebble Beach in extreme wind conditions, I figured I should listen extra carefully. Almost everything he said was the opposite of what I expected. Tom said that at address he likes to play the ball more forward with a wider stance, and doesn't set his hands ahead. This setup makes it easier for him to keep his upper body moving forward and stay level through impact, as well as produce a more shallow angle of attack, almost picking the ball off the turf. It might make sense for the better player. If you fall into that category, and the  adjustments I suggested above don't seem to be working, I'd experiment with Tom's advice. There aren't many people on the planet who have hit more golf balls than he has!