Fire Pit Collective
Tour pro bedeviled by luggage issues qualifies for Mexico Open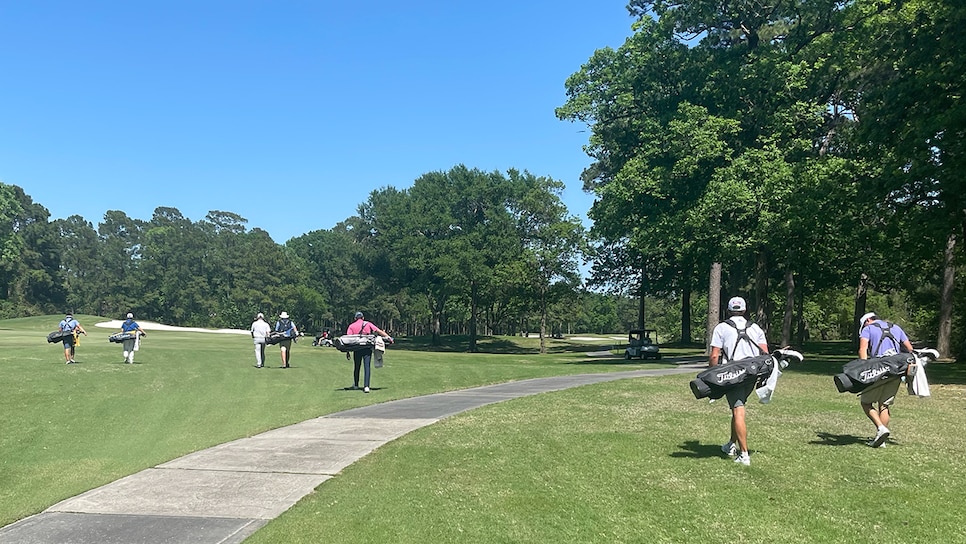 KINGWOOD, Texas — Patrick Flavin has done it again. He Monday qualified when the pressure was on, getting through in a playoff at the Deerwood Course at the Clubs of Kingwood and earning a spot in the field for the Mexico Open at Vidanta, a PGA Tour event that begins on April 28. After missing at the second stage of Korn Ferry Tour Q School last year, Flavin went directly to the Bermuda Open Monday Q and advanced. (The Bermuda Open, played last October, is part of this FedEx Cup season.) He finished T17. In March, he Monday Q'd for the Puerto Rico Open and finished T22. He received a sponsor's exemption into the Corales Puntacana Championship and finished T54. He has accumulated 74 non-member FedEx points; he needs 100 to be safe into the Korn Ferry Tour finals.
When you're so close but have no status, these Mondays are a ton of extra pressure. And it appears Flavin excels under pressure. At Deerwood, he went out in 6-under 30, then birdied his 10th hole. But he bogeyed four of the last seven holes, including two of his last three, and was relegated to a six-for-two playoff after shooting a 4-under 68. As he walked toward scoring after a closing bogey, he was understandably upset. He was part of the last group in, so after he signed his card, he promptly picked up his bag, headed to the par-5 playoff hole, hit a perfect drive and a perfect hybrid, chipped to about 18 inches and made the birdie putt to get through. I talked with him when it was over.
Flavin has had some luggage issues this year, having missed a Monday earlier this year after his bags didn't show up. It happened again en route to Texas. This time his clothes didn't make the trip. Luckily his clubs did. Always looking to support the companies that have helped him along the way, Flavin drove to a store and purchased a Titleist hat for the qualifier.
Bryson Nimmer is riding in the same boat as Flavin. After a successful Monday Q for the Corales event, Nimmer finished T11. He has accumulated enough points that he will be chasing Mondays for the rest of the year. "It's my best chance to get status," he said on Monday. He more than offset three bogeys, collecting eight birdies and an eagle to post the low round of the day, a 7-under 65.
As for Deerwood, the consensus among the players I talked to on the putting green was that anything under par would have a chance to claim one of the four spots. After he saw the scores, one of the players I had talked with texted me. "We couldn't have been more wrong," he wrote. As always a few players went low. Never mind the 4-under 68 it took to get into the playoff. A 1-under total was good for a six-way tie for 14th. Seven other players matched par.
The course is where the U.S. Open scenes for Tin Cup were filmed. The famous home hole is actually a long par-4, and a plaque in the middle of the fairway commemorates Roy McIvoy's repeated attempts to clear the water fronting the green. During the practice round, all of the players in our group took a swing from the iconic spot. (Had I not known the movie was shot there, I would have never guessed this was the hole.) The trees have grown in, and the hole looks only a little like it did in the movie. The playoff for the final spot ended on this hole when Turk Pettit made a 4.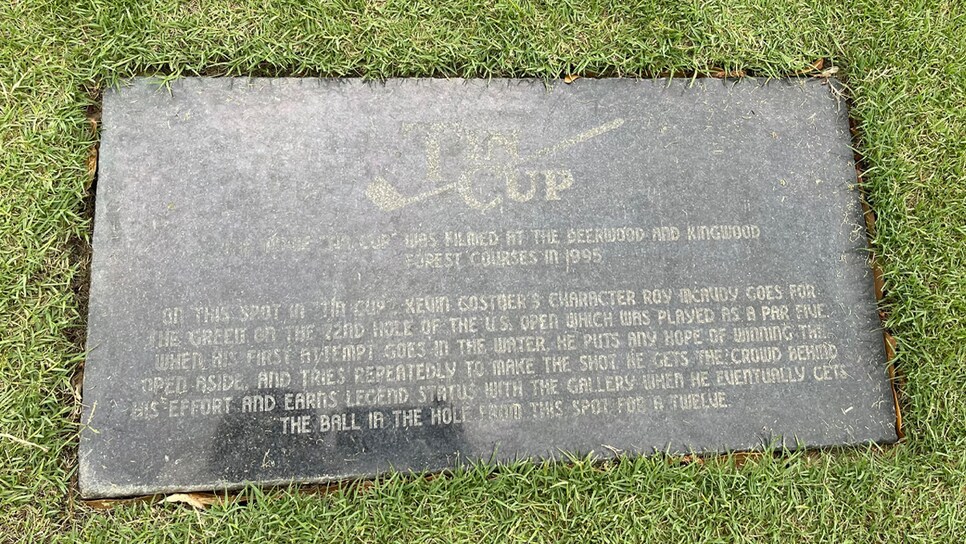 Brian Davis has won more than $12 million on the PGA Tour, but the dude saved some money on his pull cart. Most carts these days are pretty fancy. But in a move I respect, Davis went with an old-school, two-wheel model from Walmart. It probably cost $89, tops. It is always cool to see a guy who once was at the top of the "most money won without a Tour win" list being frugal.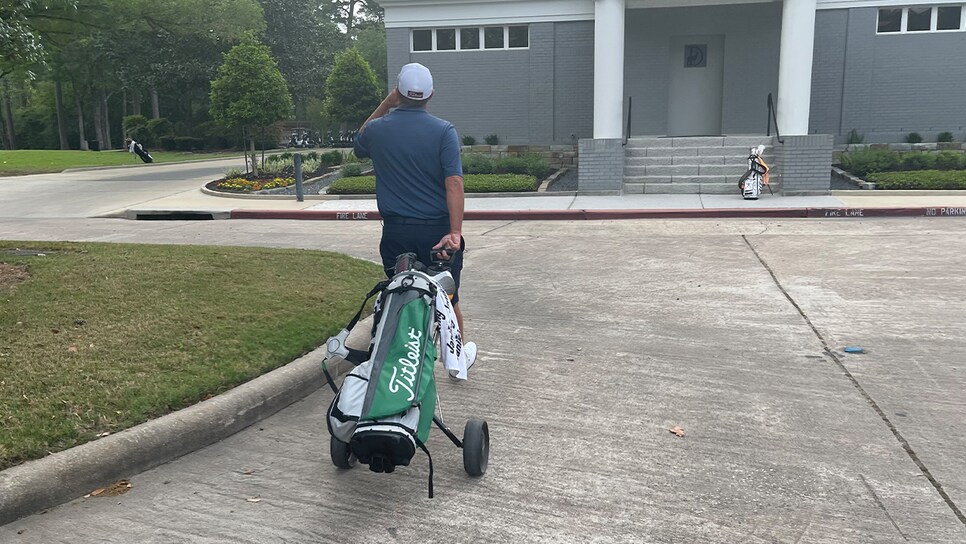 Jeffrey Kang was an All-American at USC, but he has struggled at times as a pro. In February at the WM Phoenix Open, more than eight years into his pro career, he Monday Q'd for his first PGA Tour event. He missed the cut, but he won't have to wait long for his second start. On Monday he shot an impressive 66, including a back-nine 31 that featured an eagle at the 16th.
Big playoffs are one of the reasons I love Monday Q's, and this week didn't disappoint. After announcing the six players would go off in one group, Nick Drew, the tournament director of the South Texas PGA section (a PGA section runs the Monday Q), said to me, "This is what you live for, right?" Exactly!
I often get asked how many players take a caddie in a Monday Q. I usually say about 40 percent, but today I saw considerably fewer caddies. In the playoff, all but one of the six players carried his own bag.
You can't go to a Monday Qualifier and not run into "In the Way Ray." The legendary caddie works his tail off and has been carrying for Mickey DeMorat of late. Ray travels the country in his Chevy Sonic and estimates he sleeps in it "about 90 percent of the time." He finds a quiet area near the course and parks for the night, then showers at a gym or a golf club. At the Honda Monday Q last month, he gave me a tour of the car and how he makes things work.
Mark Baldwin was paired with Matt Every a few Mondays ago and had heard of his reputation for having a quick temper. But he was so nice; it has been great to get to know him a little. Each Monday I see him, I make it a point to chat with the 38-year-old Every, a two-time PGA Tour winner. This week was no different. "I was 3 under through six and like always I blew up," he said after a 1-over 73. He is so candid and funny; it is really refreshing. The logo for his new clothing brand, an image of him hurling a club, is awesome. Just a really good dude.