MLB Slugger Josh Donaldson Loves The Game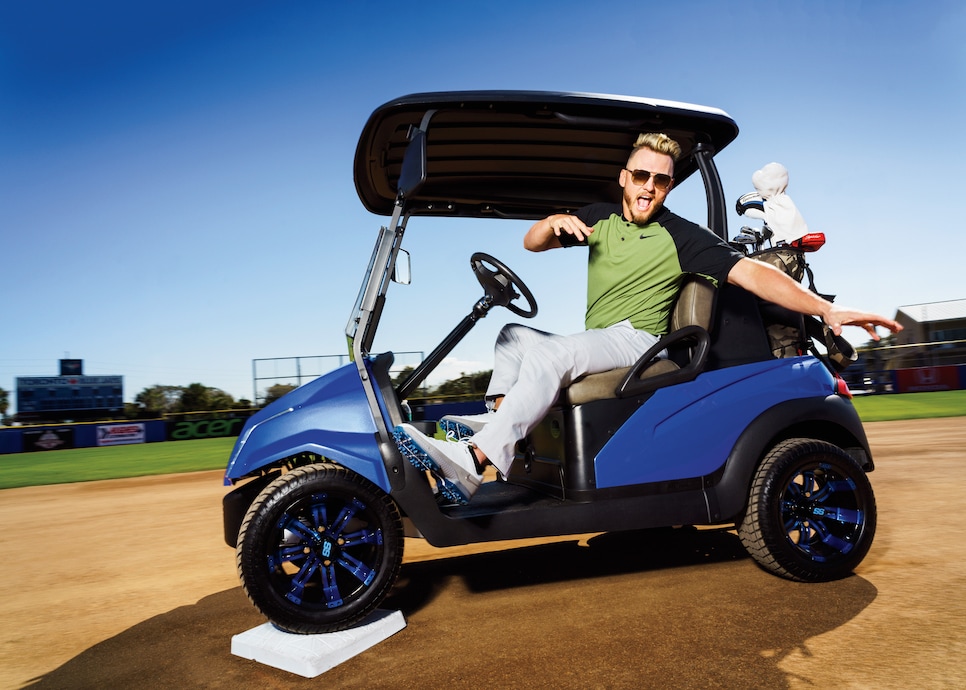 Josh Donaldson's contract with the Toronto Blue Jays will pay him $17 million this year, so you might think he needs a few hundred bucks on the line for a golf match to quicken his heart rate.
But that's not how Donaldson's usual game works. At Lake Forest Country Club in Daphne, Ala., where the All-Star third baseman spends his off-season, Donaldson, 31, plays with a selection of retirees who are sometimes 40 years his senior. The stakes are low. The laugh count is high.
Donaldson wouldn't have it any other way. "These are retired old men. They don't want to go out and lose all their cash," he says with a chuckle. "We just go out there to enjoy golf. That's what so great about it. You can have all different types of abilities and still be somewhat competitive."
"I can do some things that some pros can't. I can also hit the ball really squirrelly."
Donaldson's 5.4 Handicap Index might not adequately speak to his ability. For a player who has hit 78 home runs the past two seasons, the 2015 American League MVP not surprisingly can deliver the long ball. In a recent segment on Golf Channel, he stepped in cold and hammered a straight, 308-yard drive on a simulator. He's matter-of-fact when saying, "I can do some things that some pros can't," but he adds a key qualifier: "I can also hit the ball really squirrelly, too."
Donaldson grew up next to a driving range in the Florida Panhandle, and though he had a club in his hand as young as 18 months, he didn't take golf seriously until he was in college at Auburn.
Each off-season, Donaldson follows the same routine: He plays with his usual group and in the occasional high-profile event like this year's AT&T Pebble Beach Pro-Am before he starts to find his groove. His lowest career round is a 65 at Lake Forest a few years back. "But then it's time to turn back around and play baseball," he says.
He plays sparingly during the baseball season, and he's not one of those guys who maps out which 100 Greatest course he'll play during road trips. "I'm more focused on what I need to do for my job," he says. "But one day I'd like to see how good I could get."