The Loop
MLB pitcher Brian Matusz makes righty AND lefty holes-in-one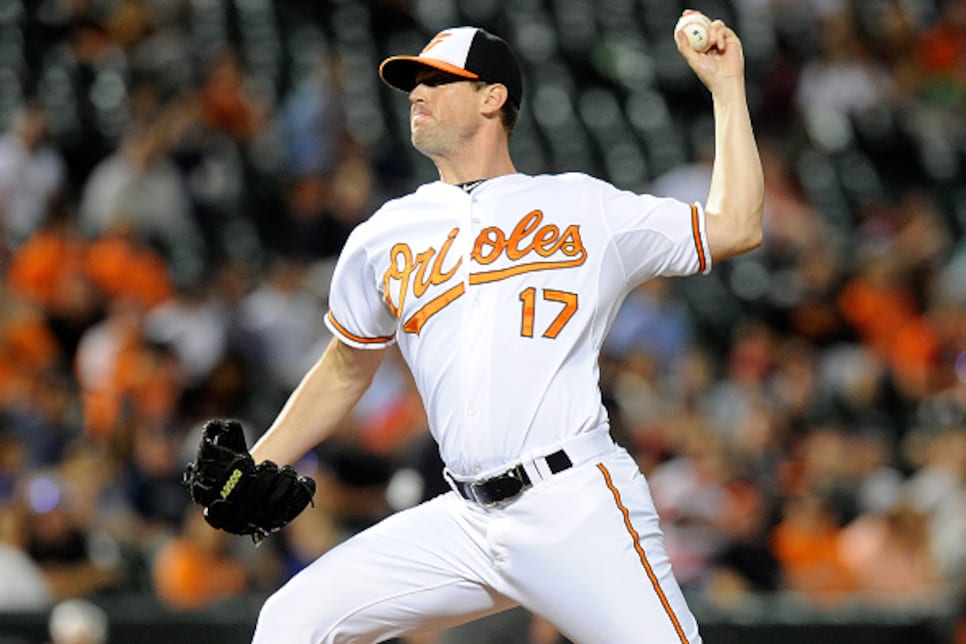 A move to the bullpen two seasons ago helped rectify Brian Matusz's pitching career. A switch to hitting from the other side a few years ago, may have saved his golf game.
The Baltimore Orioles southpaw now plays golf as a lefty also and he recently made a hole-in-one during the off-season on the par-3 17th hole at Talking Stick Golf Club in Scottsdale. The rare feat was made even rarer by the fact it put Matusz in an exclusive club of golfers to make an ace playing both right-handed and left-handed.
"I was playing golf with my buddy Taylor, nailed it, crushed it, right at the hole and watched it bouncing straight into the hole," Matusz told csnmidatlantic.com.
A pitching wedge from 145? Yeah, we'll allow "crushed it" as a phrase to describe that.
Matusz began playing righty as a kid when he shared clubs with his brother. But a few years ago, the fourth overall pick in the 2008 Major League Baseball draft had a lingering thought.
"What's the deal? I feel I should be hitting it further."
He tried out a friend's lefty clubs and hasn't looked back. Matusz, 29, says he now regularly shoots in the low 80s.
According to Golf Digest's research team, Matusz is the 20th golfer to accomplish the feat. One of those, Australian N.S. Craig has done it three times.
Despite his accomplishment, Matusz, who had a 2.94 ERA and 56 strikeouts in 49 innings last season, has a long way to go before he can claim the title of baseball's best switch-hitting golfer. Former MLB pitcher Jim Kaat still plays from both sides and became the first player recorded by Golf Digest to shoot his age as both a righty and a lefty a few years ago.
But Matusz probably isn't too focused on improving his swing right now. Pitchers and catchers reported for spring training last week -- and he's in the last year of a contract.