The Loop
Mizuno's new JPX-EZ wood line has its mandate in its name
The main complaint with adjustable drivers is that the technology has become too complex, or at least not intuitive.
As a matter of fact, the old saw among experienced retailers is that every golfer wants an adjustable driver but most of them never adjust it.
But the unqualified success of Ping's G30 driver, which has been the No. 1 selling driver on the market through most of the last 12 months, speaks at least in some small ways to golfers' interest in a less convoluted approach to adjustability.
The latest to tap into that idea is Mizuno with its new JPX-EZ driver ($400). The head features a 10-gram weight that can be positioned in one of two intuitive locations to combat a slice or a hook or a third central location for a more neutral ballflight preference. In addition, the one- size-fits-all head can be adjusted between eight loft/lie settings (8.5, 9.5, 10.5, 11.5 and 12.5 degrees, with three upright or draw-biased options at 9.5, 10.5 and 11.5 degrees).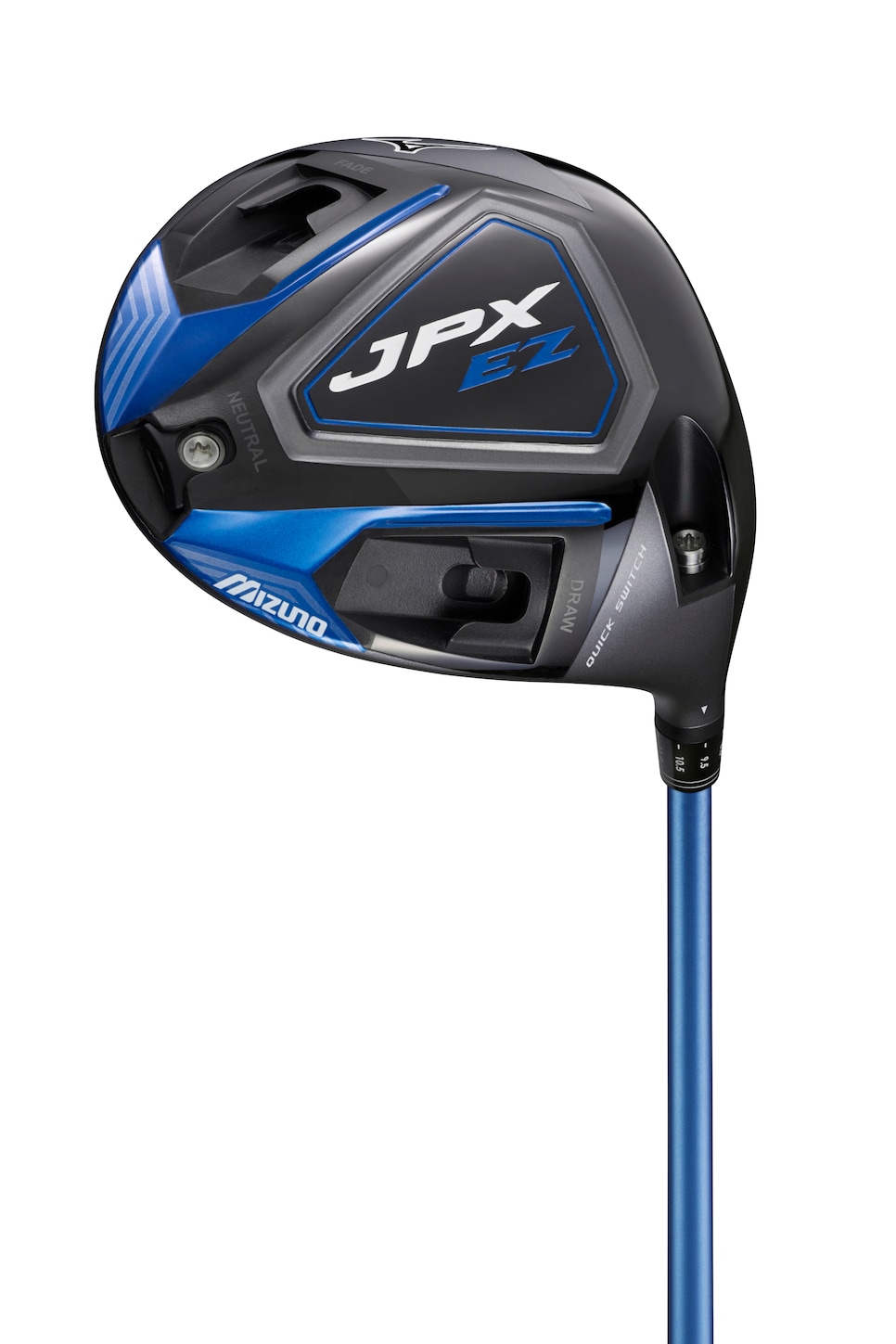 "This club was simple by design," says Chuck Couch, Mizuno's vice president of product management. "We wanted to achieve an understandable way to affect ballflight, and we think it's easy to understand how the movable weight functions in this design."
The JPX-EZ does another thing that should appeal to average golfers. Its large footprint (it nearly fills out the USGA limit dimensions of five inches wide from front to back and heel to toe) aims to inspire confidence in golfers while also providing a more stable, high moment of inertia for less fall-off on mishits. According to Mizuno measurements, the JPX-EZ MOI when the weight is is in the center rear (neutral) setting is over 5,000 grams-centimeters squared, or among the highest in the current driver marketplace. (Note: The USGA regulation on MOI is 4,800 with a tolerance that pushes the upper limit to 6,000. No current mainstream drivers are above 5,300 MOI.)
The JPX-EZ driver comes standard with a Fujikura SIX XLR8 shaft, a high-balance point shaft whose design affords more than four extra grams of head mass to distribute around the perimeter to increase forgiveness.
The JPX-EZ line also includes new fairway woods and hybrids, each with a larger profile than last year's JPX-850 models. The new woods feature an updated version of the wave-structured sole. The new sole pattern extends around the heel and toe form a larger surface area designed to push the center of gravity lower to increase launch and improve ballspeed on shots hit lower on the face. Both the fairway woods and hybrids feature an HT 1770 high-strength steel face insert.
The JPX-EZ fairway woods ($250, 3-, 5- and 7-wood lofts) include an eight-way adjustable hosel that alters loft by plus/minus two degrees. The JPX-EZ hybrids will be offered in four lofts, starting with a 2-hybrid.
The JPX-EZ driver, fairway woods and hybrids are scheduled to be in stores in November.