The Loop
Mizuno's latest iron trio delivers distance in distinct ways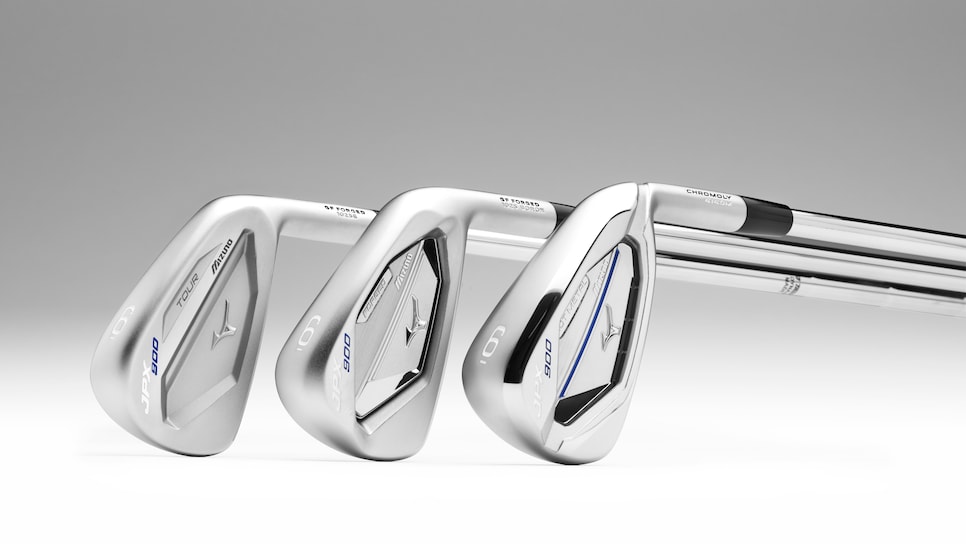 Mizuno launched its broadest JPX iron line in history on Monday, offering for the first time three versions that stretch the game-improvement range all the way from elite players to the game improvement crowd. But at each level, the new JPX-900 is motivated by delivering distance.
The line includes the JPX-900, JPX-900 Forged and JPX-900 Tour, and each uses distinct materials and constructions, as well as distinct sizes to match various player types.
"Prior to 2010, we were really known as primarily a better-players iron brand, but the JPX line really has allowed us to break down some barriers," said David Llewellyn, golf hard-goods R&D manager for Mizuno USA. "We've shown some steady improvement in making irons that get through to that broader segment of the market, and the JPX-900 line I think shows more of that steady improvement, as well as some real leaps."
The biggest leap forward is the JPX-900. Tagged "Hot Metal," the JPX-900 is Mizuno's latest installment in a cast construction aimed at maximizing ball speed, following the JPX-800 and JPX-850 irons. According to Llewellyn, the intent is for the JPX-900 to achieve the ball speed benefits usually reserved for a cupface or face-insert design but in a single-piece casting.
But you can't get to those kind of ball-speed improvements unless you use a special kind of steel, as opposed to using the typical forms of 17-4 or 431. So Llewellyn and team used a steel alloy called Chromoly 4140M, forms of which have been used in high-tech bicycle frames as well as the body of solar cars. Its high strength-to-weight ratio comes through a combination of chromium and molybdenum and a special heat-treating process that allows for the thinnest face yet on Mizuno irons at two millimeters.
"This steel allows us to get a full 360-degree, very deep undercut, which approximates the larger rebound area traditionally found in a welded cup face," Llewellyn said. "We think not having to weld is a big bonus in terms of manufacturing and consistency."
The processing of the metal allows the face to get selectively thin and strong, but also lets the hosel develop a softer grain structure to facilitate it being bent to match a wider range of individual lie angles for better fitting versatility, a longtime Mizuno hallmark. That's not easy to do with typical high-strength or heat treated traditional 17-4 steel.
A new variable face design expands the region with the the highest flexibility. Meanwhile, ribs just inside the topline stabilize the frame for better feel despite the thinner face construction.
The JPX-900 set also includes new gap, sand and lob wedges featuring an X30 softer steel for better feel and grooves that change with loft to match how the specific wedges are typically used.
The JPX-900 Forged is the company's next installment of a one-piece forged cavity back design using boron-infused carbon steel. The boron allows for a stronger metal that can be forged thinner. The thinner construction yields a higher overall spring-like effect through a multiple thickness face.
"This is a club with forgiveness and playability where you need it yet more compact where you need that, too," said Chris Voshall, Mizuno club engineer.
Most notable in the upgrade from the JPX-850 Forged is a slightly more compact size in the short irons (8-GW).
The third iron in the JPX-900 line is the JPX-900 Tour, a one-piece forging of the 1025E carbon steel used in Mizuno's tour-level MP forgings. It also incorporates the narrow sole design preferred by Mizuno's staff players Luke Donald and Chris Wood. But the JPX-900 Tour adds a version of the perimeter weighting frame that's seen on the rest of the JPX-900 irons.
"Even though it's an aggressive design in terms of forgiveness, its clean look and compact and fits that player's eye," Voshall said.
The three Mizuno irons will be available in stores September 16 (JPX-900: $900; JPX-900 Forged: $1,200; JPX-900 Tour: $1,200).