Branded Content
World Leaders: Q&A with Luke Donald & Stacy Lewis
Editor's Note: This article is written in partnership with Mizuno.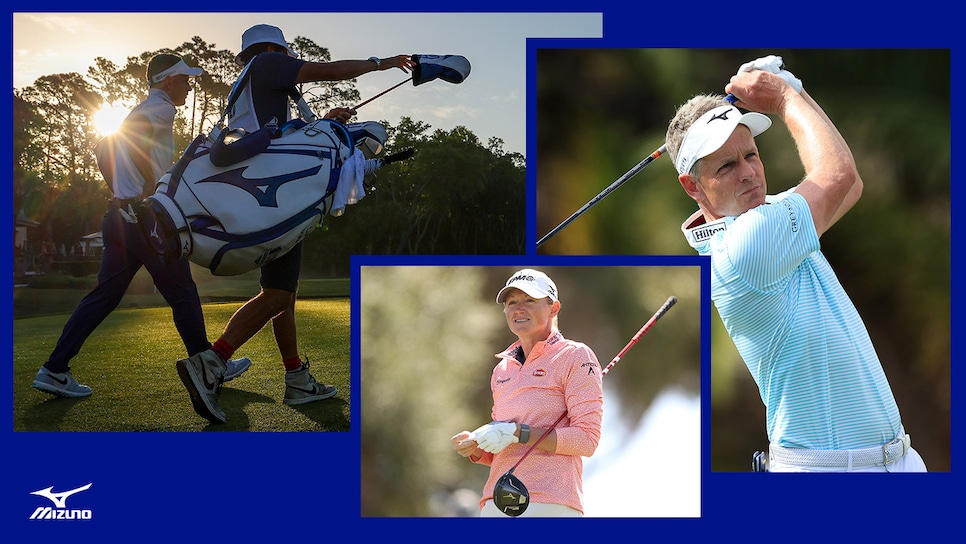 Former World No. 1 Tour pros Stacy Lewis and Luke Donald have played Mizuno Golf equipment their entire careers and experienced firsthand how the revered club manufacturer helps develop younger golfers. Now it's their turn to mentor. Lewis is captaining the 2023 U.S. Solheim Cup team, and Donald helms the 2023 International Ryder Cup squad. While they share a common goal to win, their team-leading approaches differ. To find out how, Golf Digest recently caught up with both.
LD: I've played Mizuno irons since age eight. Our relationship feels like family. Instead of chasing dollars, I've always wanted to use the best equipment for me. Captaining the Ryder Cup team also means everything. We're playing for our countries and continents and representing our flags. Coming together as a team and playing for something greater than ourselves is what makes the event so appealing to watch.
SL: It's important to nurture a successful team environment, so my top goal is to ensure that all the players constantly support and root for one another, rather than solely focus on themselves.
LD: Our team takes a practice trip beforehand to get to know each other better. With a lot of the guys playing in the U.S., this is an opportunity to unify players. Ryder Cup week will be fun. We'll be doing a lot of fun stuff together and get the guys riled up to be team players.
SL: I'll create a positive, fun environment where the girls can be successful, starting with making the practice schedules more accommodating to all the different personalities. JuliInkster started that with the personality pod system and got us on a good path there. I want them to have fun and leave saying, "This was the best week of my life." If they feel that, the results will come.
LD: Whether you're Rory, Rahm or a rookie, you're there to make points for the team and contribute. You want to make a difference. This is their time to create history and moments, so they can look back with pride. A lot of rookies will be inspired by teammates who've played multiple Ryder Cups. I'll pair more experienced players with rookies to be big brothers and help guide them. I'm there in that role, too. I've played in four and been a part of two others as vice captain, so I'll impart that experience and make it an enjoyable week for them that afterwards they remain good friends because of it.
SL: I tell rookies that everyone on the team experiences the nerves and inevitable hand trembles while teeing up. You'll hit some questionable shots but also some of the greatest shots in your career. Those are the moments you'll remember.