Korn Ferry Tour
Mito Pereira is first Korn Ferry pro to earn PGA Tour promotion since 2016. Why he might not be the last in 2021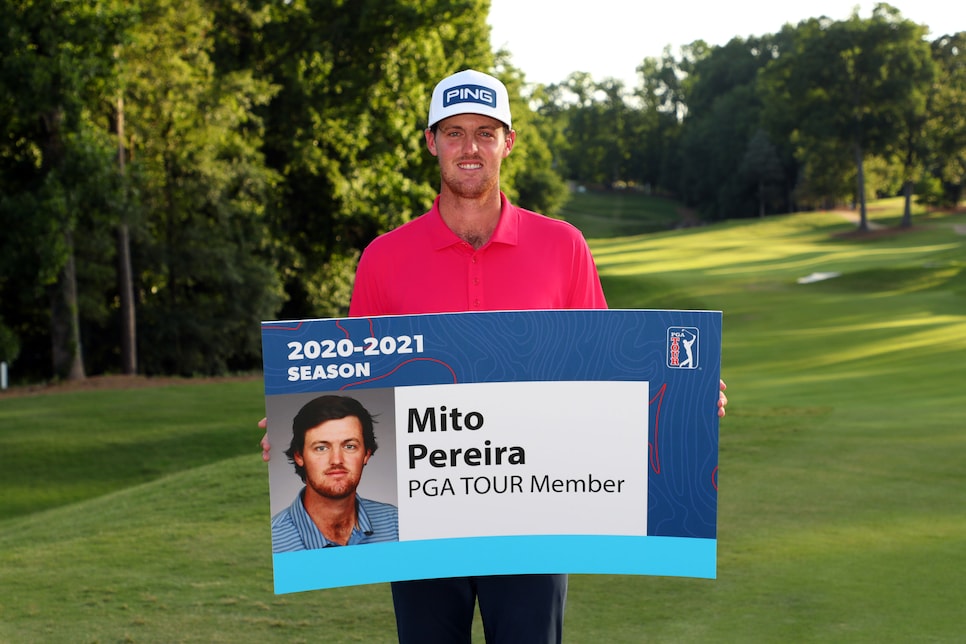 Mito Pereira holds his PGA Tour member card after winning the BMW Charity Pro-Am and earning a three-win promotion.
Hunter Martin
It's been a whirlwind two weeks for Chile's Mito Pereira, and the chaos has only just begun. With a victory on Sunday at the Korn Ferry Tour's BMW Charity Pro-Am, seven days removed from a playoff win at the REX Hospital Open, the 26-year-old from Santiago, Chile saw his win total rise to three on the 2020-21 KFT super season, earning him an instant promotion to the PGA Tour.
"This is crazy man," Pereira said after closing out a 64 at Thornblade Club in Greer, S.C., to rally past 54-hole leader Justin Lower and win by three shots with a 27-under 258 total. "I didn't ever think I could win three times on this tour and now I've just won three times in one year and going to the PGA Tour. This is by far the best thing that I've done in my life. I just can't wait to get there and just to play the best I can."
A lot of hard work in the short run: In his last eight rounds, Pereira was 48 under par, his worst score a 67. And in the long run: Periera earned a Korn Ferry Tour card shortly out of college at Texas Tech, only to lose it and have to play his way back on the tour via the PGA Tour Latino America.
Pereira became just the 12th player in the 32-year history of the developmental tour to earn the automatic three-win promotion, and the first since Wesley Bryan in 2016. He likely won't be the last to make the jump this summer, either. With the 2020 and 2021 seasons combined due to the COVID-19 pandemic, four players—Jared Wolfe, Davis Riley, Stephan Jaeger and Cameron Young—are sitting on two wins and can move up to the PGA Tour with a third victory.
Pereira's first win of the season came in February 2020 at the Country Club de Bogota Championship. Pre-COVID pandemic, Pereira looked well on his way to earning a PGA Tour card on the KFT points list, recording three top-four finishes in four starts. When play resumed in the summer, however, his momentum stalled, as he missed three cuts in his first four events with only one top-10 in his final 16 starts in 2020.
The beginning of 2021 wasn't much better, but come April he started to find his game once more. In his last nine start, Pereira hasn't missed a cut, losing a playoff at the Simmons Bank Open last month.
Asked how long he'd dreamt of playing on the PGA Tour, Pereira acknowledged for most of his life. "Probably since I was 4, 5, so it's been a long ride," he said.."There's been tough moments, good moments, but it's all worth it…I hope it helps everybody in Chile to grow this game and to get more easy entrance to the game. I'm so happy. I wanted to thank them, too. Chile has been great. All the people supporting me, thanks for everybody."
Pereira is eligible to play in the Travelers Championship. The promotion runs through the 2021-22 PGA Tour season.