The Loop
Missing Links: Tiger Woods' problems 'overwhelmingly of the mind. He's lost his mojo'
Stories of interest you might have missed...
The headline to John Paul Newport's story in the Wall Street Journal: "Four ways of looking at the Tiger meltdown." "The fourth view," Newport writes, "is that Woods's problems are overwhelmingly of the mind. He's lost his mojo. His confidence is shot. To some degree this view subsumes the others…However deep you want to wade into psychology, it's noteworthy that most of the golf commentators who were once players themselves emphasize it in their analyses of Woods."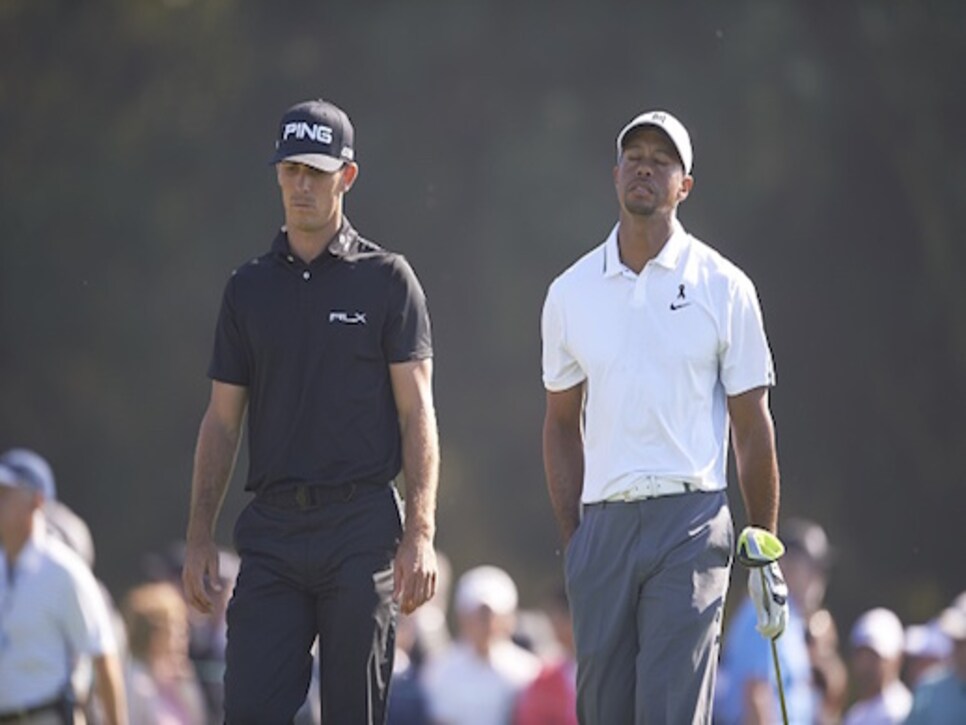 Tiger Woods with Billy Horschel at Farmers Insurance Open (Getty Images)
"Tiger Woods is not taking a break from the PGA Tour to fix a hitch in his golf swing. He's taking a break to fix the hitch in his head. The issue is not so much how to hit the golf ball but whether he wants to hit it at all. When a guy who famously hates public life gives formal media interviews about his deactivated glutes,' you get the feeling he's looking for an out. Translation: I think I'd like to go home and sit for a while,'" columnist Sally Jenkins of the Washington Post writes.
Woods' woes still leave him four major championships behind Jack Nicklaus, but the gap seems wider than ever. "With Woods so far unable to catch Nicklaus and unlikely to do so when or if he returns from his indefinite leave from golf, it is time to reconsider Nicklaus, still the leader in the clubhouse," Scott Reid of the Orange County Register writes.
"When [Mickey] Wright connects just so…a well-struck iron climbs and clears some trees to a nearby fairway. It doesn't happen every swing, but it happens. There is satisfaction for Wright in where the shot lands, and, these many years since she was a girl in California learning what it was like to hit a ball on the button, delight in how it feels," Bill Fields writes at ESPNW in this look at the legendary Wright on this, her 80th birthday.
Stewart Williams is a man with little to at the AT&T Pebble Beach National Pro-Am this week, unlike most years. Williams is the PGA Tour's meteorologist. "Weather for the annual Pro-Am, as veteran tournament observers know, can be wildly unpredictable and wildly wet and wildly windy. This week, though, there is nothing but wild sunshine. There are also blue skies and 70 degrees on the thermometer," columnist Mark Purdy of the San Jose Mercury News writes.