The Loop
Missing Links: Rory McIlroy's 'act of staggering sportsmanship,' and leukemia survivor Jarrod Lyle's return
It went virtually unnoticed, this chance meeting between Oliver Wilson and Rory McIlroy that occurred at the Loop on the Old Course at St. Andrews, where the course turns back toward the town. It was there that McIlroy, playing ahead of Wilson, sauntered over to him and gave him a word of encouragement, even as both were vying to win the Alfred Dunhill Links Championship last Sunday. "[A]n act of staggering sportsmanship," Alasdair Reid called it in this story in the Telegraph. The popular Wilson went on to win, emerging finally from the obscurity in which he had fallen in recent years.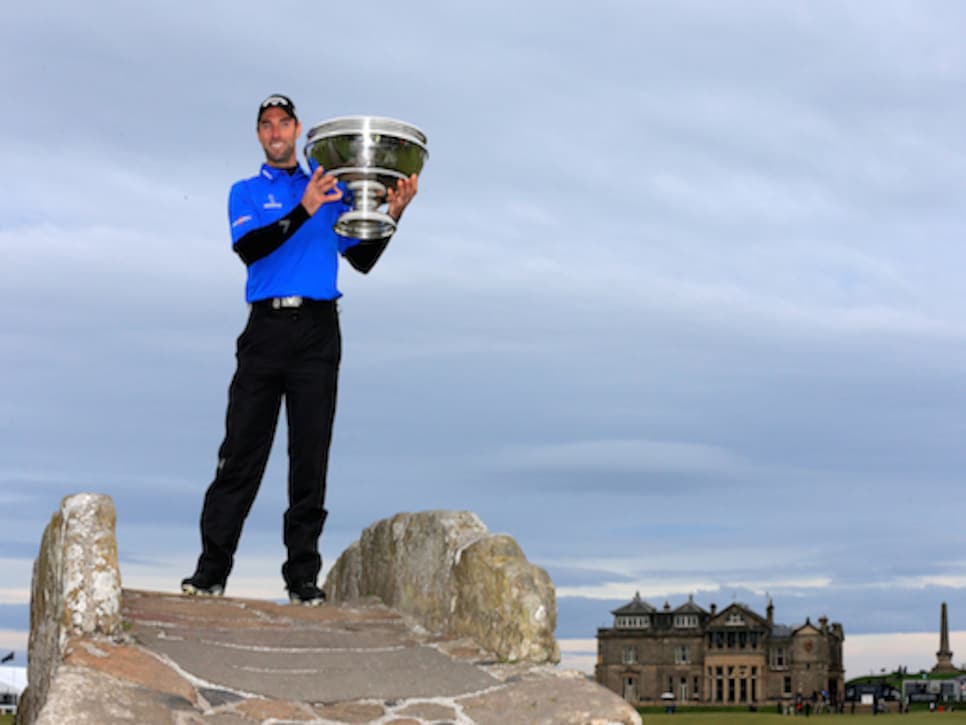 Oliver Wilson, winner of Dunhill Links Championship (Getty Images photo)
Sam Torrance, as a vice captain for the European Ryder Cup team, got a close-up view of Rory McIlroy and now places him in a pantheon of the game's greatest. "Rory is as good as I've seen in a long, long time," Torrance said in this story by Tony Jiminez in the Scotsman. "He's got everything. Butch Harmon did an analysis of his swing and every single pinpoint part was in a perfect position. Every ten or 20 years someone like him comes along. Jack Nicklaus, Arnold Palmer, Seve Ballesteros, Lee Trevino, Nick Faldo, these guys only come along every once in a while and Rory has now arrived and is here to stay."
"Jarrod Lyle, a good-natured 33-year-old from Australia, sat at a microphone answering questions in advance of this week's Frys.com Open in Napa. His wife, Briony, watched from the back of the room. Their daughter, Lusi, bounced around as restless 2-year-olds do, eager for her daddy to finish. Just another routine Wednesday on the PGA Tour? Hardly." Ron Kroichick of the San Francisco Chronicle with the story of Lyle's return to the PGA Tour following treatment for leukemia.
Social media has become a part of every sporting event, even golf, as this Guardian story on the use of Twitter during the Ryder Cup shows. "Tracking social media during the competition, we started noticing a huge spike in mentions of the Swedish golfer Henrik Stenson on Friday morning…Then we noticed the tone of the tweets, which was evidently different from how other golfers were being mentioned. We quickly found out the source." It was a Tweet from Niall Horan of the popular band One Direction. "While some may say this is just bringing noise rather than real social engagement, there is a positive note. The evidence seems to suggest that Horan was driving a lot of traffic from those who may not generally have taken an interest in golf."
The European Tour suffered a serious blow last week when Volvo announced it was ending its sponsorship of the World Matchplay Championship, a tournament that is in its 50th year. "While the loss of that $4 million event would be keenly felt - and would lead to some last-minute scrambling before the calendar is announced - the demise of the matchplay would be of wider concern and that is why the Tour and the promoters IMG have vowed to bankroll the event for at least one year," James Corrigan of the Telegraph reports.