The Loop
Missing Links: Recalling a Tiger heckler with a gun he used to take his own life
Stories of interest you might have missed…
At the Waste Management Phoenix Open in 1999, Tiger Woods had a heckler, an Air Force veteran, who, it turned out, was carrying a gun in his fanny pack. "It was the same one he used to end his life six years later," columnist Paolo Boivin of the Arizona Republic writes in recalling the incident and the aftermath.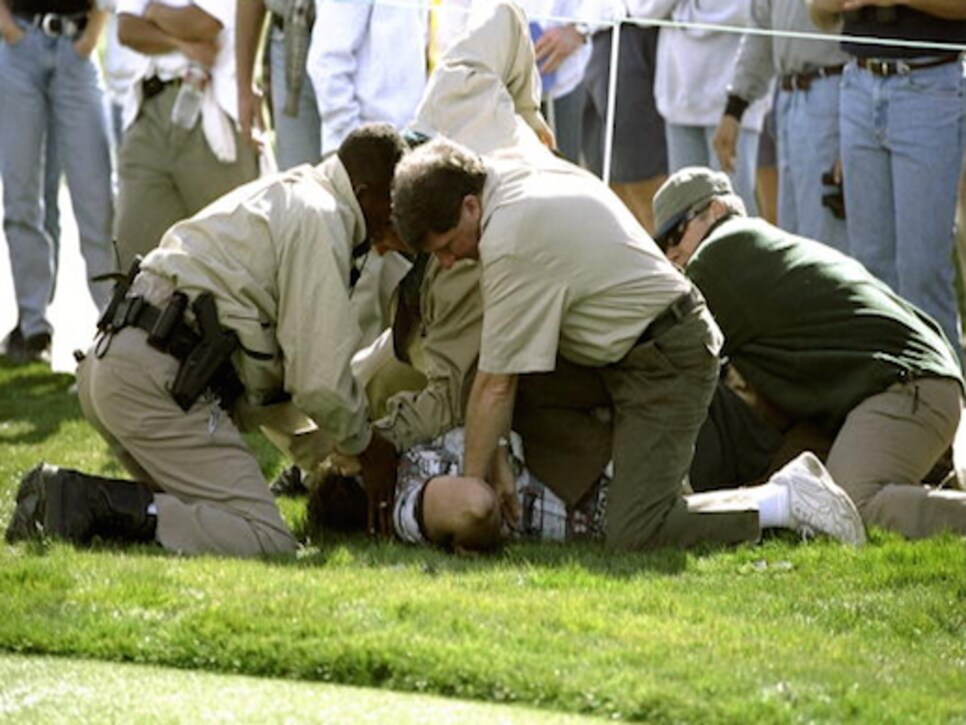 A Tiger Woods' heckler at Phoenix Open being apprehended (Getty Images)
"The Phoenix Open's success can be instructive for the PGA Tour as it thinks about life without Mickelson…and Woods," Scott Bordow of the Arizona Republic writes. "The Phoenix Open is the rare event on Tour that has thrived without Woods…That's one reason representatives from several PGA Tour events will be in Scottsdale this week. Their mission: Find out why the Phoenix Open attracts huge crowds, younger audiences and is a transcendent sporting event in the Valley."
European Tour players received this memo recently: "In recent weeks, there have been a number of occasions where players have not played a provisional ball when their original ball has not been found. Some of those players when asked for the reason why …stated they were unsure that they were entitled to do so." Geoff Ogilvy floated an idea, recounted in this Scotsman column on the plague of slow play by John Huggan: "It would be interesting if part of gaining a tour card were passing a basic rules test."
Matt Kuchar is a member of the Vintage Club in Indian Wells, Calif., and sounds like a member of the Chamber of Commerce for the region. "This is what people move to Palm Springs for, is weather like this," Kuchar said in this story by Larry Bohannan of the Desert Sun on how tour players' enjoy coming to the desert. "I've really enjoyed coming here, I spent a lot of time here, and this is one of the reasons is the fantastic weather, the great golf that exists."