The Loop
Missing Links: 'Is Tiger Woods losing his appeal?' And Miguel Angel Jimenez: A Ryder Cup captain?
Stories of interest you might have missed…
"Is Tiger Woods losing his appeal, is the lure of the greatest player of his generation not as valuable as it used to to be?" James Corrigan asks in the Telegraph. The headline to his story has the answer: "End of an era as Middle East falls out of love with Tiger Woods." Corrigan reports that neither the Dubai Desert Classic or the Abu Dhabi Championship is willing to pay Woods his huge appearance fees any longer.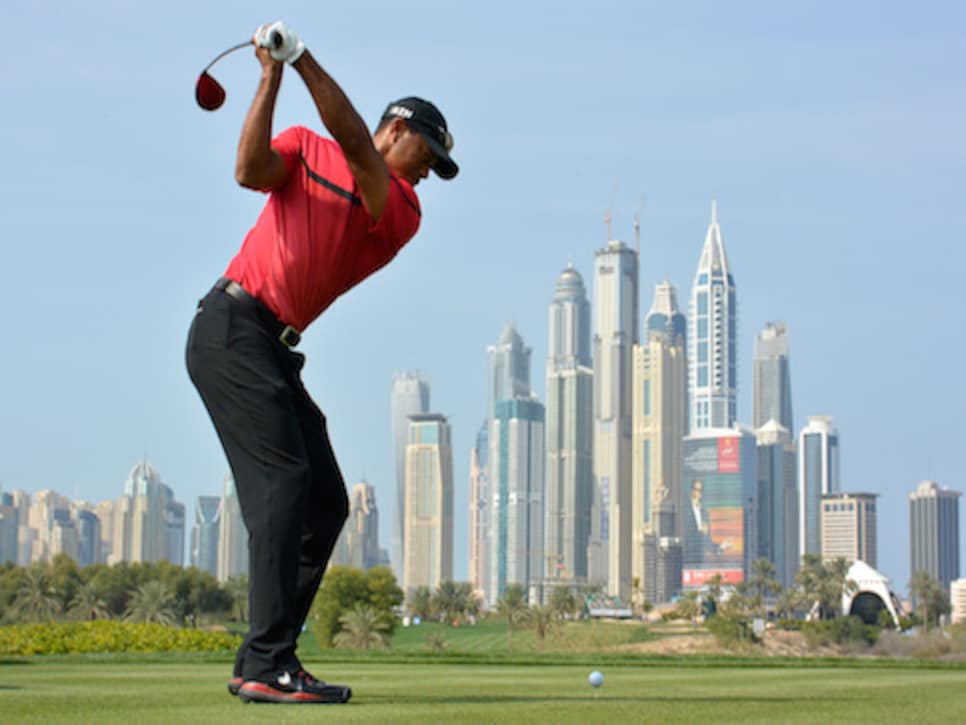 Tiger Woods in Dubai earlier this year (Getty Images photo)
Who wouldn't want Miguel Angel Jimenez to be the next European Ryder Cup captain? Jimenez himself came out in favor of it. "I would love to be captain," the colorful Spaniard told AFP. "That is something that every player who competes in the Ryder Cup wants to do. I will put my name out there and hope the committee decides that it's going to be myself."
Patrick Reed is back in the United Kingdom and has assured all that he's brought his fist pumps with him. "Fresh from the most eye-popping Ryder Cup debut since Sergio Garcia got up US noses in 1999, American Patrick Reed is back to add a welcome dollop of spice to the Volvo World Match Play Championship, which begins at the London Golf Club in Kent on Wednesday," Derek Lawrenson wrote in the Daily Mail.
Graeme McDowell wants to see the Volvo World Match Play Championship restored to its former glory and returning it to London is a start, he said in this story by Reuters Tony Jimenez. "I believe this is a step in the right direction, coming back to London," McDowell said. "When you look at the trophy and the names on it, this tournament deserves a great spot in the calendar…This event needs to be reinstated to its former glory and we'll do everything we can to support that."
Billy Horschel was the best story in golf in the last month of the PGA Tour season, the result of two victories and a FedEx Cup championship. "But Billy's magical journey did not end at East Lake that Sunday afternoon. Two days later, his wife Brittany gave birth to their first child - a daughter named Skylar." Charles Parker of Florida's Space Coast Daily profiles Horschel.