The Loop
Missing Links: Golf needs Tiger, but how much does Tiger still need golf?
Stories of interest you might have missed…
Tiger Woods is closing on 40 (he turns 39 on Tuesday), with a big question, posed by John Huggan of the Scotsman, looming heading into 2015: Does Tiger Woods, armed with yet another set of swing thoughts, still have what it takes to win one or more major championships? "Golf," Huggan concludes, "needs Tiger. And the next year will go a long way towards telling us just how much he still needs golf."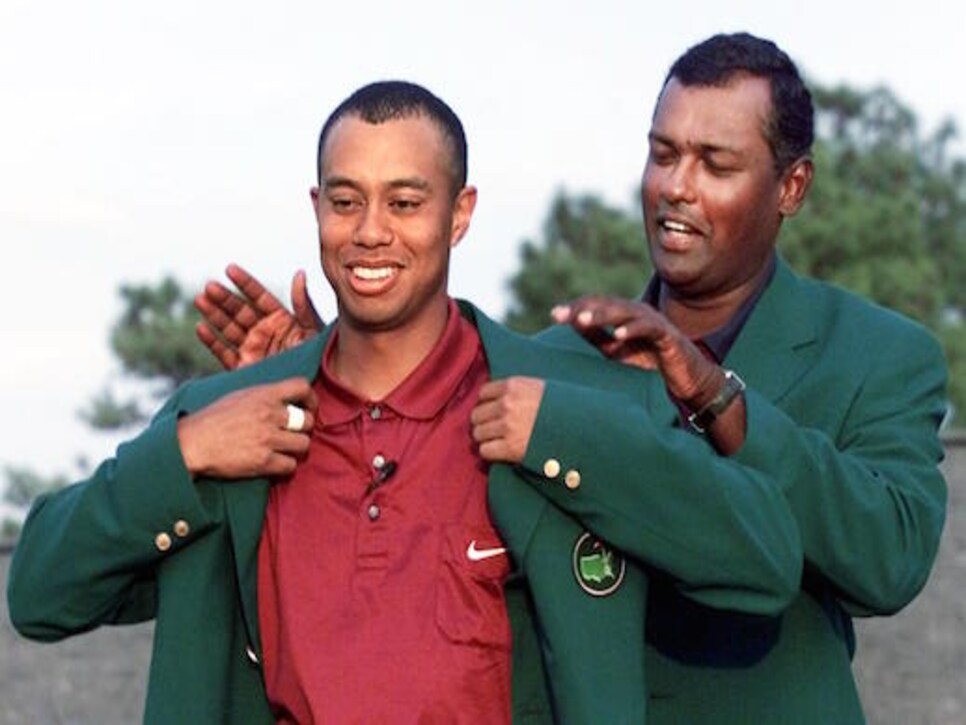 Tiger Woods after completing Tiger Slam in 2001 (Getty Images)
"It's been five years since he sold the course out of necessity, having run out of money when his dream of building a U.S. Open course morphed into an obsession…[Bob] Lang's dream did come true in 2010 when Erin Hills was awarded the 2017 U.S. Open. He'd pulled off something that not even billionaires Donald Trump and Herbert V. Kohler Jr., among others, have been able to do. But by then, Lang no longer owned the course." Gary D'Amato of the Milwaukee Journal Sentinel catches up with Erin Hills' founder.
"President Barack Obama's recent announcement that the US would end long-standing trade restrictions with Cuba and normalise their diplomatic relationship, puts golf at the forefront of international investment projects expected to flood into Castro's former fiefdom…So is golf about to explode in Cuba?" asks James Cusick of the Independent, exploring whether Cuba will embrace this "bourgeois" sport.
A new study in the U.K., "The Opportunity to Grow Golf: Female Participation," concludes that it "has an opportunity to grow if clubs and courses become more female friendly and offer flexible playing options," and that "the male culture is a barrier to growth," Steve Eaves writes at Golf Club Management.