The Loop
Mishap on No. 13 frustrates Phil Mickelson
PONTE VEDRA BEACH, Fla. -- It's not unusual to hit the green on a par 3 at the Stadium Course at TPC Sawgrass and still end up in the water. Happens often at the famed island 17th hole.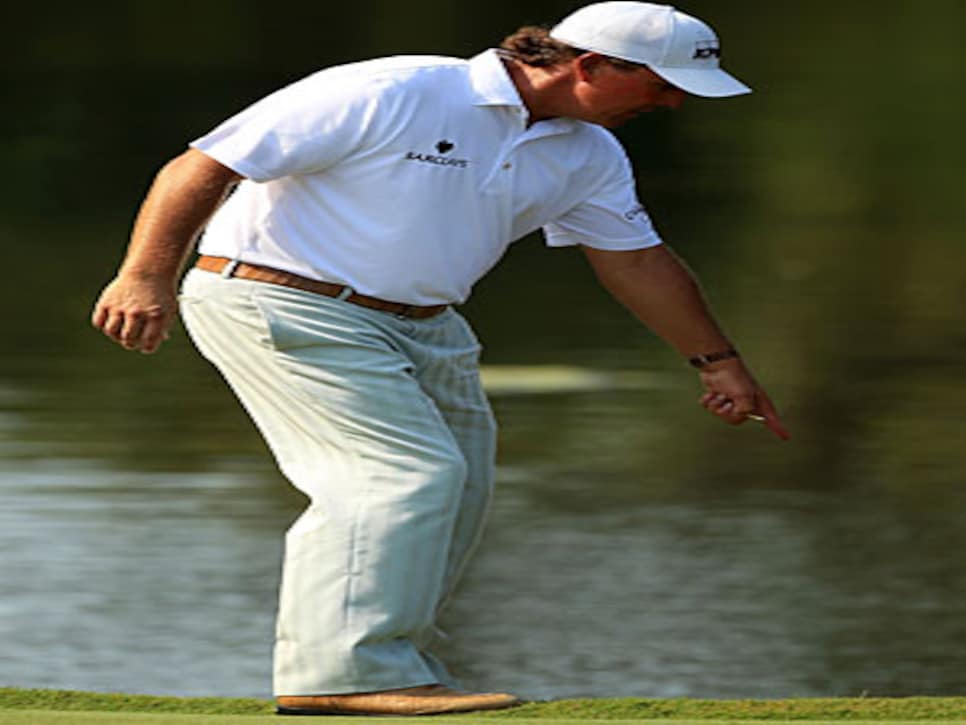 But on Thursday in the opening round of the Players Championship, it happened to Phil Mickelson on the par-3 13th hole. His 8-iron found the middle of the putting surface on the 181-yard hole, but then his ball caught a slope on the left and trickled down all the way into the hazard. After a drop, he chipped his third back up the slope, but the ball retreated and nearly went in the hazard again. He took two putts for a double-bogey that stalled an otherwise promising round.
He didn't try to hide his displeasure when quizzed about the shocking result to what looked like a routine shot.
"I don't know what to say. I don't know if it's the set-up or the design, but I just don't agree with that," Mickelson said after a one-under 71 left him seven behind leader Nick Watney after the first round. "I thought the question was would it stay up on top and be by the hole or was it going to roll down in the low area? I didn't know it could possibly go in the water. I think when I design golf courses, I try not to screw the player like that. I try to keep it a little bit fair. I don't know what I could have done differently."
Mickelson, the 2007 Players champion, was three under at the time of the mishap after he eagled the 11th with a chip-in from the front of the green. But he wasn't about to blame one bad hole for a day that was largely disappointing.
"I'm disappointed with myself and my focus throughout the round today. I can do better than that," he said. "There were some low scores out there this afternoon today, and I felt like I should have been one of them. But I'll get out here tomorrow morning and see if I can put it together."
*(Photo: Streeter Lecka/Getty Images)