Rules
Mini-tour pro wins event in playoff only to be DQ'd after rules review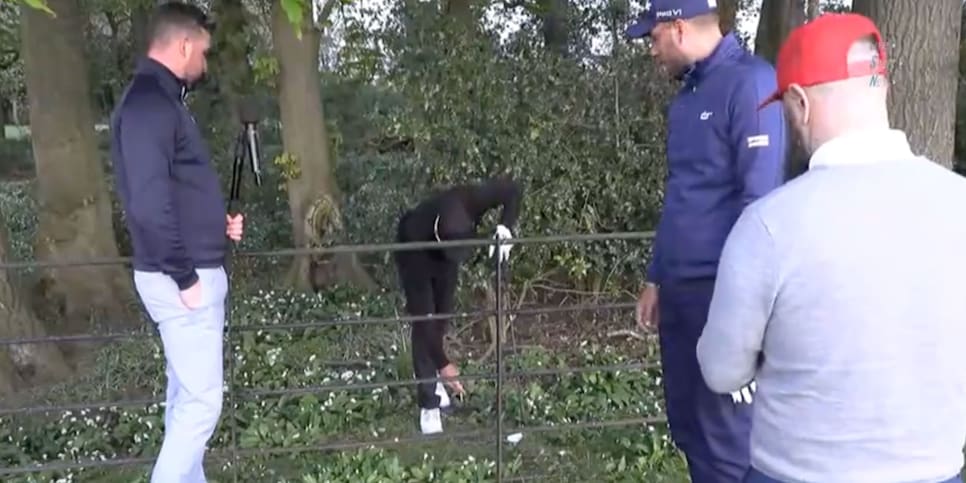 Dan Brown (black sweater and hat) tries to determine where he should be taking relief from a fence while playoff opponent Chris Hanson (navy blue jacket) watches on.
It's never over until it's over is a cliché that took on new meaning this past week at a mini-tour event in England when the apparent winner had his title taken away.
Chris Hanson and Dan Brown went to a playoff in the 2020 Pro Tour's Golf Travel People Masters, an 18-hole tournament on April 25 at Radcliffe Hall Golf Course in Darlington, England, after each shot a four-under 68. The playoff was streamed online, and Hanson appeared to have won with a birdie on the first extra hole. But as the playoff was unfolding, tournament officials watching it live apparently had concerns with a drop that Hanson had taken from an immovable obstruction, and upon review determined he had taken it incorrectly.
As first reported by Golf Monthly, Hanson pulled his tee shot on the first hole, the ball coming to rest left of a metal fence. The fence was considered an immovable obstruction, and Hanson was entitled to relief to play his second shot under Rule 16.1. Hanson discussed where to take his drop with Brown, with his own caddie and with an on-course announcer, all of whom where OK with him taking the drop from the right of the fence. You can see the sequence on the video below starting at the 53:10 mark.
"To be fair, you'd be better off down here," Brown said to Hanson, discussing the spot where Hanson would take the drop.
"Is that the nearest point?" Hanson asked.
"Yeah, I think so," Brown said.
Hanson plays the shot from the right of the fence.
Hanson played his second shot on to the green and made a birdie putt to seemingly take the title. Both players were interview by the on-course announcer after "the finish," Hanson enjoying his victory and Brown lamenting his bad record in playoffs.
However, Rule 16.1 stipulates that the player must drop from the nearest point of complete relief. And when officials re-watched the video, it was decided that Hanson should have instead dropped his ball to the left of the obstruction.